I really think there is an art to getting the "entryway" look right.  It's the first thing you see when you come through your front door and it sets the tone for the rest of the house.  I tend to think minimal is best when it comes to most things.  Entryways are no exception.  I've seen entryways that are cluttered with "stuff" beyond belief.  Junk mail, knick-knacks, too many chairs, shoes galore, overgrown plants, clocks, keys, receipts, books, magazines, pillows etc.  I could go on and on.  It's not hard to do.  It's a very convenient dumping ground for things when you come home.  But cluttered entryways are bad for feng shui.  It's always best to have a clear entryway, free from clutter to keep that good energy flowing through.  In this post, I've rounded up some beautiful entryways.  They each have minimal style (no clutter) but leave a big impact and set a stylish tone for the home.
This post contains affiliate links. For more information, please see my disclosure page (link in footer). Thank you for reading and supporting Decor Hint.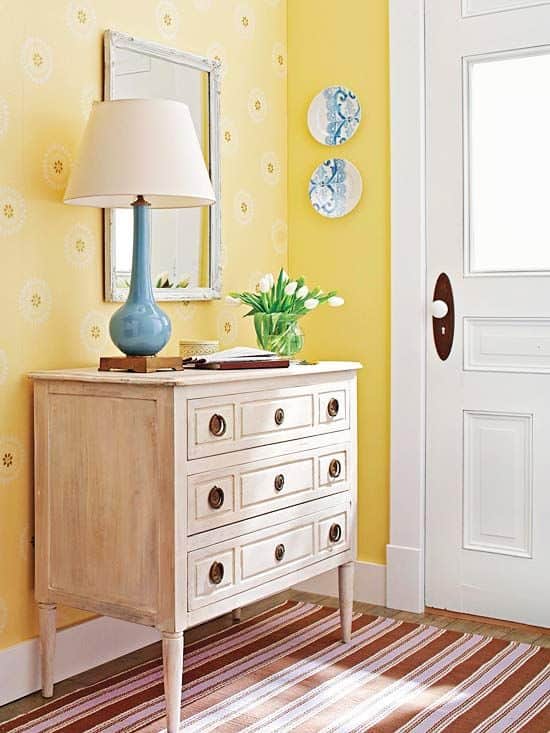 Aren't they beautiful?  It can be challenge to find the right balance of accessories.  I would first think about what your entryway goals are.  Is it drop off center for keys, mail and/or shoes?  Does it provide a place to sit and put your shoes on before you leave?  Is it part of a larger room or off by itself in a nook?  Is it just there to greet you and look pretty?  The answers will give you some insight into what you need to purchase to ensure your entryway works for you.
I do think there are a few accessories which will work in any entryway regardless of the end goal.  These accessories are lighting, artwork/mirror and greenery/flowers.  I think it's always nice to have soft lighting near your entryway.  When you leave in the evening, it's so welcoming to come home to a beautiful light!  I know, that sounds super cheesy but it's true.  I also think greenery and flowers are an easy way to stay current for the seasons – cedar and berries around Christmas, fresh greenery in the spring, and hydrangeas in the summer.
If your entryway does serve a purpose, here are some suggestions.  Need a place to drop keys and mail?  Everything looks better gathered in a trinket dish or decorative box.  Stack a set of different sized boxes on top of one another or set a small trinket dish on top of a stack of coffee table books.  Remember to keep it simple and neat.  (It's so easy to start using this area as a dumping ground – guilty here.)
What about if you need a place to put on shoes and store shoes?  Use a rustic bench and shove a set of pretty baskets underneath to store shoes.  ("Shove" is a designer term lol).  Decorate your bench with some pretty pillows and hang a mirror on the wall.  Or, use a pretty rubber tray to corral the shoes and hang a few decorative hooks to hold keys, hats etc.
We don't really have an entryway.  Our front door opens up right into our living room.  There is no nook or separate space.  We have no foyer.  In this case, we made sure our "entryway" fits with the living room decor.  We use a slim console table to save space and we store ottomans in the open space beneath the console to pull out when we want a foot rest or extra seating.  You could also use baskets here to store blankets or extra pillows.
What if your entryway is mainly there to look pretty?  Well, then you're really just decorating!  Lamps, a set of vases, stylish accessories etc.  The possibilities are pretty endless.  I would make sure it fits with the rest of your home and use these entryway photos and others for inspiration.  Don't go crazy or it will end up cluttered.  That's no bueno.
Have fun decorating!
xo Karen
Let's connect! Don't forget to Subscribe to my Newsletter and Follow me on Instagram. Thanks as always for visiting!