Who doesn't love an organized pantry?
This post contains affiliate links for your convenience. Learn more here.
Without a good system of organization in place, it's very easy to let your pantry slip into "hot mess" territory. I'm excited to show you guys our new pantry (after the renovation) and how we keep it organized.
As a family of four, and with a husband who has celiac disease, there are a lot of different foods and things that need to find their rightful place in the pantry. Let's get started!
How to Have an Organized Pantry
Hint: If you are doing a whole pantry overhaul, the best thing to do is take errrrything out of your pantry. Throw away the old stuff and donate away the non-perishable items you aren't going to use. It's best to start with a clean slate. Or pantry!
Related Post: How to Organize a Walk-in Pantry
Let's begin, shall we?
Step 1 : Corral Items in Bins and Baskets
This creates a neater overall appearance in your pantry and helps you pull things out more easily as you need them.
My favorite bins for storing pantry essentials are these bins that I get from Amazon (but they sell them other places too, like TJ Maxx). They are clear so you can see through them, easy to keep clean and I just find so many dang uses for them!
(Hint – these bins are great for organizing your fridge, too!)
We use our clear bins to hold canned goods and baskets to hold snacks and nuts, food packets (like tuna and dip mixes). A clear lazy susan holds items I use to make lunches – applesauces, nutrigrain bars, fruit snacks etc. Just a quick spin and I can grab what I need in the morning.
But there is no right or wrong way. I think it's easier to keep categories broad – which leads me to my next point.
Step 2 : Group Like Items Together
Within pantry shelves and then further within your bins and baskets, organize your food by broad categories.
Here are some examples.
This is slightly more specific but perhaps a bin for Italian fixings – pastas, canned tomatoes etc. Or Thai food – include rice noodles, Pad Thai and plum sauces etc. Then, you simply pull out that whole bin when you are making those recipes. Or keep it even broader with a Dinner category, Snacks category, Baking, Breakfast etc. That is basically how we do it.
Breakfast
Our top shelf holds breakfast items – cereals which I decant into plastic dispensers (keeps them fresh for months!!), pancake and corn muffin mixes and oatmeal.
Snacks
Then I have a snacks shelf. A larger basket holds chip bags and the like. A couple of mild salsas go on this shelf too. And my lazy susan of kid lunch items!
Dinner
We have a general dinner shelf that holds individual bins for canned goods, soups, stocks and pastas. When I go to the grocery store, it's easy to just unpack everything and put them right here together on this shelf.
Bread
Bread is kept on a narrow shelf on it's own. I'm eyeing up a cool Bread Box for the counters – so this may get moved down the road. My husband doesn't really eat bread, but when he does we keep his gluten free bread separate from our bread.
Kid Snacks
I have a whole shelf dedicated to my kids. This includes healthy snacks for them that are decanted into air tight containers, snacks bowls and drink cups, raisins and the like.
You may be wondering why I don't keep the lazy susan of kid snacks on this shelf ? Well, I used to have it set up that way. But then I realized that my kids and their friends were literally taking down whole lazy susans of food in one sitting. And I needed some better control on this. So, I keep a few snacks on this shelf that they can help themselves to and they are always welcome to grab fruit, cheese sticks and yogurt from the fridge. That's the way we do it in this house! 🙂
Lunch snack items like nutrigrain bars and organic appleasauces can get kind of pricey!? Am I right?
Baking
I also have a whole shelf devoted to baking. Small, stackable clear bins hold all those little baking items together – food dyes, sprinkles, honey, vanilla extract etc. Another clear bin holds oils and vinegars and I keep our baking soda and cocoa powder stored in air tight containers.
I find it much easier to make recipes this way rather than trying to wrangle my measuring spoons in those clumsy boxes they come in.
And this leads right into the next step ….
Step 3 : Decant, Decant, Decant
Here's a great way to keep your food items fresh, organized and pretty looking. Decant them!
If you've been reading this far – you know I decant a lot into air tight food containers. Snack items, crackers, oatmeal, pasta, rice etc. It all gets decanted and the boxes get recycled.
It's so much easier to organize this way and take stock of what you need before you go to the grocery store.
Hint : Keep all the plastic containers relatively similar looking for a cohesive feel to your pantry.
We use a few sets of clear food containers :
Step 4 : Label where needed
To really get your pantry in tip top shape, labels are in order!
A simple labeled sticker or gift tag tied to the basket is all you need for it to look amazing.
Bonus – your guests won't have to ask you where the snacks are! 🙂
Step 5 : Mason Jars are your Friend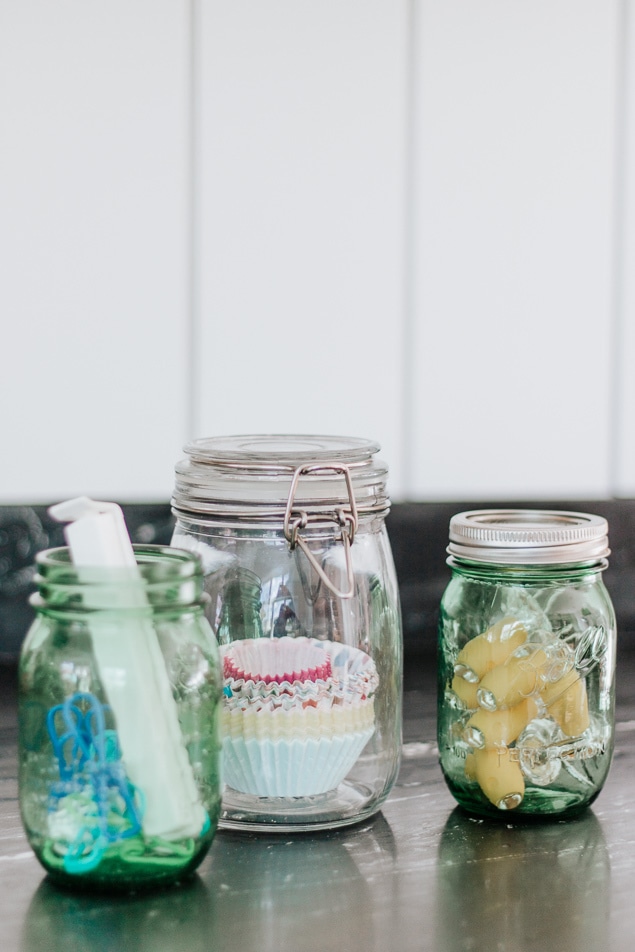 Finally, I use Mason Jars to corral all those little items that can't find a home on their own. Mason Jars are cheap and they look great so they are heavily used in our organization.
I use a large jar for cupcake liners and smaller mason jars hold chip clips and corn on the cob picks.
Other ideas for mason jars?
Napkin rings
straws
icing bags and tips
small food items – nuts, mints, chocolate chips and small candies. Just make sure it's air tight for food. Sky's the limit!
I hope this pantry organization post was helpful for you guys and gave you some good ideas. I LOVE organizing. It's not uncommon to catch me taking apart whole closets on the weekend. 🙂
My husband is always like – "what are you cleaning now?" LOL.
Let's chat! Tell me in the comments any tips you have for organizing your pantrys. We'd all love to hear!
xo Karen
Pin this for later …
I hope these tips help you stay a little more organized in the kitchen! Thanks for reading!
xo Karen