Decor Hint is reader-supported. When you buy through links on our site, we may earn a small commission - at no extra cost to you. Learn more here.
Affordable leather couches you don't want to miss! This post is updated frequently to bring you the best deals on leather sofas.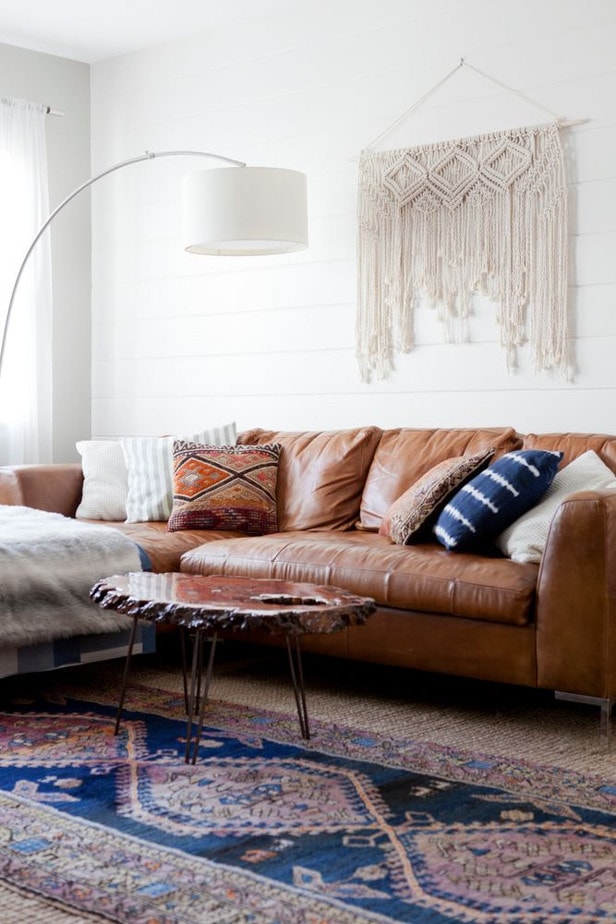 For more great finds for your home, see these posts:
Affordable Leather Couches
Get the look for less with these stylish leather couches that won't break the bank! These sofas will give you the style you want without having to shell out thousands of dollars.
Includes faux leather options for even more savings – so let's just dive right in.
A true leather sofa with a comfortable reclined back! This leather couch is the perfect size for any room and features a distressed leather finish. Customers rave about its comfort and it's pet friendly too – any pet scratches just blend in with the overall look. Includes two stylish bolsters.
A gorgeous leather sofa that comes in a variety of colors – this cognac color is calling my name though. This is a large sofa, so you and your family can all cuddle up in it together. With Free Shipping and Free Returns there is nothing to lose here!
Here's a genuine leather couch with a darker finish to it. It still includes that buttery soft leather couch feel and features those stylish tapered wood legs. A solid couch with 5-star reviews.
Camel-colored top grain leather upholstery with sturdy slim legs. Features a tufted seat cushion design. Loved by Hunker and at an affordable price too – this one's a winner!
If I had a nickel for all the Sven Leather Sofa's I've come across in the blogosphere – I'd have TONS of nickels. This is one of my favorites.
Article is a furniture company that takes out the middle man for high quality furniture that's affordable to you. This one is so beautiful, you won't believe the price. It looks much more expensive than it is.
This sophisticated soft leather sofa is offered by Amazon and it does not disappoint. With tons of leather colors to choose from, a tufted, one piece seat and two cushy back cushions (bolsters too), it will be the star piece in your spaces.
Amazon offers a 30 day return policy and a 1 year warranty on their furniture.
A true Chesterfield classic leather sofa. Chesterfield sofas are known for their tufted tops and rolled arms. This beautiful couch is courtesy of Amazon with its 30 day returns and 1 year warranty.
It comes in so many different finishes if this cognac color is not your favorites. Would look amazing in any room!
Another Chesterfield beauty! This one is faux but includes a memory foam interior for added comfort. If you love that tufted, classic look but don't want to hurt your wallet – this one is perfect for you. It also includes those stylish slim legs for that open, airy feel to your rooms. Crazy low price, too!
If you are looking for a gorgeous cognac-colored sofa, look no further than the Donny Sofa. If you love that mid-century modern look, this faux leather couch fits the bill. Featuring a sleek profile, a distressed faux leather finish, and gold legs. And you won't believe the price!
For more great home finds, see my Home Resource page, where you'll find my secret sources for vintage rugs, Paris bistro chairs, and more.
xo Karen