Decor Hint is reader-supported. When you buy through links on our site, we may earn a small commission - at no extra cost to you. Learn more here.
This post has been sponsored by Basic Invite, but all thoughts and opinions are and always will be, 100% my own.
The season for graduations is almost upon us! I actually love this time of year. Living in Seattle with the University of Washington nearby, it brings a little tear to my eye to see all those new graduates in their caps and gowns taking photos with their families in front of the big "W" statue on graduation day. I can't help but think back to my college graduation and how special that day was for me. But also to look at my little ones and wonder if maybe we'll be back here taking these same photos with them. (Que the waterworks!)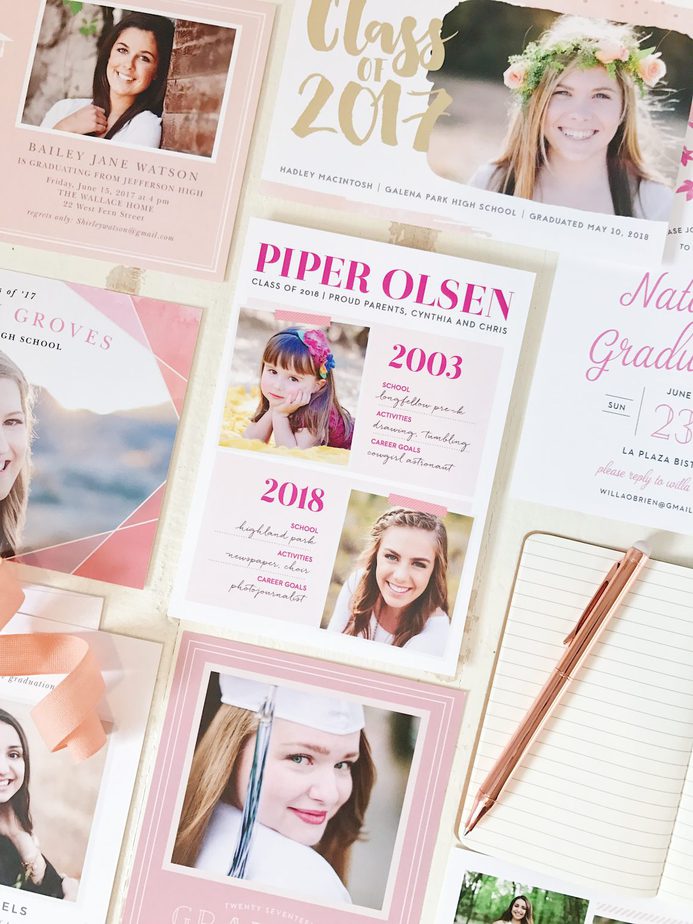 I'm sure you all have your own memories of graduation and perhaps you even have someone special in your life graduating this year. Whether it's for a high school or college graduation or something else entirely – I got you covered!
Today, I'm letting you guys know about this amazing invitation and stationery company, Basic Invite, that specializes in these truly custom invitations for graduations, weddings, showers – basically every special moment under the sun! And not only that – they also offer printables, thank you cards, stationery, business cards and much, much more.
I really want to dig into the reasons why this company is different! So read on …
What makes Basic Invite Different
Have you ever wanted more customization with your cards and stationery? Yep – me too!
Basic Invite is one of the few companies that allows you to choose almost any color – yes, really – they offer over 180 color options so you can fine-tune your card or stationery exactly the way YOU want it. And you even have over 40 color options for the matching envelopes to make your invitations really stand out.
You can also order a fully printed sample of your card before the final order so you can actually feel it in your hands! It's super nice to get a chance to feel the paper quality and see how it will look in person, right!?
Basic Invite has even taken the most daunting task of invitations – collecting and addressing those envelopes – much, much easier. You simply share a link with friends and family requesting their address on any social media of your choice (Facebook, Instagram, etc.) and then you just input these addresses directly when designing your cards. Your return address is printed free!
Graduation Invitations
Since graduation season is almost here – I just wanted to touch on a few of their amazing options for graduation invitations. If you are looking for a more modern design – their chevron graduation invitations are a great fit. Don't forget that you can customize the colors! Maybe you are looking for an invite with a little more vintage flair – Basic Invite has vintage graduation invitations for you too! And you can even add gold, silver or rose gold foil option to some invites as well.
If you are looking for college graduation invitations with photo options, there are plenty of those to choose from as well.
Printables + Gift Idea (with FREE Options too!)
Another really great product on Basic Invite is their printable section. I actually fell in love with these super affordable Vintage Recipe Cards. As you guys know – we recently overhauled our kitchen. I've got a DIY Project lined up for a pretty recipe box for your counters and these recipe cards fit in perfectly. Yay!
Plus – I think this makes a really thoughtful gift idea. If you are hosting a wedding shower, you can have everyone fill out a recipe card as something to gift to the bride. When I got married, my mother in law gave me a whole stack of recipe cards of their family recipes. It was so thoughtful and I use them quite a bit – almost 8 years later! So this is definitely a tradition that I want to carry on and give to my daughter and future daughter in law as well.
Other printables offered include …
Coupon!
Right now, Basic Invite is offering 15% off with coupon code : 15FF51
Now, tell us your favorite memory of graduation. Or tell us if you have someone special in your life graduating this year. I would love to hear about it!
I'll go first …
When I graduated from college, I had some really close friends who were in the class below me. So sadly they were not going to be there with me that day. Or so I thought – much to my surprise – they all showed up to cheer me on. They are still some of my closest friends today.
That's a memory that will always stick with me.
Thanks for visiting with me today! And special thanks to Basic Invite for partnering with me on this post!
xo Karen