11 Amazon Travel Essentials for a Stress-Free Adventure
Planning a trip can be overwhelming, but having the right travel accessories can make all the difference. I want to share my top recommendations for travel accessories that can be found on Amazon to help make your journey smoother and more enjoyable.
Read on to discover all my Amazon Travel Essentials.
This backpack is a bestseller and so handy when traveling! If you read the reviews, you can pack up to 5 days worth of clothes, electronics, and accessories into this thing. It comes with plenty of compartments and zippered pockets for organizing your things, plus it has a handy USB charging port on the side, so you don't have to worry about finding an outlet. This comes in several different colors and two sizes.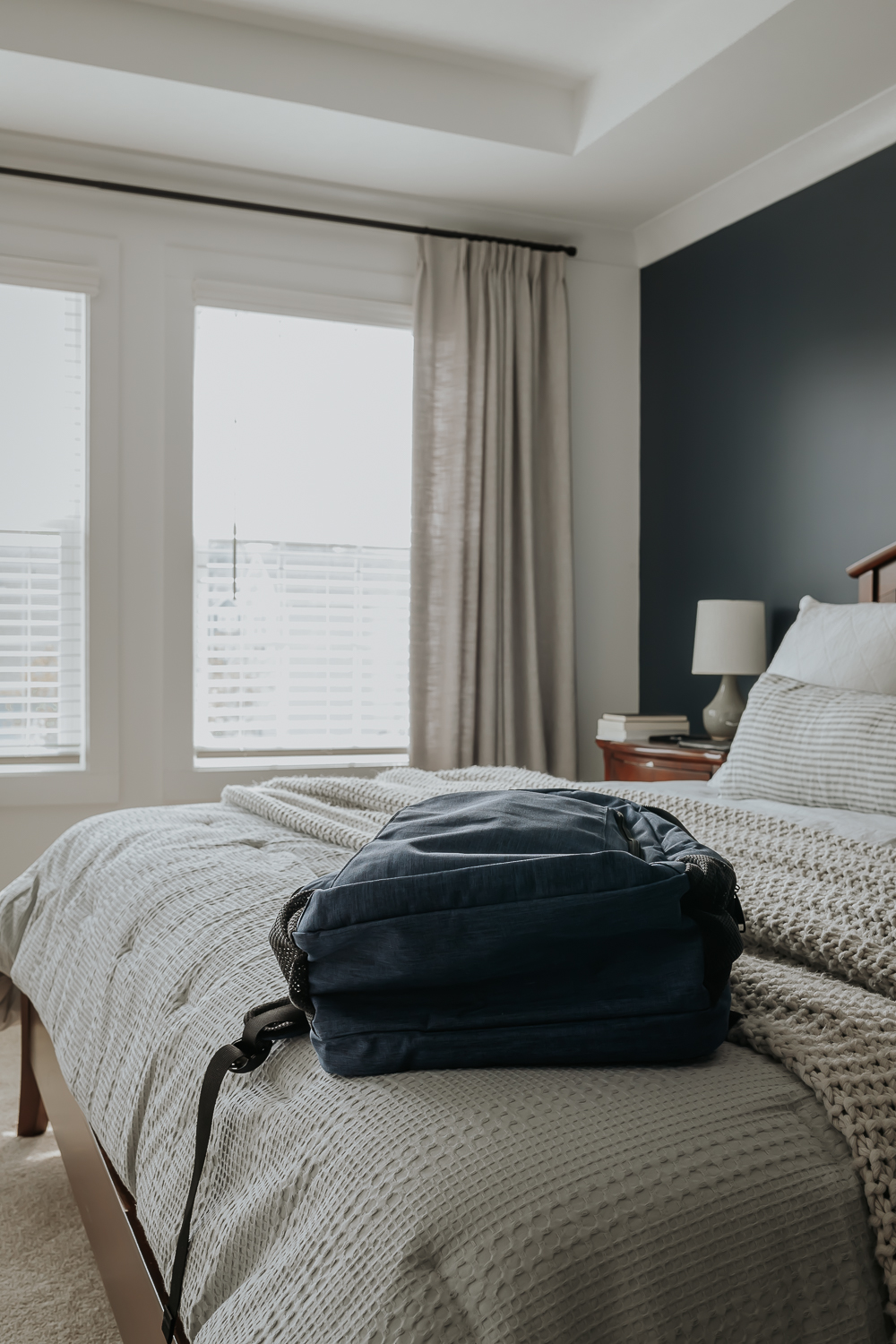 I own this in navy, and it's extremely spacious. When I visit my parents, I only need to bring this and a duffel bag/purse. It's wonderful to travel light and not have to worry about carrying a lot of items.
These travel bottles are ideal for storing various personal care products like lotions, face creams, body wash, shampoo, and conditioner. Moreover, it comes in a range of attractive colors, making it even more appealing.
This jewelry case is great for travel and bringing along several sets of jewelry. This is a zippered case, so things won't fall out; it's adorable.
These portable chargers are great on the go. They are not only great for travel but also for everyday living. You can keep one in your purse when your phone is about to die and you don't have access to an outlet. This is essential for me as my kids get older, and I need to be reachable.
I talked about this traveling makeup bag before because it's my favorite travel companion. I can get so much stuff in this thing! When you get to the hotel room, you can hang it from the hooks in the bathroom for easy access. LOVE.
Did you hear the story about the woman who lost her bag (well, the airline lost it) and she was able to track it via her air tag? She found it at some random apt building, although the airline kept telling her it was safe and sound in their warehouse. Yeah, not so much. Even though I rarely check a bag, I'll take one of these, please.
I'm a serial over-packer. I use these compression cubes to save me from myself (and not force me to pare down). Plus, I love organizing items within a suitcase since my husband and I share one when we travel together.
This 20 oz, silicone, BPA-free water bottle collapses to the size of a hamburger. You can fill this thing up at the airport water refill station once you go through security. Save the $6 bottle of SmartWater for another time.
Why wear compression socks while traveling? Because they are suitable for circulation. Read more here. These are affordable, stylish, and have stellar reviews. Compression socks can be notoriously uncomfortable after a while. Not these, though!
You know when you are packing and have to put your shoes in with your clothes, and you get that icky feeling like you don't want the bottom of your shoes to touch your clothes, so you tie an old plastic grocery bag around your boots? These shoe bags are the reusable version of that idea. You can fit flip-flops and sneakers, and heels in them. Yay.
Did you hear? Fanny Packs are back! But rather than wearing them around the waist, you must now put them crisscrossed across your shoulder. I'm kidding (kind of). But these are super duper for traveling!
Especially if you are carrying on the plane, one less thing to move around the airport is stellar. Plus, not having to fumble through the abyss of our purses and bags, having our phones, credit cards, and hand sanitizer at the ready is a godsend. I think I'll be wearing mine to more than just the airport. You've been warned! LOL.
Technically, these wet/dry bags are marketed to moms with babies. But I'm out of that phase and still think these are useful. You can use them for anything dirty or wet while traveling and separate them from your other clothes.
You can also use these bags as little laundry bags. Then, you can wash them up for next time! Comes in many, many different colors and patterns.
Shop these Amazon Travel Essentials