a roundup of the best faux olive trees for sale.
---
If you've landed on this post, chances are you're looking to add a fake olive tree to your home. But not just any faux olive tree – the best faux olive tree you can find.
Let's be honest, looking for the right faux plants and trees can be like finding that magical needle in a giant haystack. There are so many to choose from. And it's hard to tell from online pictures how it's going to look once it comes through your front door.
You're in luck because today, I'm breaking down the best faux olive trees on the market. And no, this isn't going to be an overwhelming list of 50 olive trees that you have to sift through.
I'm only showing you what I believe is truly the best of the best olive trees out there right now. And trust me – I am the pickiest person you know when it comes to faux botanicals and I happen to have eagle eyes and can spot a fakey from a mile away. AND – I just went through this process myself. I went through a ton of options and spent a lot of late nights scrolling and zooming in and browsing until my eyes were crossed. (I know, tough life over here.)
You Might Also Like: Best Faux Fiddle Leaf Fig Trees
When I say I did my research, I really did. And I'm happy to share the results with you.
I also rounded up a few takeaways which I think are helpful with faux plants and flowers in general, but especially with faux trees. These trees are mighty and command attention and are the first things you see when walking into a room.
The Best Faux Olive Trees
Alright, so let's jump into it. Here are the trees that I think are worthy of placement in your home.
Pottery Barn

These olive trees are nice because not only are they very realistic, but they come in two different heights, 71 inches high and 84 inches high. Wowza! Talk about commanding the room. I've seen this version on Instagram and it really does look amazing in spaces. You can't go wrong.
---
Crate and Barrel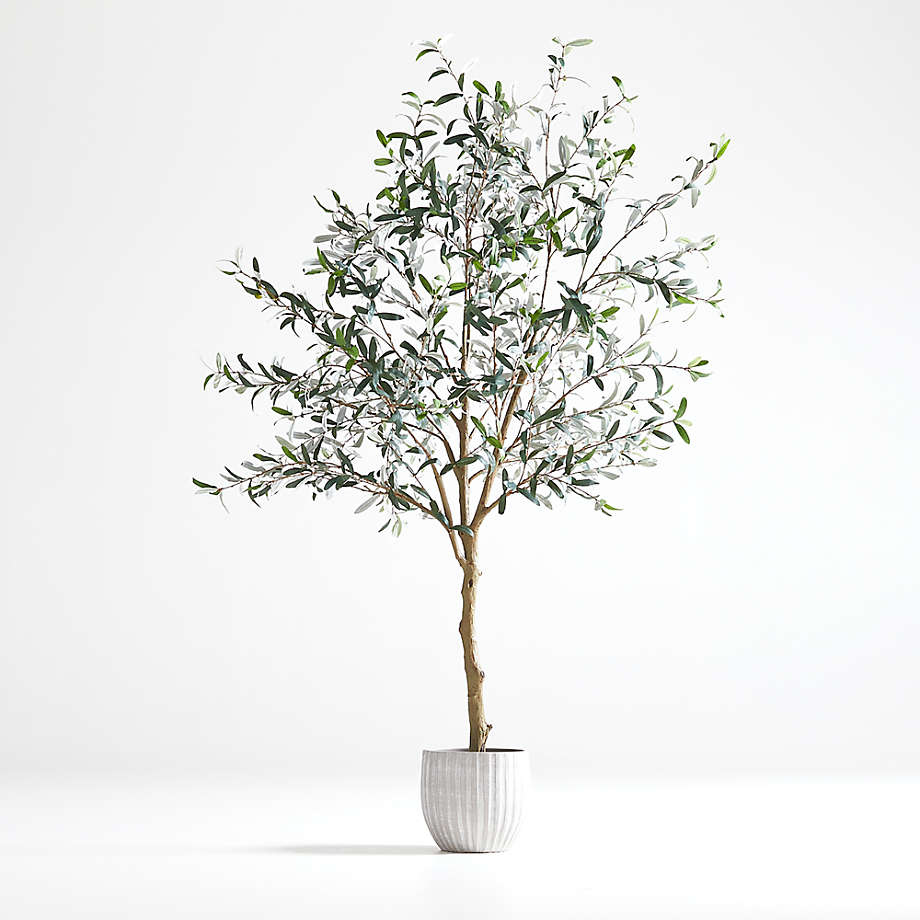 This one is a bit bushier but if you want a fuller looking olive tree then this will work for you. This tree came on my radar through one of my favorite bloggers, Chris Loves Julia. I love all her recommendations and if it's good enough for her then it's good enough for me. 🙂
---
Wayfair

I love this tree! If you are looking for a tree with sparse branches and wispy-like leaves – this is a good one to consider. I personally love trees like this because they don't overpower the room. This one is also good for tight spaces AND 90 feet tall!
Also available on Amazon here.
---
World Market
If you want more of a baby olive tree, this one is good.  I love World Market and they became famous for their faux fiddle leaf fig tree (which we own and love you can see in our lounge here).  I would expect the same over their version of a fake olive tree. 
I think this one is pretty nice, especially for the price! But keep in mind that it's small and cute. Just 48" high. Sometimes we don't want or need a massive olive tree, ya know? I wanted a shorter tree myself so I looked very closely at getting this one.
---
Target

Guys! If you want a wispy, TALL, barely there tree – this one is another amazing option! I just love the look of these wispy trees (worth mentioning again) and this one has good reviews and was designed with Studio McGee. Their Target stuff can be hit or miss, so definitely follow the reviews. This one is a hit though!
---
Another Wayfair

Another Wayfair one! This one has amazing reviews and comes in THREE different heights. The small one is very, very similar to my olive tree from Etsy.
---
Etsy

Oh my gosh you guys! I never even thought to think of Etsy for faux plants but I'm so glad I stumbled on this one. I ended up going with this olive tree. It's exactly what I was looking for – shorter, branchy, and not super full. PERFECT. The price was right and it came pretty quick for Etsy. This shop has other sizes, including a whopping 94″! I went with the smaller version. I am considering the taller one once my budget allows.
After searching some more – I found and recommend this shop for their amazing selection of trees and faux botanicals!
UPDATE: I had a reader reach out to me and say she thinks the quality of this particular tree has changed. I can only go by my personal experience with it, and my olive tree is still looking great today! But something to keep in mind. Definitely read the most recent reviews on Etsy to see what others think. Customer service is still good according to this reader so that's a plus!
---
Mcgee and Co.

This one is so cute! I love the overall shape of this tree. Comes in two height options as well, a 79 and 30 inch so you can get one for the floor and your tabletop!
---
West Elm

This one from West Elm is a good option as well. It stands at 6 feet tall and 37 inches wide. The reviews contain lots of customer photos and it looks impressive.
---
Key Takeaways
When I want something to look as realistic as possible, I always go straight to the source. Take a look at the real deal. Many of them look branchy and spread out, with a long skinny trunk.
Black Olives or Green Olives or no olives?? Some of these trees come with black olives and some have green olives. The one I purchased has black olives. I don't think I mind this either way, but something to consider. I suppose you could always pull them off if you don't want them.
Definitely put your olive tree in a larger basket or pot. A lot of these faux olive trees come in these tiny little pots which look weird and are top-heavy. If you buy a baby tree, you can give it some more height by placing it in a pot with a stand or legs on it. But either way, definitely "re-pot" them to make them look even more real and substantial.
So there you have it. My picks for the best faux olive trees. Have any you want to add to the list? Leave a comment or drop me an email – I'm all ears. 🙂
Shop the Post

Xo Karen
Karen Sloan is the founder, editor and syndicated content writer of www.decorhint.com. She offers hints of inspiration for everyday living, including home ideas, DIY projects and lifestyle content. Her work has appeared on Google News, MSN, Pioneer Woman, Apartment Therapy, and Bustle, among others.