A roundup of my favorite Home & Garden inspiration – the best of Pinterest.
---
Pinterest is one of my favorite places to go for inspiration.
It's a great way to discover your true style, just by analyzing the images you pin (almost subconsciously) over and over again. You are making a mood board in your brain!
In fact, a lot of times, just like Instagram, I tend to make a split-second design on what I like and either double tap or pin it immediately.
I wanted a space on my blog to re-share the images that are inspiring me so much. Perhaps they will do the same for you! Check back on this post as I often add new images here periodically.
Best of Pinterest – What's Inspiring Me now
Snake Plant Pair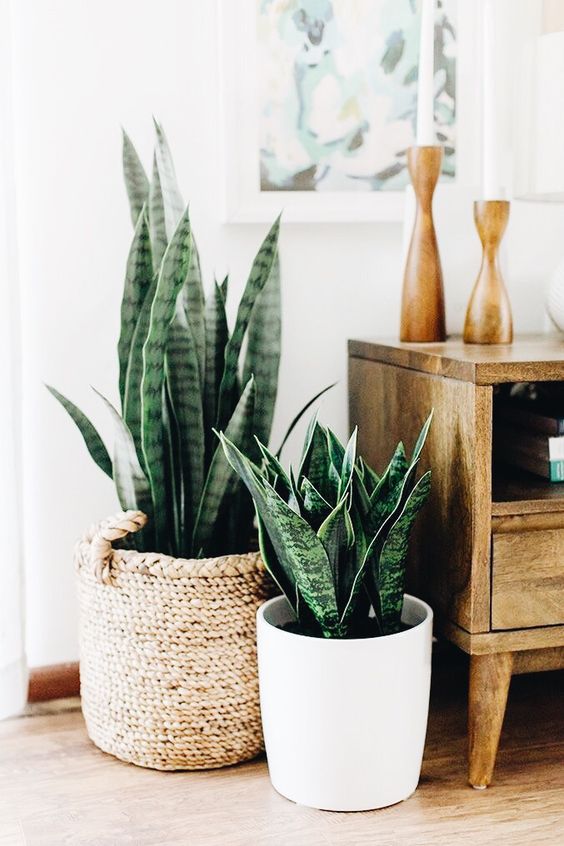 I love love love the look of this snake plant pair. All it takes is two different-sized snake plants and you can create a little moment in your living room. That basket is so pretty too! Check out Dream Green DIY for more …
Plunge Pool Greatness
So technically, I'm not sure if this is a plunge pool. But it sure looks like one and it is so inviting. I love the brick surround on the patio! My hubby and I are actually considering installing a plunge pool in our tiny backyard here in Seattle. Are we crazy? Yes. Will it look amazing? Yes. I'm sure it's a few years off though!
Check out Homes to Love for more!
The Big Chill
Is this one of the prettiest kitchen ranges you've ever seen? This is The Big Chill Classic Stove. This whole kitchen was part of a One Room Challenge completed by one of my favorite designers ever – House of Jade Interiors.
Cozy Kitchen Nook
I love everything about this cozy kitchen nook. Those caned chairs, the vintage rug. It's so pretty and inviting. Go to Coco Kelley to see more!
Vintage Dresser
I have to admit that when I saw this beautiful dresser, it immediately reminded me of my late grandfather. He had one almost exactly like this with those large wooden knobs. Oh, how I wish I would have saved it. The Grit and Polish is one of my favorite blogs and I love their casual rustic style.
Dream Kitchen
I saw this Kitchen circulating on Instagram and then saw it again on Pinterest. It's clear – the Universe wants me to share this beauty. I can't decide my favorite – that blue set of cabinets in the back OR this beautiful rug runner!
See more at Jean Stoffer Design.
Beautiful Porch
Another one by Jean Stoffer Design! I love all the texture and pattern in this room, from the tiled floors to the rattan chairs and all the organic greenery. It's such a beautiful room!
See more at Jean Stoffer Design.
Lush Outdoor Oasis
Thanks to Coco Cozy for sharing this wonderful outdoor oasis. All I can say is – if growing Ivy is wrong, I don't want to be right.
Unique Ceiling
This bedroom is so colorful and pretty. But what got me was that black painted ceiling! Of course, you can do that in a room with ceilings this high. That pendant light fixture pops against that black ceiling. See more at Janet Mallory Designs.
Perfect Bathroom
This bathroom caught my eye and the eye of thousands of more people. It's been shared a TON. Love how it's neutral but not all white. Amber Interiors does it again!
Vintage Artwork
Well, it might be obvious why this kitchen immediately stole my heart. That vintage artwork, of course! It's a beautiful, rustic space and by one of my favorite designers; Lauren Liess. Photography by Helen Norman.
Cottage Core Dining Room
Have you heard of cottage core before? It's my new favorite word to type into google search. It's basically a romantic version of farm life. Or at least, that's my definition of it. This dining room checked a lot of boxes for me – the overall vibe really stole my heart. Design by Rachel Halverson.
Thoughtful moment
Some say Shiplap is going out of style – but I don't see how it ever could. This space, although just a glimpse of a corner, is so much my style. Minimal, but cozy, with those warm wood tones. I love the vintage touches; the copper bucket for firewood and those candle holders. It's a very thoughtful moment. Source: Unknown
Shelfie Style
This photo is one good example of how my style has changed (or how I thought I loved one style, but really loved another.) I used to pin those images of perfectly styled, minimal bookcases and open shelving. Only to realize that what I was actually gravitating towards was real-life bookcases filled with treasures and books and more casually arranged.
What camp do you fall in?
Checkerboard Floors
How do you feel about checkerboard? I've been seeing a lot of it lately and it's really got me. Now I'm scheming about adding this to my laundry room. (hahaha – evil laugh). But in all seriousness; how pretty is this bathroom by Gil Schafer? If you love inspiration like this, you should check out his book.
Rustic entryway
Everything about this entryway is perfect to me. I just love love love that green bench! And on my list of to-dos is framing a piece of a beloved piece of fabric or a quilt. What a great way to create art. Source: Architectural Digest.
Sage Green and red
That rug! Those chairs! That sage green trim! Love it all and it feels very casual – I love rooms like this. See more at Lobster and Swan.
Amongst the Flowers
I've been pinning a lot of lush landscapes lately and I think it's because our yard is very barren at the moment. When you move into a new construction home, you have a lot of grass and a lot of baby plants. I'm longing for those mature plantings and trees. This looks like a perfect place to sit and enjoy the outdoors. See more of this beautiful space at AirBnB.
Vintage Dresser
Can you tell I'm a real sucker for those vintage dressers with the big knobs? To me, if I can ever score one of those when I'm thrifting, well, that would be the ultimate score in my book. Source: Lonny Magazine.
That about rounds it up – for now. I hope you guys found inspiration here! 🙂
xo Karen
Karen Sloan is the founder, editor and syndicated content writer of www.decorhint.com. She offers hints of inspiration for everyday living, including home ideas, DIY projects and lifestyle content. Her work has appeared on Google News, MSN, Pioneer Woman, Apartment Therapy, and Bustle, among others.