This post may contain affiliate links. Learn more here.
I have another round of beautiful and super-duper popular home photos to share with you. Enjoy these!
Snake Plant Pair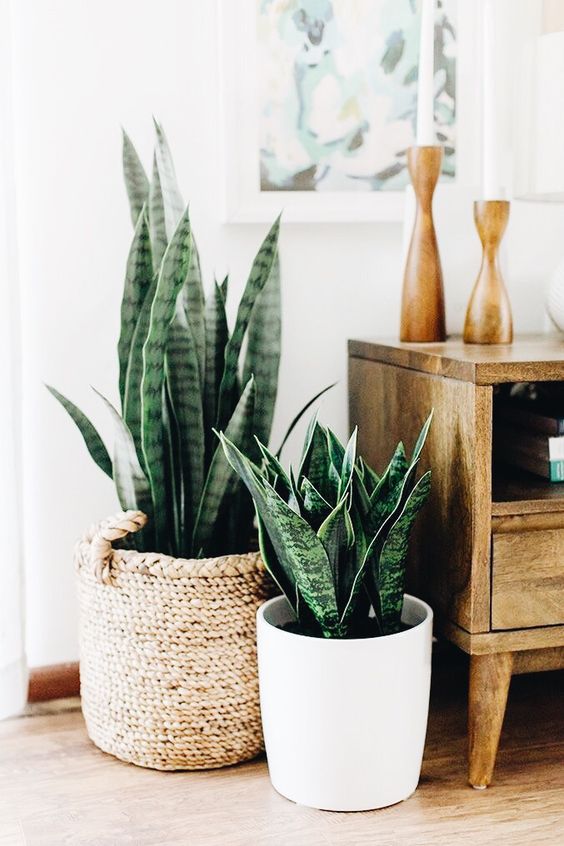 I love love love the look of this snake plant pair. All it takes is two different sized snake plants and you can create a little moment in your living room. That basket is so pretty too! Check out Dream Green DIY for more …
Plunge Pool Greatness
So technically, I'm not sure if this is a plunge pool. But it sure looks like one and it is so inviting. I love the brick surround on the patio! My hubby and I are actually considering installing a plunge pool in our tiny backyard here in Seattle. Are we crazy? Yes. Will it look amazing? Yes. I'm sure it's a few years off though!
Check out Homes to Love for more!
The Big Chill
Is this one of the prettiest kitchen ranges you've ever seen? This is The Big Chill Classic Stove. This whole kitchen was part of a One Room Challenge completed by one of my favorite designers ever – House of Jade Interiors.
Cozy Kitchen Nook
I love everything about this cozy kitchen nook. Those caned chairs, the vintage rug. It's so pretty and inviting. Go to Coco Kelley to see more!
Vintage Dresser that brings a Tear to my eye
I have to admit that when I saw this beautiful dresser, it immediately reminded me of my late grandfather. He had one almost exactly like this with those large wooden knobs. Oh, how I wish I would have saved it. The Grit and Polish is one of my favorite blogs and I love their casual rustic style.
Dream Kitchen
I saw this Kitchen circulating on Instagram and then saw it again on Pinterest. It's clear – the Universe wants me to share this beauty. I can't decide my favorite – that blue set of cabinets in the back or this beautiful rug runner! How about you?
See more at Jean Stoffer Design.
Lush Outdoor Oasis
Thanks to Coco Cozy for sharing this wonderful outdoor oasis. All I can say is – if growing Ivy is wrong, I don't want to be right.
Unique Ceiling
This bedroom is so colorful and pretty. But what got me was that black painted ceiling! Of course, you can do that in a room with ceilings this high. That pendant light fixture just POPS. See more at Janet Mallory Designs.
Bathroom
This bathroom caught my eye and the eye of thousands of more people. It's been shared a TON. Love how it's neutral but not all white. Amber Interiors does it again!
That about rounds it up. I hope you guys found inspiration here! 🙂 Want more? Check out my favorite tips and tricks for your home.
xo Karen