---
I've rounded up the best home decor subscription boxes for all you Home and DIY lovers out there. I divided it up by category to make it easier for you to find the box you'll love.
This post contains affiliate links for your convenience. Learn more here.
I don't know about you, but I LOVE getting stuff in the mail. (I think all those Amazon finds are partly to blame for that).
I think part of the fun of online shopping is when the package arrives – so exciting!
With these decor subscription boxes, you also get more …
You get to try new products and discover things you might not have known about before.
You don't have to go anywhere! No traffic! No long lines to wait in for checkout.
It's the gift that keeps on giving! Every month you get a new surprise.
These boxes make really unique and thoughtful gifts.
---
Best Home Decor Subscription Boxes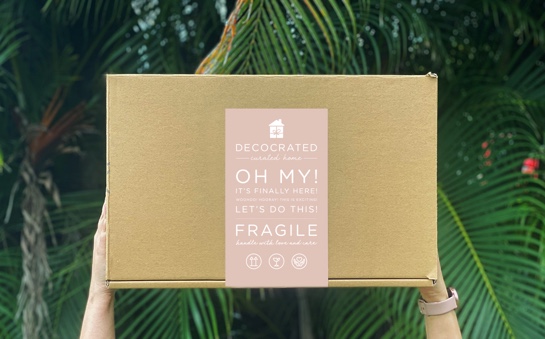 One of the most popular home boxes out there! Decocrated offers home decor accessories for each season! They have really cute stuff but hurry because their boxes are popular and sell out quickly. Starts at $79.99/quarter.
If you love homeware, you will love this box! High-quality, handmade goods are delivered to your door every month. Starting at $70/month.
A curated box of home decor goodies filled by a professional interior designer. Starting at $57.50/month.
Decor Spark's motto is "make life beautiful, one box at a time." You choose your style and then every month, you'll receive 4-5 beautiful home decor pieces. Some boxes include holiday themes and others are just general. Good reviews, too!
Really cute stuff! Professionally designed and curated items for your home 4x/year. Starts at $170/quarter. Ships to Canada and the USA.
High-rated and featured in Elle Decor! This is a monthly delivery of stylish home decor. Starting at $46/month.
Ethically sourced goods from all around the globe!
Get a reduced price when you book several months upfront.
Get 50% off your first box right here! Starting at $40/month.
Rated #1 best new subscription box on Buzzfeed.
Every other month, they send you a collection of eco-friendly home products, like beeswax wraps, etc. A great way to get a little more green. Starting around $39/ every 2 months.
Curated seasonal home items from around the world! Ships every quarter and starts at $45/quarter.
The Essentials Crate is a super popular subscription box – filled with Eco-conscious & sustainable household & products you actually need! Starting at $39/month.
Plant of the Month by The Plant Club- every month you get a new houseplant, a pot, and anything else you need to keep your plants thriving and happy.
My Garden Box – Creative and crafty garden collections. Includes live plants and everything else you need. Starting at $35/month.
Succulents Monthly – every month, you'll receive a beautiful succulent, pot, soil mix, and other gardening items.
The Sill – Indoor potted plants delivered monthly! Pick your plant, get tips for growing, and keeping it healthy and be the green thumb you always knew you could be.
Craft and DIY Subscription Boxes
Homemade Luxe– Make all kinds of handmade home decor with this trendy craft subscription box.
Makerly Crafts– a craft subscription box delivered to your door monthly!
Adults & Crafts Crate -Trendy craft projects for adults that includes everything you need for the project in the box. High rated!
Knit Wise

– Knit and crochet projects – even for newbies!

Craft in Style– Make your own craft projects (just like you see on Pinterest) with this subscription box.
You're sure to find one you love in this extensive list. Happy Shopping!
xo Karen