8 Amazing Home Decor Subscription Boxes
---
I've rounded up the best home decor subscription boxes for all you Home Decor lovers out there.
I don't know about you, but I LOVE getting stuff in the mail. (I think all those Amazon finds are partly to blame for that). I think part of the fun of online shopping is when the package arrives – so exciting!
This article may contain affiliate links. Learn more here.
---
Best Home Decor Subscription Boxes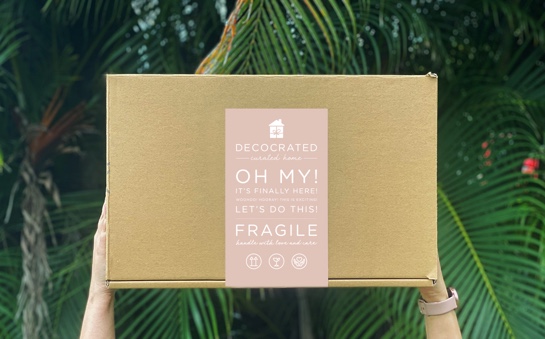 One of the most popular home boxes out there! Decocrated offers home decor accessories for each season! They have really cute stuff but hurry because their boxes are popular and sell out quickly. Starts at $79.99/quarter.
Third & Main was started in 2017 and recently voted best Home Decor Subscription Box! Boxes ship four times/year directly to your door. Their offerings include a Modern Farmhouse seasonal subscription box (really cute stuff!), as well as a Contemporary seasonal subscription box. But they have a few extra goodies too – like holiday decor bundles and ready-to-ship gift boxes. I love that they support local artists and makers around the country! Starting at $129/month. Read my full review of Third & Main right here!
>>Get 10% off your purchase at Third & Main with code: Decorhint. <<
---
---
5. Noorli
Love Nordic Style Interior Design? Then, you will love Norlii. Hygge home goods directly from Scandinavia – 6 times/year! They have yearly as well as bimonthly plans.
Use Code Decorhint25 to get 25% off your first box.
---
Grove Collaborative: a mecca of green and eco-friendly products for your home! Create a box of your favorite products and Grove will ship them to you at your preferred frequency. Or, you can order one time and turn off the monthly shipments option all together. They feature over 2000+ popular products, things like cleaning essentials, paper products, bedding and bath and even bueaty products. Get a free gift set with your first order!
---
If you more of a plant lover, then look no further than Cellar Door Plants. They are one of my favorite online companies for shipping plants and things directly to your door. They offer a few subscription boxes – like a cool mystery box, a pet-friendly box and even a convenient prepotted box! If you love plants, then you will love Cellar Door Plants. Read my review of them here!
---
BONUS: More Boxes to Love!
Barkbox – I would be remiss if I didn't mention this amazing and super popular pet box for dog owners. There's a new exciting theme every month and it will keep your pup entertained and happy at home. And a happy dog is a happy life.
Therabox– One of the most popular boxes on Cratejoy! Professional therapists put together these mindful boxes to help you reduce stress.
Winc – the best wine of the month club! Take a one minute quiz and get 4 tailored-to-you bottles of wine delivered monthly. Over 5 million happy customers.
You're sure to find one you love in this extensive list. Happy Shopping!
xo Karen
PS: Want to know where something's from? I POST IT HERE ON MY LTK PROFILE.