Discover the secret to distress paint with vaseline for your furniture and decor. Create that beautiful, aged paint look easily and effortlessly.
Do you love that aged, chippy paint look? Ya know, Shabby Chic style.
Me too.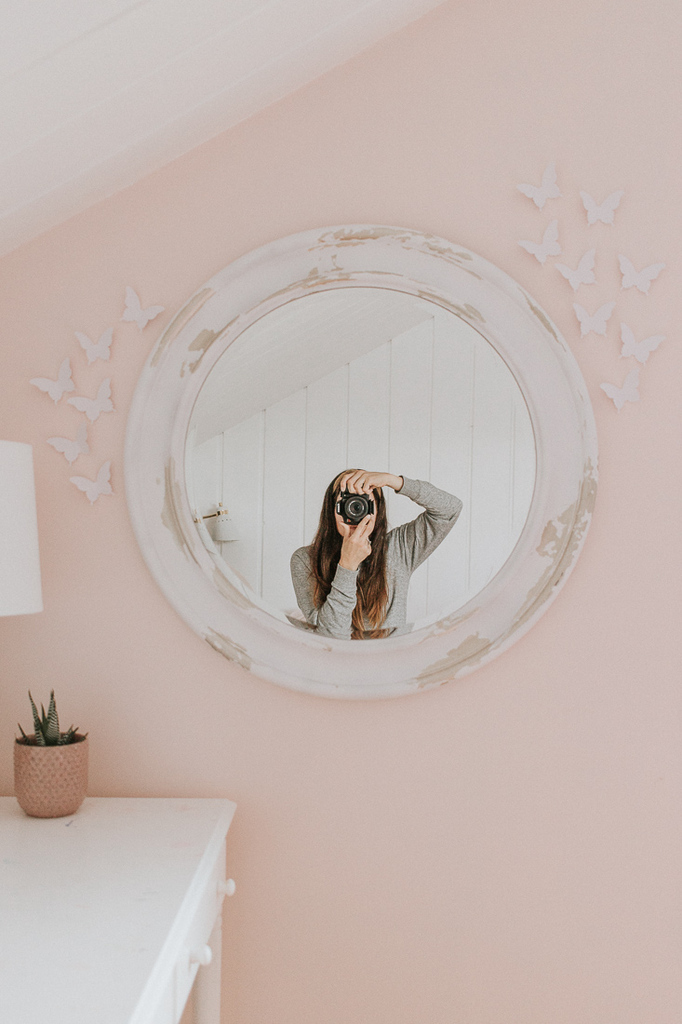 While I don't consider my style to be farmhouse style, I do like the look of incorporating a few aged and antique pieces in our home decor. This distressed paint look is the perfect way to make this happen. And it's so easy to do!
Here's a bit of background on this project. I'm giving my daughter's room a little makeover. She has this round IKEA mirror with a silver frame.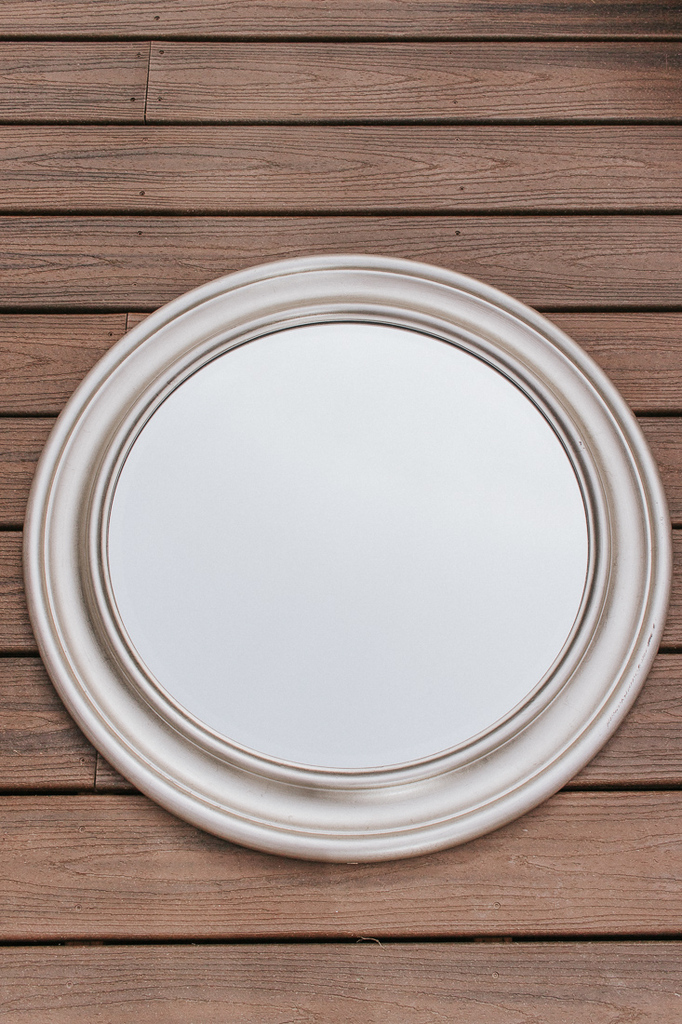 You may recognize this mirror. You may even own this mirror! The silver frame felt cheap and dated and it doesn't go with her room. So I decided to create a white chippy paint mirror instead.
So this is a paint technique tutorial as well as an IKEA hack.
The mirror turned out great and it looks very sweet in her room. I'm really happy I was able to repurpose it. And I just used one little magic product.
Vaseline!
Let me show you how I did it.
Here's what you need
How to Distress Paint with Vaseline
Follow these steps to reach chippy paint heaven. For the purposes of this tutorial, I'm calling whatever you're painting an "object". Object = furniture, mirror, decor, vase, etc.
You want to make sure you prep your object if needed. For me, this meant covering the mirror part so protect it from paint.
Step 1: Paint your Object (Optional).
The first step is to paint your object if you want to. Once we chip the paint, this bottom layer will show through. So if you don't like the color, then you can apply a different color paint to it now. While I didn't love the silver, it was ok to see this poking through under the white paint. So I left it as is.
Wait for this paint layer to dry completely.
Step 2: Coat areas with Vaseline.
Now you want to take some vaseline and smear it on your object. Choose areas that you think would naturally be chipped and worn down. I chose the crevices and cracks and certain parts of the frame.
Step 3: Spray Paint your Object.
Time to spray paint! Directly on top of your vaseline! Yes, you will be painting over the big vaseline blobs. I did this outside on a nice day. (Spray paint can get everywhere if you're not careful.)
Just paint your object as you normally would. Cover over the vaseline sections. The nice thing about spray paint is you don't have to actually paint over the vaseline, you are just spraying over it. So, it remains undisturbed until the next step.
Allow it to dry completely. I waited for about 4 hours.
Step 4: Rub off Vaseline Layer.
Take a damp cloth (I used a white paper towel) and start rubbing off the vaseline layer. You will notice how it takes the paint right off with it – creating that amazing chipped paint look.
This part is so cool, by the way!
Continue to remove all the vaseline until you achieve your desired look. You will notice that as you are removing the vaseline, it spreads a bit too, and it will take more and more and more paint off with it. Or at least, that's what I found!
So – towards the end, I was really careful about spreading it around because I didn't want much more paint to come off. It just depends on the look you are going for.
The best part? If you screw up, you can always repaint the mirror. 🙂
That's it!
You can let the paint fully cure at this point, which takes 24-48 hrs. Then you are ready to hang and enjoy.
Is it weird that I want to do this with everything now? 🙂
This mirror looks perfect in Hannah's room. I added these adorable 3D butterflies to the wall around it. They are really easy to apply. Just bend them to create the 3D look and use double-sided tape to stick them to the wall (it came with the tape by the way!)
This Rustoleum Spray Paint is the best in my opinion. I've used it to paint Adirondack chairs, DIY Peg Rails, and little family heirlooms. I've even used their Chalk Spray Paint to makeover an old chair for my daughter's room.
You can paint on wood, plastic, and metal. Amazing stuff. And it comes in a ton of colors.
Home Depot is the best place to get this because the color options are endless there.
So, what do you guys think?
I realized that it's nearly impossible to take a straight-on picture of a mirror without including myself in it. So – hi!
Wait, don't you need to use Chalk Paint for this project?
Nope!
You can actually use whatever paint you want. As you can see – this Rustoleum spray paint worked out fine. It's matte but still a little tiny bit shiny? Which is OK for me and my project.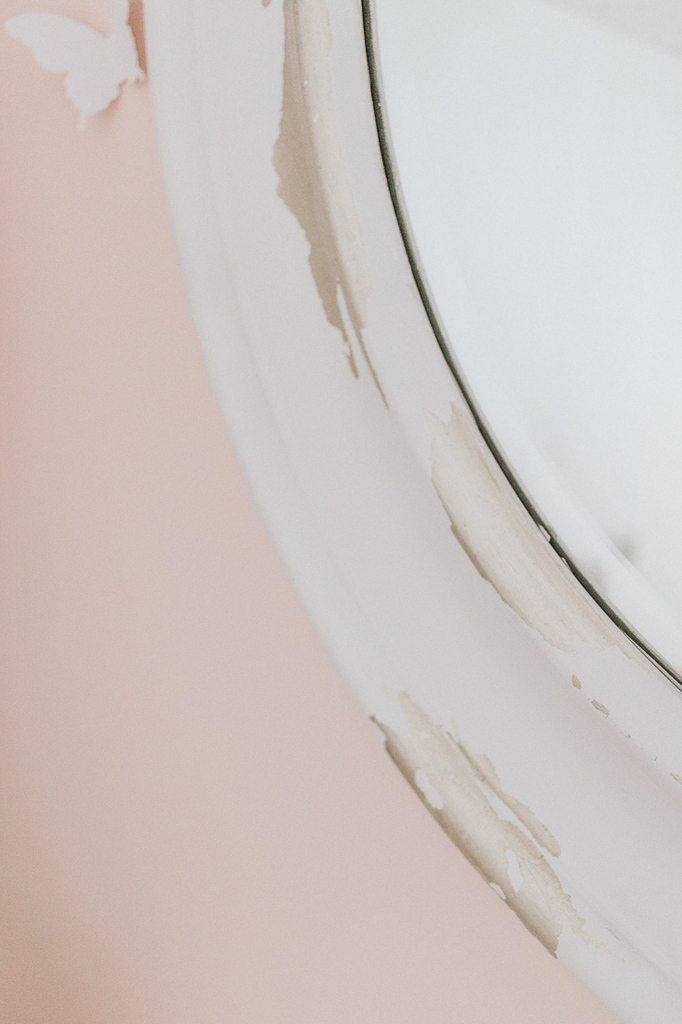 Chalk paint will give you more of that matte, heavy look. A chalky look. LOL. And chalk paint is really beautiful, too. Joanna Gaines makes a great one as does Rustoleum.
Watch her do her magic right here …
So, now that you know how to distress paint with vaseline, what's going to be your first project? Tag me with the results on Instagram!
Have a great week!
xo Karen
Karen Sloan is the founder, editor and syndicated content writer of www.decorhint.com. She offers hints of inspiration for everyday living, including home ideas, DIY projects and lifestyle content. Her work has appeared on Google News, MSN, Pioneer Woman, Apartment Therapy, and Bustle, among others.