32 Cute and Girly iPhone Wallpapers – FREE!
This page contains links to products that were hand-picked by the editor. When you buy through these links, we may earn a small commission. Learn more.
---
UPDATE: New wallpapers added! Scroll to the bottom of the post to see the new additions.
It's a new year and I'm feeling a fresh boost of creativity.
So I decided to put that to good use and make you all some cute wallpapers for your celly.
I don't know about you, but the wallpapers that come with the iPhone are not that inspiring. And kind of distracting from the icons, in my opinion.
And while I love to put my kiddos and family pictures on the lock screen, I tend to like my home screen background minimal and clean. But still fun!
Maybe you're in the same boat?
Anyways, if you find some wallpapers you like, the link to get them is located at the bottom of the post.
I put them all together in one nice little zipped-up file for you. These are cute and girly – lots of pink!
How to get your Girly iPhone Wallpapers
Here's the step-by-step process for how to get these cute iPhone wallpapers.
Click the button to get your wallpapers.

The file should automatically download for you.

After it's downloaded, save the files to your iPhone. (You can save them into your 'Photos' folder.
To change your wallpaper on your phone, go to Settings —> Wallpaper —> Choose New Wallpaper —> Camera Roll—> select saved wallpaper from there!
It's really that simple! You can always refer to this page from Apple for additional help.
Wallpapers for iPhone
Here is a rundown of all the wallpapers for you. I hope you guys enjoy them!
Watercolors & Floral Wallpaper
A taupe background with white florals
A blue watercolor background
A pink watercolor background
A blue background with pink pineapples
A peachy pink background with darker pink florals and green abstract dots
Wallpaper for Every Month of the Year
Adorable and Cute iPhone Backgrounds for every month of the year! Upload a new one every month.
Green and Taupe Wallpaper
A sage green background with modern white lines
A light peach background with sage green "sprinkle" pattern
Cute peach background with a favorite quote – "enjoy the little things" in a scripted, handwritten font. Looks like you wrote on your phone! Kind of cool.
Pink and Green Patterned Wallpaper
A pretty pink background with white splatter paint
A sage green background with peach/ivory clover pattern
A speckled pink pattern on a peach background
A pretty pink background with a light pink heart pattern – perfect for Valentine's Day!
Peach background with a darker peach triangle pattern
For all my sewers and crafters out there! A cute scissors pattern on a pretty pink background.
A pink gingham pattern wallpaper
Pink Floral and Leaves Abstract Wallpaper
Update: NEW Wallpapers!
I've added these four floral/greenery abstract wallpapers. Simple, clean and bright. Enjoy!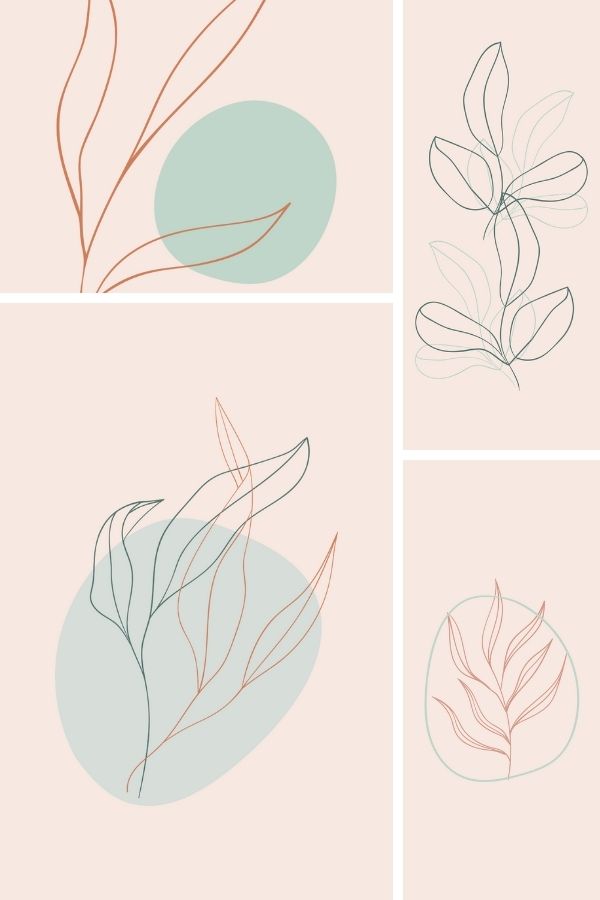 To get ALL the cute wallpapers for iPhone, simply click the button below…
I'm currently rocking the scissor pattern and it looks great. It's very clean and uncluttered looking.
The creative spirit in me loves making wallpapers, so I'm thinking of adding more holiday and seasonal wallpapers, too.
Feel free to bookmark this page and come back in the near future.
I hope you guys enjoy it!
Talk soon guys!
xo Karen