This post may contain affiliate links. Learn more here.
Easy tutorial for making an inexpensive DIY activity table for kids. Perfect for art projects, legos and road sets!
---
We have a big room above our garage that we designated for the kids playroom. It's a large room so it can be a bit tricky to layout with furniture.
When you have a large open room, one of the easiest ways to furnish it is to set up "zones."
My goal with their playroom was to set aside a zone for TV watching and lounging, and another for crafting, playing legos, and tracks.
I wanted a LARGE low play table to accomplish this. Mainly, I wanted a lego table and a track table, since that's what my kids seem to be doing a lot of these days.
I saw this one on Pottery Barn and was instantly inspired to make my own.
There is not much to these floor tables and making one yourself is easy. Plus, after all the materials used, I spent under $100 and made it the exact size I wanted.
I'm excited to show you guys how to make your own DIY play table.  I also made a DIY wooden stool to go around it!
Things You'll Need
Helpful Notes:
Where to find Lumbar: You can pick up everything for this project from Home Depot (and Lowe's I'm assuming). Home Depot has a small section in Lumbar called Project Panels. This is where I found the top to my table. It's a pre-sanded birch plywood panel. I also found the table legs and top plates back in the molding sections.
You can have Home Depot cut your lumbar right in the store. I had a 4×4 foot plywood panel cut down to 3×4. Save the excess panel because you will need it for the legs.
Table Sizing: Most kids floor tables seem to be around 32 inches wide by 48 inches long. I wanted mine slightly larger at 36 inches x 48 inches long.
Stop Moulding: This is optional. The plywood panels don't have a pretty side to them, and I didn't want my kids legos and things to keep rolling off the table.

This stop moulding goes around the edge of the table and gives it nice a finished look. Plus – it's super practical and doesn't get in the way of them playing.
Related: DIY Mudroom Bench
DIY Activity Table – Step by Step
We are starting this project assuming you had your plywood cut down and you're at home with all your materials.
Step 1
Paint your plywood, table legs, and stop moulding (if using).
We painted ours white to match our existing playroom furniture. We only painted the top of the table and left the underside bare.
Step 2
Take your excess piece of plywood (the small piece that was cut off) and cut out small squares using your circular saw.
These squares should be big enough to fit your top plates. Since the plywood board is thin, this gives the top plates more room to drill into without going through the top!
Step 3
Measure and mark 2 inches in from the top and side of your large table top.
Wood glue a square in each corner at these marks.
Step 4
After the wood glue dries, screw in your top plates through each square. The top plates come with all the hardware you need.
Step 5
Attach your table legs to each top plate (they just screw in by hand and couldn't be easier.)
Step 6
If you are attaching stop moulding, you will need to cut them down to size using your circular saw.
You want them to overlap slightly in each corner so the two pieces meet and there are no gaps.
To achieve this, make sure to either cut the end pieces or side pieces slightly longer than the table to overlap.
Use wood glue to attach the moulding to the sides of the plywood board, then carefully brad nail them in a few spots.
You want to make sure that your nails didn't go through the bottom of the plywood.
Double-check this at the end and pull out any poking nails.
Step 7
Use a bit of painter's caulk around the moulding to hide and seal up any gaps. Then, give it all a fresh coat of paint.
You can also give your table a coat of Polycrylic to protect the wood and seal it.
I also found these play table mats which lay on top and are perfect for protecting the table underneath.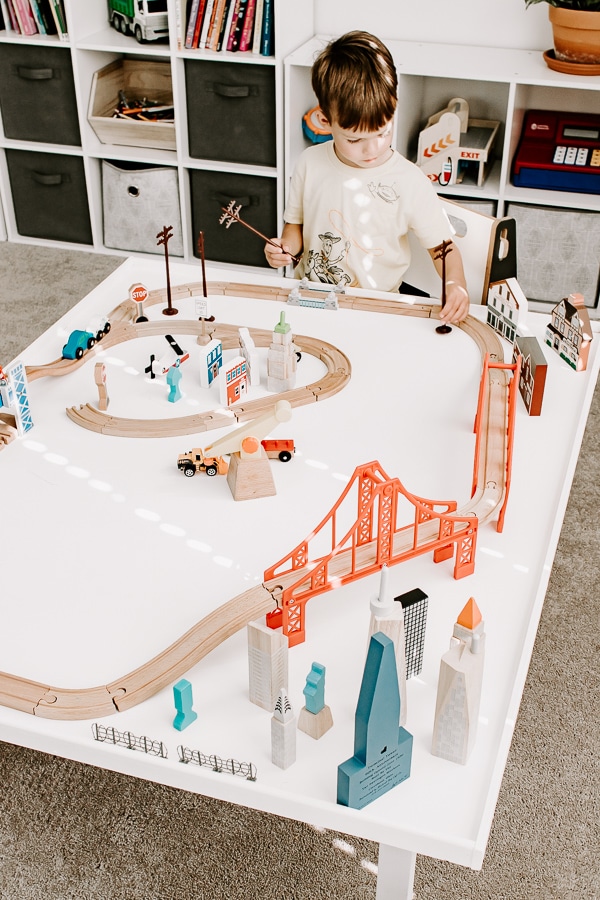 And that's all there is to it for this DIY play table. It's not super fancy, but I saved money and made it the exact size I wanted.
My kids love their new floor table!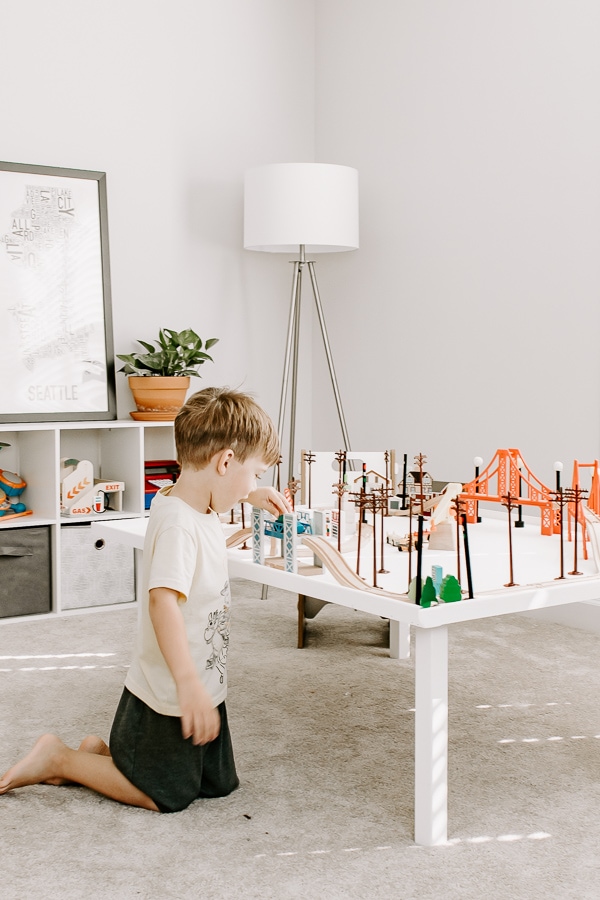 And the nice thing is, I can shove their lego bin underneath and the large table size hides it. Hows that for a DIY lego table!? 🙂
It's the perfect place for them to do crafts, legos, and play with their train tracks. They can even eat snacks and lunch on it.
The size ended up being perfect too. My husband commented that it is very large, but that was my goal. I wanted them to each have space to play on it at the same time.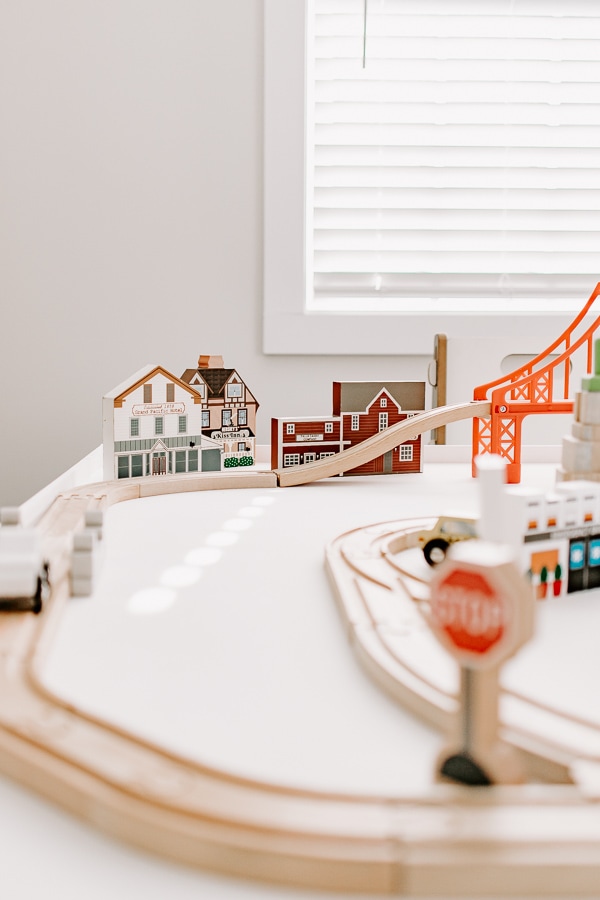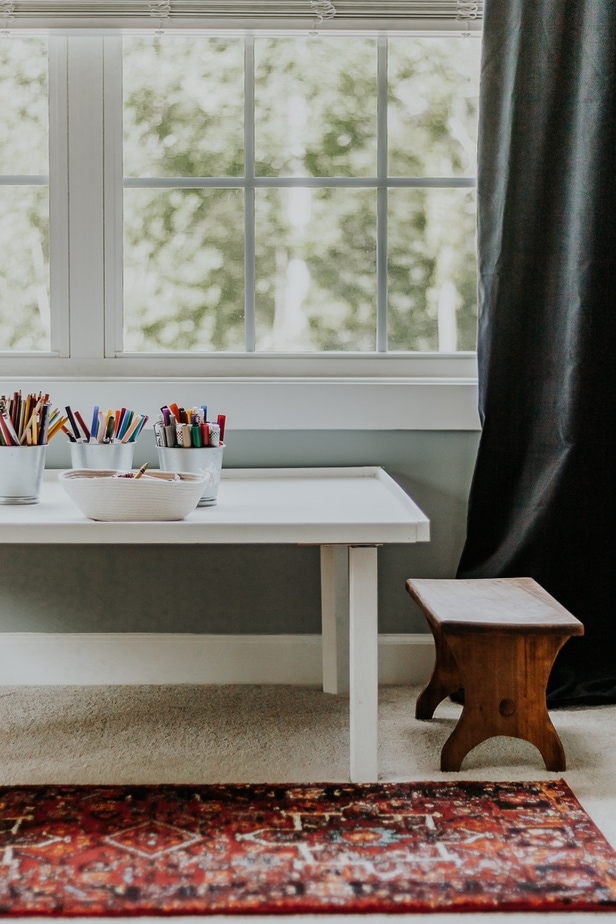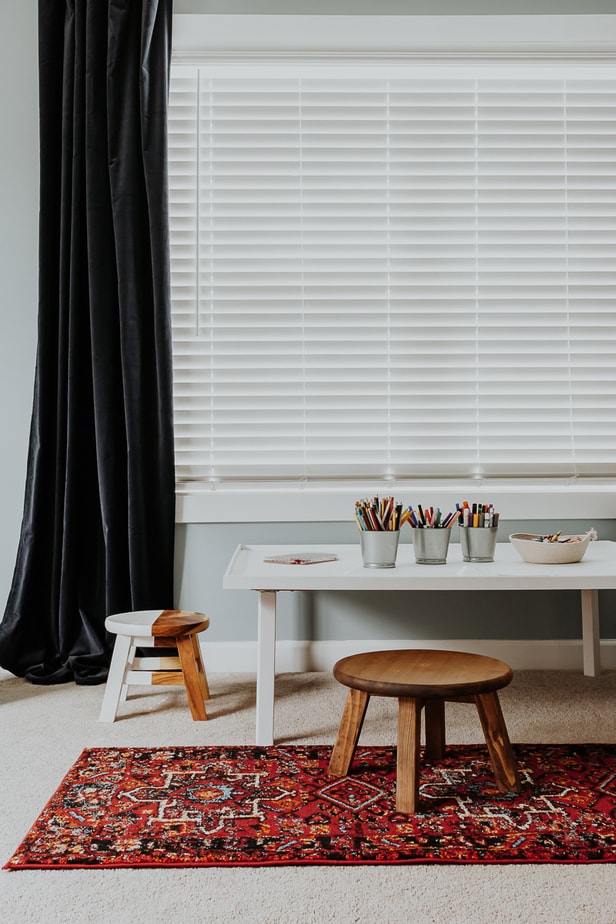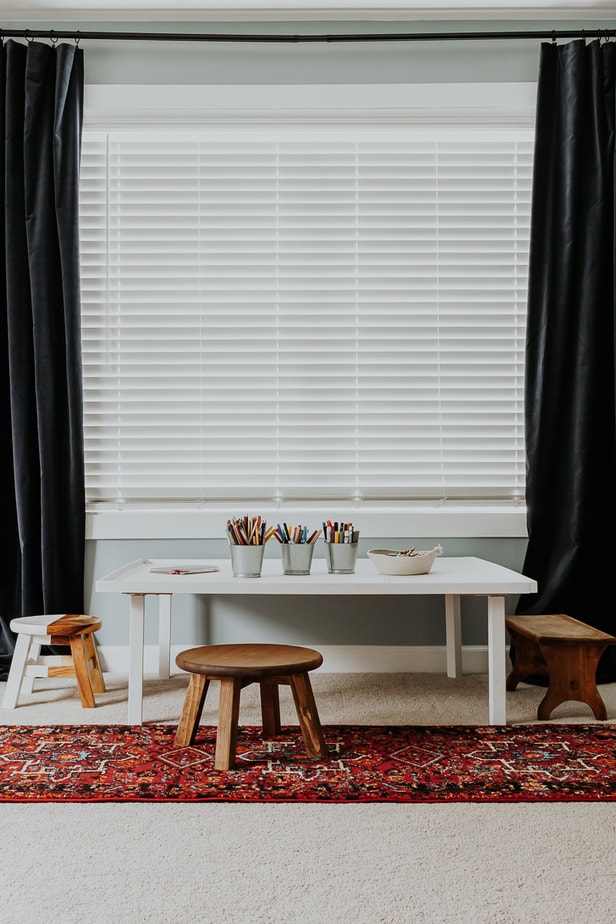 I still think I'm going to make colorful cushions to lay around. Next project coming soon! 🙂
Let me know if you have any questions and good luck! It really is a fun project.
Xo Karen