Inside this post: A DIY canvas wall hanging tutorial and an update on our playroom makeover for the one-room challenge!
---
Welcome back to Week 3 of the One Room Challenge.
Don't forget to check out all the participants here at this link.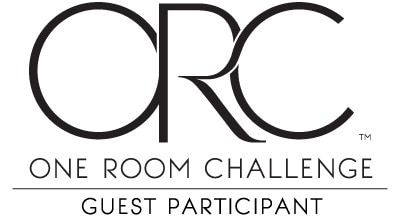 To catch up on week 1 and week 2 of the one-room challenge, click the links below.
Things are definitely moving in the right direction here. That's not to say I haven't had my share of mistakes!
Taking down wallpaper (after changing my mind on it) took down some of the drywall. And I spent a couple of days making perfect Conduit Curtain Rods –only to have mismeasured when I hung them. LOL. (Face palming.)
In order to save time and get this crossed off the list, I went out and bought curtain rods. I'll use the conduit ones I made somewhere else in the house.
What has been accomplished so far?
The paint is up and looking good.
The kids art wall is up and looking good.
The bean bag chairs have been made and turned out not so bad.
The curtains are hung. It's amazing how drapes can make a room.
A new light fixture has been ordered.
things I still need to do
I'm still looking for that perfect rug. My husband and I have not found one we *both* like. Sigh. I prefer something grown-up. He wants something more for kids. Let's see what happens!
Here are a few rugs I'm considering. I know – they are all so different! 🙂

I'm really loving braided rugs at the moment.
Is it cool or not cool? I have some nostalgia for those rugs because I had a round braided rug growing up. To me, they are cool in a vintage, country way, plus they are inexpensive and colorful.
Other things …
I attempted to build a wood stool but I'm not happy with it. So still working on that project.
I ordered some vintage art from my shop but it needs to be framed and hung up.
Debating buying a new lamp for the TV console. The one we have feels somewhat out of place.
I'm still working on the art table setup.
DIY canvas wall hanging
I have a quick and really adorable DIY project for you this week!
Let's get to the tutorial
things you'll need
Step 1: Print out your Design
The first thing you want to do is print your design on transfer paper. And this is very important – you need to first FLIP your design on the computer so it prints out backward. That way, when you go to iron on the design – it will be facing the right way. This is especially important for designs with words on it!
I found this black and white graphic map that I just love from Etsy. Since this is going in our playroom as a little hanging canvas – the black and white was perfect!
After you flip your design on the computer, print it out on the transfer paper according to the directions.
Step 2: Cut out your Design
You don't want to have too much white showing so you should cut pretty close to your design as possible. It's ok to leave a little border.
You can plug in your iron and heat it up while cutting.
Step 3: Iron Your Design on Fabric
This part is pretty simple. You are going to take your canvas or fabric and iron it a bit to warm it up.
Then, place your cut-out design FACE DOWN on the canvas. Iron this on for about 4-5 minutes.
Carefully peel the backing off the design. Voila! Looking so good already.
Step 4: Sew your Canvas and Attach Dowel
Now we just want to sew our little canvas. You can do this with a sewing machine or stitch witchery.
You'll also want to sew a pocket at the top of your wall hanging to insert your dowel into.
Step 5: Hang it up!
Tie a rope to each end of the dowel. Hang it up and enjoy!
You can make these canvas wall hangings as big or small as you want. Since I am printing at home – I'm limited to a letter-sized design.
You will need to print a few designs and iron them all on in spots to make a larger canvas.
And I just might do that someday!
I hope you guys enjoyed this quick DIY project. Be sure to check back for Week 4!!
xo Karen
Karen Sloan is the founder, editor and syndicated content writer of www.decorhint.com. She offers hints of inspiration for everyday living, including home ideas, DIY projects and lifestyle content. Her work has appeared on Google News, MSN, Pioneer Woman, Apartment Therapy, and Bustle, among others.