This post may contain affiliate links. Learn more here.
Make this beautiful DIY Christmas Table Runner and get some inspiration with our holiday tablescape.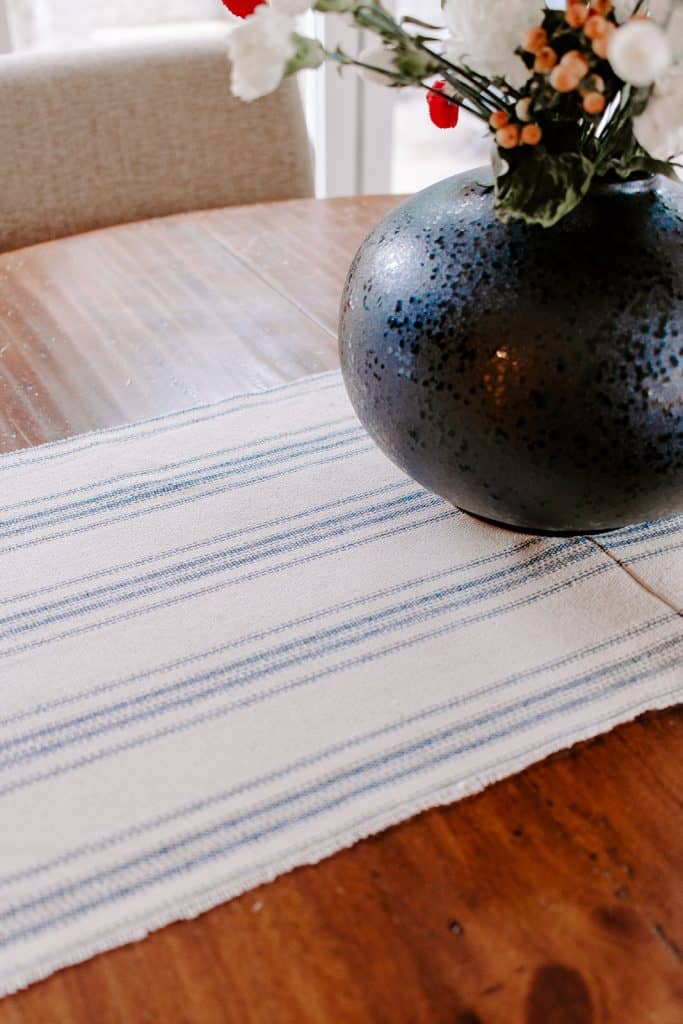 I don't know about you, but I've been seeing so many amazing Holiday Tablescapes all over Instagram and Pinterest. They look like they are plucked right from the pages of Martha Stewart, who is one of my favorite muses, by the way.
This year, however, I just don't have the time to put together something so fancy.  And maybe you don't either? Perhaps you are like me and your Holiday is low-key this year. Or maybe you are just not the one hosting this year.  
Since we moved away from family a few years ago, it's usually been just the four of us.  It does feel a bit more laid back when you are not expecting company. 
However, it's important to me that my kids still have a Christmas that feels special to them.  Which is why I wanted to dress up our holiday table with simple but festive and pretty touches. 
This DIY table runner fits the bill! It was so easy to put together! Honestly, the fabric is really the showstopper here.
Materials Needed
1 yard of Fabric (I didn't use my whole yard). Here's the exact grain sack fabric I used.
Tutorial for DIY Christmas Table Runner
I never used to own a table runner. I had one in the past. But I donated it away when I realized the particular table runner I had didn't go with my decorating style anymore. And then years passed and I just never got another one. But recently, I've really come to love table runners again. They can brighten your table and add that extra layer of texture.
I don't have time to run out and get one at the moment, so I made one out of this pretty blue striped grain sack fabric. I frayed the edges so I didn't even have to sew that much. Easy peasy!
The first thing you want to do is cut your fabric as wide as you want your table runner. Generally, table runners are about 16 inches wide by about 72 inches long. But you can make yours whatever measurements you want. That's the great thing about this DIY table runner!
When using grain sack fabric, the striping helps guide you and also helps you cut straight lines. (Happy dance because I'm terrible at cutting straight lines). My table runner ended up being about 17 inches wide. I like my table runners to drape over the side of the table too so it was fairly long but I didn't grab the exact length yet.
Since my fabric wasn't long enough in one piece, I had to cut a second piece, line up the stripes and sew a straight seam joining them together. You could also see a French seam here, which would hide the ugly seam. But since I'm ok with just using the one side, the seam is hidden anyways.
After I sewed the seam, I cut away some of the excess fabric from the seam underneath.
Finally, the edges of the fabric and pull at the loose strings to create a frayed look all the wall around. Depending on how much fray you want, this will shorten the width of your runner a bit.
Holiday Tablescape for a Small Round Table
Centerpiece
There are so many great ideas out there for Holiday Centerpieces! Only they typically involve a large, long dining table that seats 12 or more. What about us smaller, round table folks?
This year, I created a simple holiday centerpiece using two bunches of flowers from my local grocery store. If your grocery store has a sweet little floral shop in it – you are set! No need to go to crazy lengths here to get a pretty centerpiece on your table. And no need to spend a lot of money either. I created this holiday centerpiece with one bunch of red and white carnations (less than $6!) and with one bunch of really pretty coral colored hypericum berries (under $7!). I've always been drawn to that sweet coral, peachy, terra cotta color, and I was excited when I found these berries this time of year. So I definitely wanted to incorporate that into the bouquet.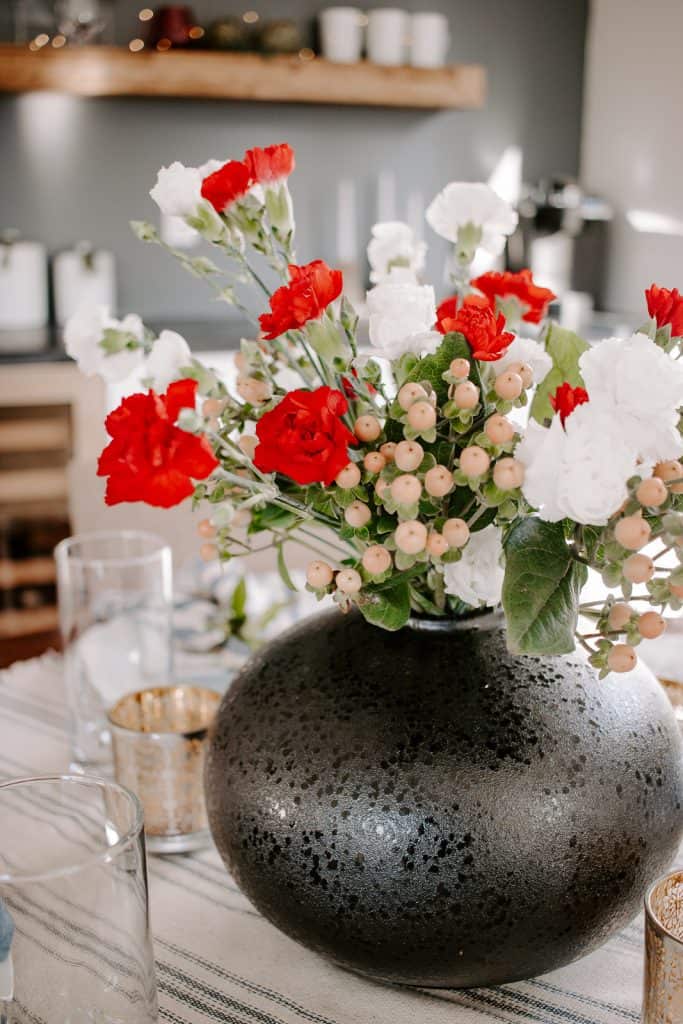 Here's the trick with making your bouquets look full and lush and spread out …
Use a vase with a SMALL OPENING. Or a small mouth. However you want to say it. 🙂
All you have to do is separate your stems from your floral bunch and put each in the vase one at a time in a crisscross pattern. Then it looks like flowers are just naturally spreading to each side rather than straight up and down. It looks fuller overall and oh so pretty. Finally, stick in your berries where you need that extra pop of color and texture. This black vase I found on clearance at Target ties in with our black light fixture too. And it's low so you can still see the folks across the table from you. (That's a pet peeve of my husbands. )
Tableware
If there is one thing about my style that has stayed totally consistent, it's our tableware. From the time we got married and filled out our wedding registry, it's generally been white plates and white serving dishes all the way. I just love that they'll go with anything and any season. And as much as I would love some of those fancy gold and brass flatware, it's just the simple silverware for us. I'm really loving this matte black flatware though!
Napkins
I like to bundle my flatware with my napkins and secure them with a pretty bow. I also love to give each bundle a sprig of rosemary or greens just to dress it up a bit more.
Candles
Since we are usually limited on space (ya know, small round table), simple tea lights or these small gold candle holders do the trick.
And that's it! It's simple but pretty and makes our little Christmas together feel special.
Check out these other posts while you're here …
xo Karen