---
You guys won't believe how easy it is to make these beautiful chunky knit blankets.
No knitting needles required!
This is not even arm knitting; it's finger knitting or hand knitting. In less than an hour, you'll have a gorgeous blanket for your decor.
I'm sure you've seen these chunky knit blankets before. They are one of the top-selling items on Etsy.
And they can cost hundreds of dollars if you want to buy one.
I initially glazed over them as a DIY because I thought it was too big of a project and too complicated to make. But, I'm here to tell you it's not!
So, today I'm going to show you how to knit a chunky blanket.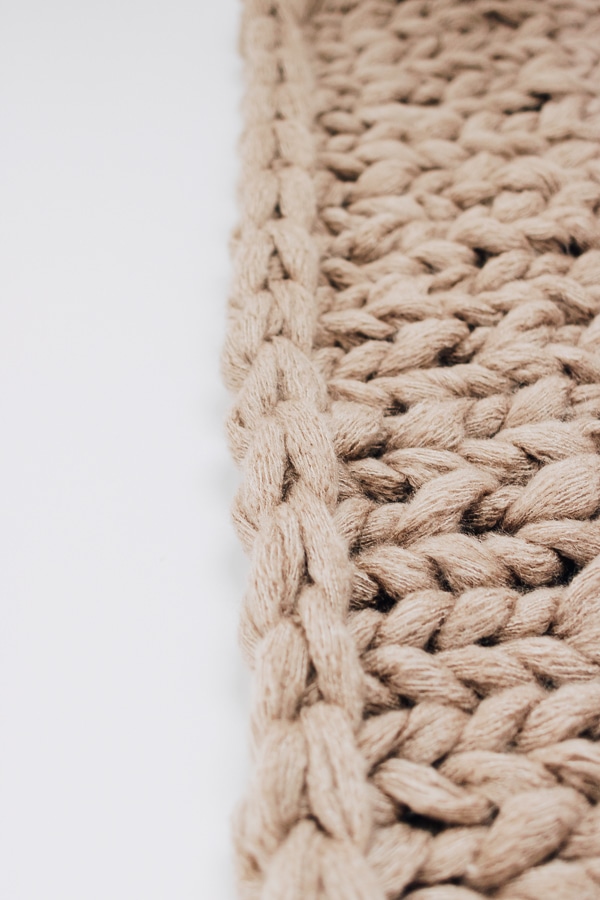 You can totally do this!
The reason I even started this blanket project was because my husband really wanted one for our living room.
He loves the look of them and let's be honest — we could always use another blanket around here!
But I just couldn't wrap my head around spending that amount of money on a throw blanket!
And so, I set my crafty intentions towards making my own.
As a side note, I totally get why these blankets cost so much money.
For starters, the yarn can be expensive. Secondly, this is not one of those quickie projects.
These can be time consuming until you get the hang of it, then it goes much quicker.
I think that folks are totally justified charging what they do because this is a time-intensive project. And you should be paid appropriately for your time and craft.
But don't let that deter you from trying to make one of these blankets.
It's a very cathartic activity. I found myself waking up, grabbing coffee, and then making a beeline for my blanket – it's just fun and confidence-boosting.
You will definitely garner some 'wows' when you show off your new blanket.
Not to mention – this is an incredible gift for someone. And, if you get good enough – perhaps a new business for you!
Ok, enough chit-chat. Let's get making.
I made a video tutorial but I also took photos and created a step by step guide in written format. Some of us like to watch. Some of us like to read. I personally fall somewhere in the middle.
Things You'll Need
Jumbo Sized Yarn – Chunky yarn! see tips and options below on what type and how much.
What kind of Yarn do I need to Make a Chunky Blanket?
To make a chunky knit blanket, you want to use Jumbo yarn. This is size 7 yarn. The size is denoted on the yarn packaging.
They make all kinds of jumbo yarn in different materials, such as wool, acrylic, velvet, and chenille, and at all different price points.
Click on any photo to shop the yarn!

Some considerations:
Price: If you want to make the chunky blankets that you see everywhere right now, most of them are using wool roving yarn, which is sold in giant balls by weight. These balls are quite pricey (usually $30+/pound), but they make the best looking chunky blanket (in my opinion). You can still make a nice blanket with cheaper yarn, as I did. It's all personal preference.
Feel: You might like a softer, chenille type blanket, or maybe you want the heavy feel of super jumbo wool yarn. If you can get out to the craft stores and feel and see the different yarns, I encourage you to do so.
Care: If you want a blanket that is machine washable, you need to choose a yarn material suitable for that. Wool roving yarn is almost always dry clean only. Most yarn will tell you on the package if it can be machine washed or not.
I used the Big Twist Ribbon Yarn, which is 100% polyester and is hand wash only. Or so they say, I may decide to take a risk and see if I can wash this thing.
Because I like to live on the edge of danger.
How Much Chunky Yarn Do I Need?
This is such a tough question to answer because there are so many factors at play but I'm going to try and make it easier for you.
I used 12 skeins of Big Twist Ribbon Yarn (camel colored yarn) and my blanket ended up being about 34 inches wide by 52 inches long – which is slightly larger than a lap throw.
With the Big Twist yarn I used, each skein is 16.5 yards, so after some simple math, you can see I used a total of 198 yards to make a lap-sized throw.
I made another chunky knit throw using Bernat Blanket Big Yarn in Gray (32 yards/skein). After knitting with 4 skeins of this yarn, my blanket was roughly 43 inches across by 49 inches long. In total, I used 128 yards of this yarn, but my blanket is nice and fluffy because this yarn is so darn fluffy! It's incredibly soft and warm.
I highly recommend using Bernat Blanket Big Yarn for your blanket projects, if you want a more budget-friendly option.
So, my advice is to take note of how many yards/pounds are in each skein of yarn. Some jumbo yarn comes in gigantic balls and is sold by weight (1lb, 2lb, 3lb, etc). You'll need about 4 lbs of super chunky wool roving yarn to make a nice, lap-sized blanket.
Other factors to consider:
how tight you make your stitches. The tighter the stitch = the more chunky yarn you need. (I prefer a tight stitch because the loose ones look sloppy to me.)
How jumbo and stretchy your yarn is. Again – yarn can be different, some are fluffier and stretchier than others.
The bigger the yarn ball, the less knots you will need to create – so that's an advantage. You'll understand this more as I explain below.
Here are the various sized blankets for your knowledge:
| | |
| --- | --- |
| | Blanket Size (in inches) |
| Baby Blanket | 20×20 |
| Lap Throw | 30×50 |
| Small Throw | 40×60 |
| Medium Throw | 50×70 |
| Large Throw | 60×80 |
| Bed Runner | 40×80 |
Always buy more than you think you need because this yarn has a tendency to sell out.
Related Post: DIY Rope Baskets
How Much Does it Cost to Make a Chunky Knit Blanket?
If you want the merino wool roving yarn for your blanket, you're gonna pay for it. Expect to spend over $100 for all the yarn you will need to make a blanket.
These blankets look and feel incredible, so definitely worth the price.
If you don't want to spend that much (like me), you can get away with spending less than $50 for a whole blanket. Even less if you play your coupons right.
Michael's and Joann Stores seem to be the best for getting the cheaper yarn, but don't be surprised if it's all sold out in the store (and sometimes online, too.) You just have to check often and buy in bulk when it's available.
How to Knit a Chunky Blanket
Step 1: Create a Slip Knot to Start your Blanket
The way to start your blanket is to create a simple slip knot.
Take your yarn, wrap it around your hand to create a loop. With your other hand, pull the working yarn through the loop and tighten. You should have something that looks like this:
Step 2: Create a Braided Chain from Your Slip Knot
Lay your slip knot down. We are going to create a simple chain of stitches. The length of this chain will determine the length of the blanket.
Reach through the slip knot you created and pull the working yarn through to create a stitch. Repeat this process, pulling the working yarn through each new loop you create.
Continue until you reach the desired length of your blanket. I made 25 stitches.
Step 3: Create Your First Row of Stitches
Take the chain of stitches you just created and flip it over.
See those little bumps in the middle?
We are going to take two fingers and pull the working cord through that little bump to create a loop on top. Don't worry about the last loop on the chain, we'll get back to that.
Keep creating loops with each little bump, all the way to the end of the chain.
You'll now have your first row of stitches done!
Step 4: Create Your Second Row of Stitches
Now we are going to repeat step 3, going the opposite way.
Pull the working cord through each loop that you created in Step 3, creating a loop on top of this loop.
There are two important things you need to remember when creating rows of stitches:
When starting a row, always skip the first loop in the row. Start with the second loop.
Always include the last loop of every row.
I recommend making the last stitch in each row a bit tighter. If you make it too loose, your blanket will feel kind of loosey-goosey and sloppy.
This pattern of stitching rows is how you will create your blanket. You are just pulling the working yarn through the loops each time. As you do this, you will start to see a pattern of braids emerge on your blanket.
It's all starting to come together!
Step 5: How to Attach More Yarn To Your Blanket
At some point, you will run out of yarn and need to attach more yarn. How do we do this?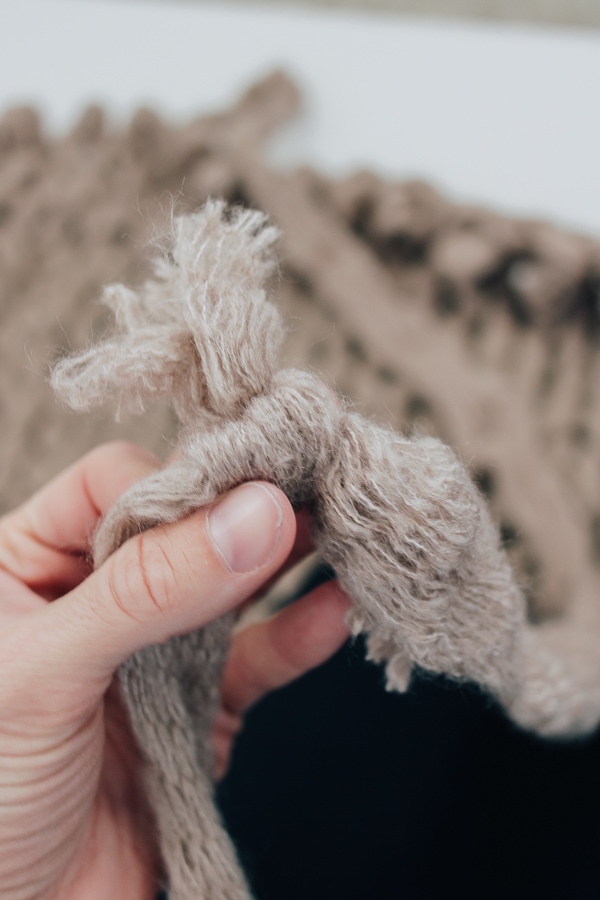 We simply take the end of the old yarn and attach it to the beginning of the new yarn by tying a strong knot. Be careful that you don't pull too hard and rip through your yarn. Once you tie a knot, cut off the two loose ends.
We can hide the knot under stitches and on the underside of the blanket. Even if you can't seem to hide it in one row of stitches, you can usually use the next row of stitches to hide the knot.
You will repeat this process as many times as you need to add yarn. In my case – 11 times!
Some yarns are more forgiving with this than others. Remember that Bernat Blanket Big Yarn? MUCH easier to hide the knots with this yarn because it's so fluffy.
Step 6: How to Tie Off A Chunky Knit Blanket
At this point, you have a blanket size you're happy with. You want to make sure you have enough working yarn leftover to close it off. If not, you can just undo a row or two of stitches until you do.
To close off your blanket, you are going to take two loops and pull your working cord through creating another loop. Then take that new loop and the next loop in the line, and pull another loop of working cord through.
Continue this process all the way across until you get to the final loop.
Once you are at the final loop, you will still have a tail. It might be a long tail or a short tail depending on where you finished. If you have a very long tail leftover, cut it off so you're left with a shorter tail – about 6 inches or so.
Pull that shorter tail through the last loop all the way, creating a tight knot. Then, you can weave the tail into your blanket, in and out of the stitches as you see fit.
You can also do this with the little tail that was created in Step 1.
And that's it!
You now have a beautiful, fluffy, DIY chunky knit blanket. So cozy!
If you are still super confused at this point, watch the video – that will clear up a lot of things. And feel free to contact me with questions — I'm always here to help out my fellow home crafters.
Now that you know how to make a DIY chunky knit blanket, you can create them for friends and family. It's a gift that anyone would love receiving. It's truly from the heart.
I hope you guys find as much enjoyment in this project as I did. Now that you know how to knit a chunky blanket; who is going to be the first person you give one too? 🙂
Thanks for visiting today!
Xo Karen
Karen Sloan is the founder, editor and syndicated content writer of www.decorhint.com. She offers hints of inspiration for everyday living, including home ideas, DIY projects and lifestyle content. Her work has appeared on Google News, MSN, Pioneer Woman, Apartment Therapy, and Bustle, among others.