This post may contain affiliate links. When you buy through links on our site, we may earn a small commission - at no extra cost to you. Learn more here.
Check out this easy tutorial for a DIY cinnamon stick candle holder. These are rustic and beautiful and you only need a few materials to make them.
How was Thanksgiving? Now that we are moved into our house and Thanksgiving is past us, my Christmas decorating has officially been kicked into high gear. This year, I'm decorating the house a bit differently.
The words I use to describe my Christmas decorating this year: Whimsical, Rustic, Minimal and Warm. I don't want anything too fancy. I want handmade. I want more green than red. That's my vibe this year. Call it Nordic. Call it Scandi. I think it's breathtaking!
These DIY cinnamon stick candle holders are the perfect way to bring a little bit of this style into your home. And they are super cheap to put together!
Materials Needed
I've used these Oui Yogurt Jars for other projects, like my macrame jar hangers. They are so cute! I happened to find these Oui 'Petites' in the grocery store and you get two in the pack. They are slightly smaller than the other Oui jars and they are perfectly sized for this project.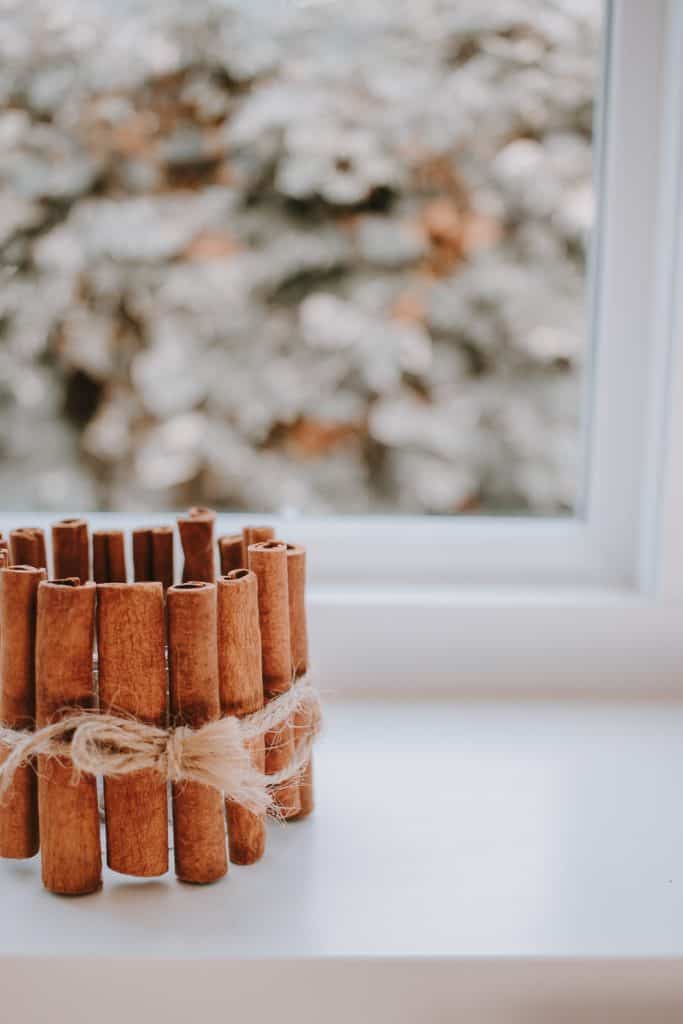 Done.
Tutorial – DIY Cinnamon Stick Candle Holder
I actually don't have full-on tutorial pics for this because it is so darn easy.
You literally take cinnamon sticks and hot glue them to the jar. Tie a piece of jute twine around it and stick a small tealight candle in there and BOOM.
You can also stuff a bunch of fairy lights in there as well if you don't have any of those candles laying around.
Quick Tip on Buying Cinnamon Sticks
I don't know about you, but Cinnamon Sticks can be pricey if you buy them in the little spice jars. Instead of doing that, go to the bulk spice section. I got a bunch of them for under $3! One little spice jar of cinnamon sticks would have cost double and I would have received half as many. Definitely go BULK BIN all the way.
You can also buy Cinnamon Sticks in BULK on sites like Amazon. And you can get them at the Dollar Store. You don't need too many for this project unless you are making a lot of these candle holders.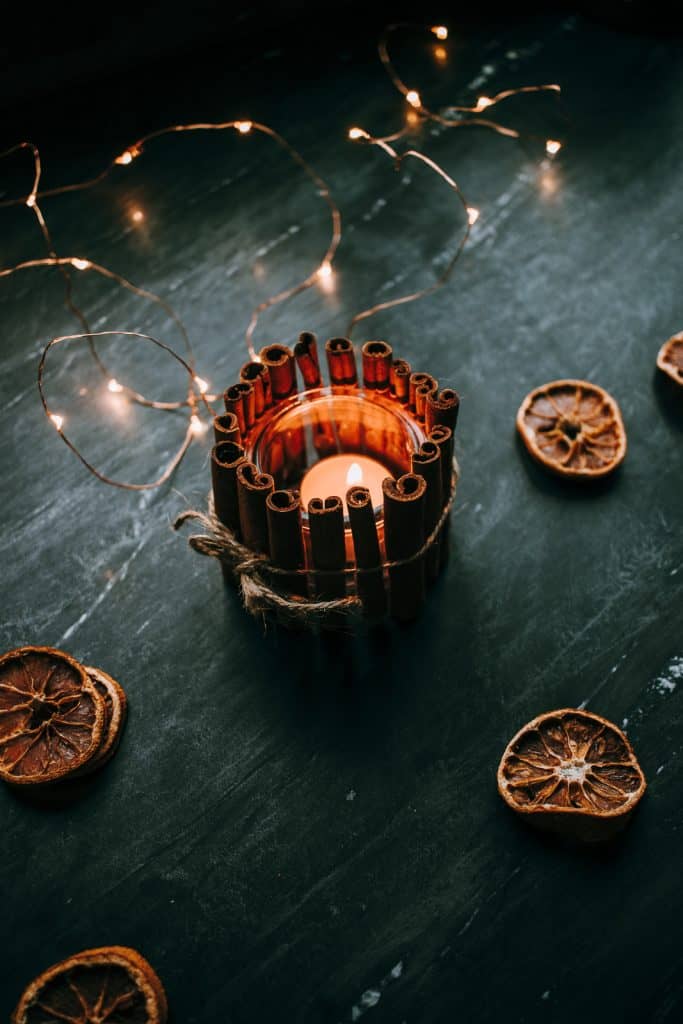 I love how these turned out. And while they don't smell like cinnamon, they are so rustic and perfect to display on your windowsills or on your coffee tables.
I found these tiny little tealight candles from Target that are Vanilla scented. Yum! Don't forget to peruse the end of the aisle for clearance candles at Target. TJ Maxx and HomeGoods are also great sources for candles. Or again, buy in BULK from places like Amazon and IKEA.
You could totally use these cinnamon stick candle holders for Fall too and keep them out throughout the holiday season. I wish I would have made some of these sooner. (***Making mental note for next year***)
I hope you guys enjoyed this quick little tutorial. Aren't these DIY cinnamon stick candle holders so festive and pretty? Throw on some Christmas Music and heat up the ol' glue gun. You will be so pleased with these when you are finished. I promise!
xo Karen
PS: Next week some finishing touches are being put on the house. I should have a little Christmas home tour for you next week sometime. Stay tuned!