Decor Hint is reader-supported. When you buy through links on our site, we may earn a small commission - at no extra cost to you. Learn more here.
Learn how to make a real DIY evergreen wreath for Christmas! This one only takes about ten minutes to make and is practically free !
Hello everyone!  Yesterday, I posted our Christmas tour.  One of the things I've been using just about everywhere around our home this holiday are wreaths! Specifically, handmade DIY evergreen wreaths.  I love how earthy and natural they look.  Especially when they are wispy and free flowing.  And I'm going to show you how to make them.  This will only take you, like, 10 minutes.  I promise! 
Materials Needed for DIY Evergreen Wreath
How to Make an Evergreen Wreath (really fast)
You want to start by snipping off a few bunches of evergreens. My grocery store also sells bunches for about $4 – just in case you need to buy them.
You are going to take your floral wire and wrap it around the bunches of evergreen. Like making little evergreen bouquets!
Take each evergreen bunch and attach to the wreath form in a fan like manner with the floral wire. You make have to wire the bunches in a few places depending on how heavy they are and how they are laying.
Make sure to stand your wreath up to see how it's all laying out.
Each new bunch you add, will cover the stems of the previous bunch. So all you see are greens.
Keep going all the way around, filling out the wreath.
When you are done, you can add in any faux greens or slip a few more evergreens in there to fill any gaps or empty spaces. All done!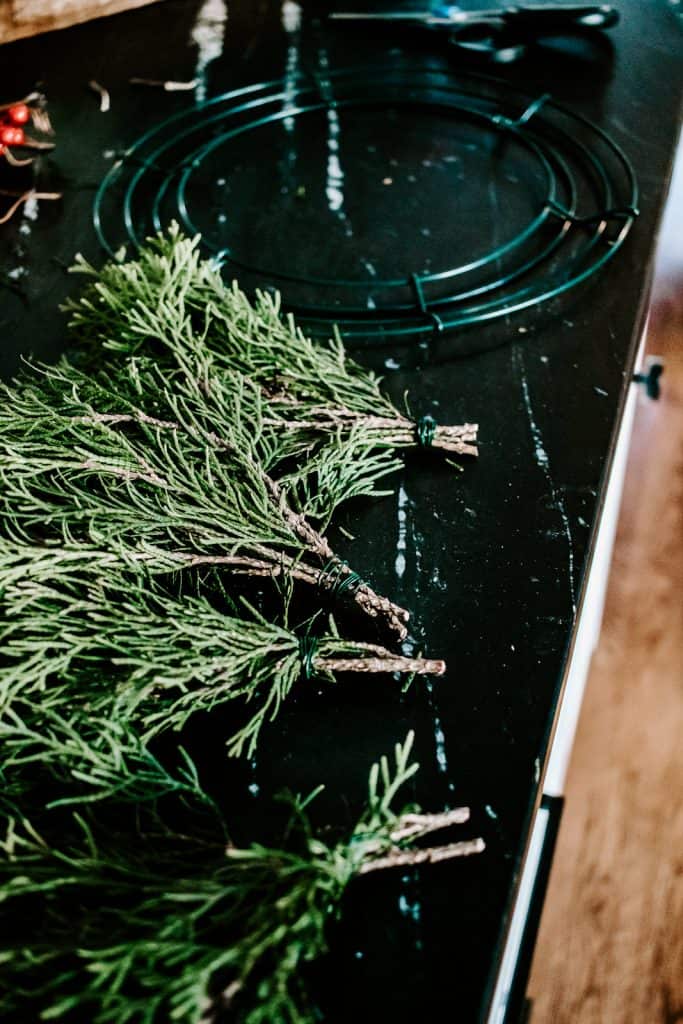 For the hoop rings, you can make them more modern by filling out just the sides or bottoms. You can still use the floral wire to attach the bunches to the rings.
I really love the way these turned out! And they were so easy and inexpensive to make.
The Evergreen wreaths should last you about 3 weeks. You might want to spray them with a mist of water every now and again.
By the way, discover my secret for how to hang a wreath on your front door – nail free!
I use these wreaths as centerpieces and I hang them on closet doors throughout our house too. But there are so many uses for them. You can hang them on walls, above the fireplace and even on your kitchen cabinets. I especially love these hung from windows on the inside.
The finishing touch on these wreaths for me was a casual bow tied with white ribbon.
Basically, you can put them anywhere. And because they are so inexpensive, you can afford to put them everywhere.
Let me know if you guys have any questions in the comments. I think all greens are fair game here, not just evergreens. Have a Magnolia tree? That would be especially beautiful. It would be the same process. Gather bunches of magnolia stems and attach them to your wreath form in a fan-like manner, covering the stem sections of each previous bundle.
I hope you love it as much as I do! 
xo Karen