Learn how to make a beautiful DIY fall wreath for the upcoming season!
---
This post contains affiliate links for your convenience. Learn more here.
So, I bought a simple grapevine wreath and few berry twigs from Michaels a few weeks back and planned on making a quick and easy fall wreath. Here's my quick and easy tutorial.
Here's the finished product. It's not overly done, it's simple and rustic with a pop of maroon from the berries. You can easily spend upwards of $50 on a nice fall wreath and this one was less than $15 all in!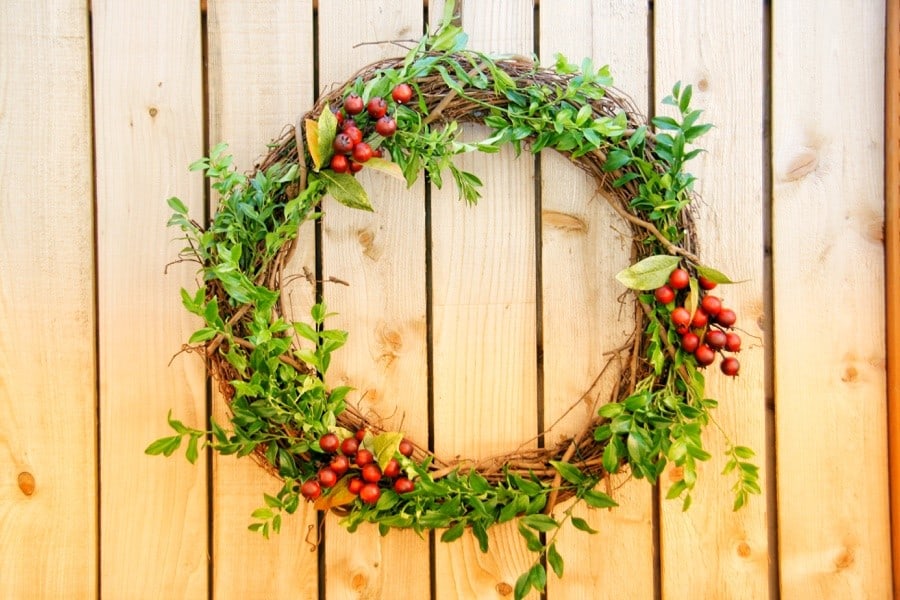 Things You'll Need
Here's what you need to get started.
DIY Fall Wreath Tutorial
Here's how I made our fall wreath step by step.
I snipped a few leafy branches off our bush in the backyard. The shorter, stubby pieces work better than the real long pieces because they are easier to control within the wreath. The berries are what I purchased from Michaels. They were on sale too. 🙂
2. I started by inserting (jamming) the greenery into the grapevine wreath. If you really tuck it in there, it's not going anywhere. You don't need any hot glue. Remember, this is organic and temporary! I did wrap a few of the stems with the green floral wire after I was finished just for safety's sake.
Here's where we stand after I was done with the greenery. I like my greens to go in a pattern around the wreath, the same direction.
3. Now it's time to put your berries on! Again, just really really tucking them into the wreath makes them stay put. I lifted mine up a few times to see where everything stood in a vertical position. I had a total of three berry sprigs. This is the fun part!
You can pretty much add them wherever you like.
4. Finally, I took some green floral wire and wrapped them around the berries and some of the greens that were not cooperating as much. I wrapped them in the back of the wreath so you couldn't see.
5. I then fluffed the greens in the front to try and cover the green wire as much as possible. It is noticeable on mine in the one section if you really look hard. This is like Where's Waldo – can you see it? 🙂 It's not perfect but it works!
And here it is all done! It almost has a Christmas vibe to it too but I just love the rustic nature of it. All in all, I would say it took me about 20 minutes to put together.
Here's a closeup of the wreath and berries…
And here's how it looks on the front door. I need.more.pumpkins for sure.
So simple and so easy to put together this DIY fall wreath! I love that it's not fussy. It will *hopefully* last me until Halloween or right before because I have another wreath I use for right around that time.
I really hope you guys enjoyed this quick and easy tutorial for a rustic fall wreath.  If you are looking for more wreath tutorials, you should check out my tutorial for a modern hoop wreath and these Christmas Evergreen wreaths.
Thanks so much for reading! If you want some pretty fall wreath ideas, click HERE. I'm slowly working on "fall" here at the house and am planning to post a tour in the coming weeks. Hopefully before Fall is actually over. LOL.
xo Karen