Here's an epic list of trendy DIY home décor and DIY Crafts you can make yourself. Let's be honest; shopping for home goods can be expensive. You'll find that many of these projects are perfect for beginners and budget-friendly too.
The following DIY home projects are:
You'll find plenty here to keep you busy. Without further ado, let's get into these easy DIY projects!
---
1. Antique Mirror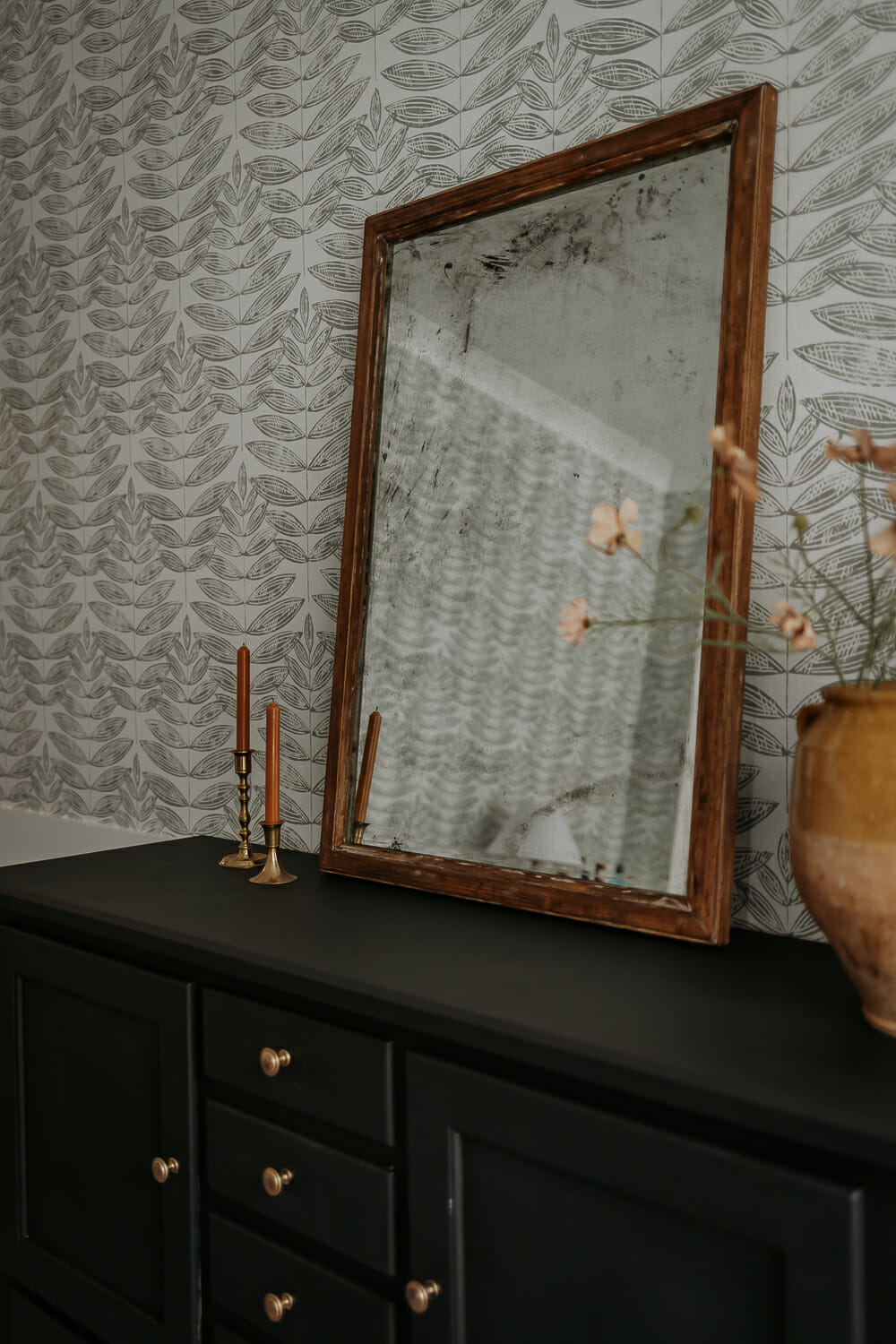 Turn any picture frame into a beautiful antique mirror with this tutorial. Watching the transformation is so amazing that you'll want to do this more than once. Want to transform an existing mirror like the one in our dining room here? Follow this tutorial for distressing a mirror.
---
2. Aged Vase
Those old pottery vases can be hard to find and expensive to purchase. But with this DIY aged vase project, you can turn any vase or pot into something old and beautiful. I used Home Depot planters to make the one you see here.
---
3. Farmhouse Coat Rack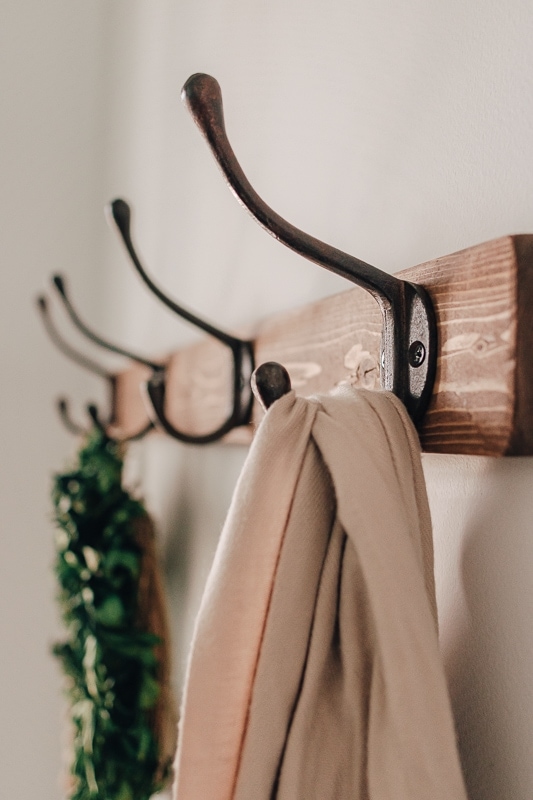 These coat racks are not only pretty – they are super practical. Buying nice, beautiful hooks is the trick to getting them to look great. Not necessarily expensive ones, just ones that look more expensive or have some character. This tutorial shows you where I bought these old rusty iron hooks.
---
4. Paint your Furniture
Want to breathe new life into a piece of furniture? All it takes is some paint! In this tutorial, I show you how to paint a piece of furniture step-by-step. You can also check out this milk paint review for more inspiration.
---
5. Entryway Table
Entry tables make for a welcoming entrance and a great place for a lamp, greenery, and seasonal decor. This entry table tutorial was made entirely from 2x4s and stained rich black.
---
6. Rustic Bench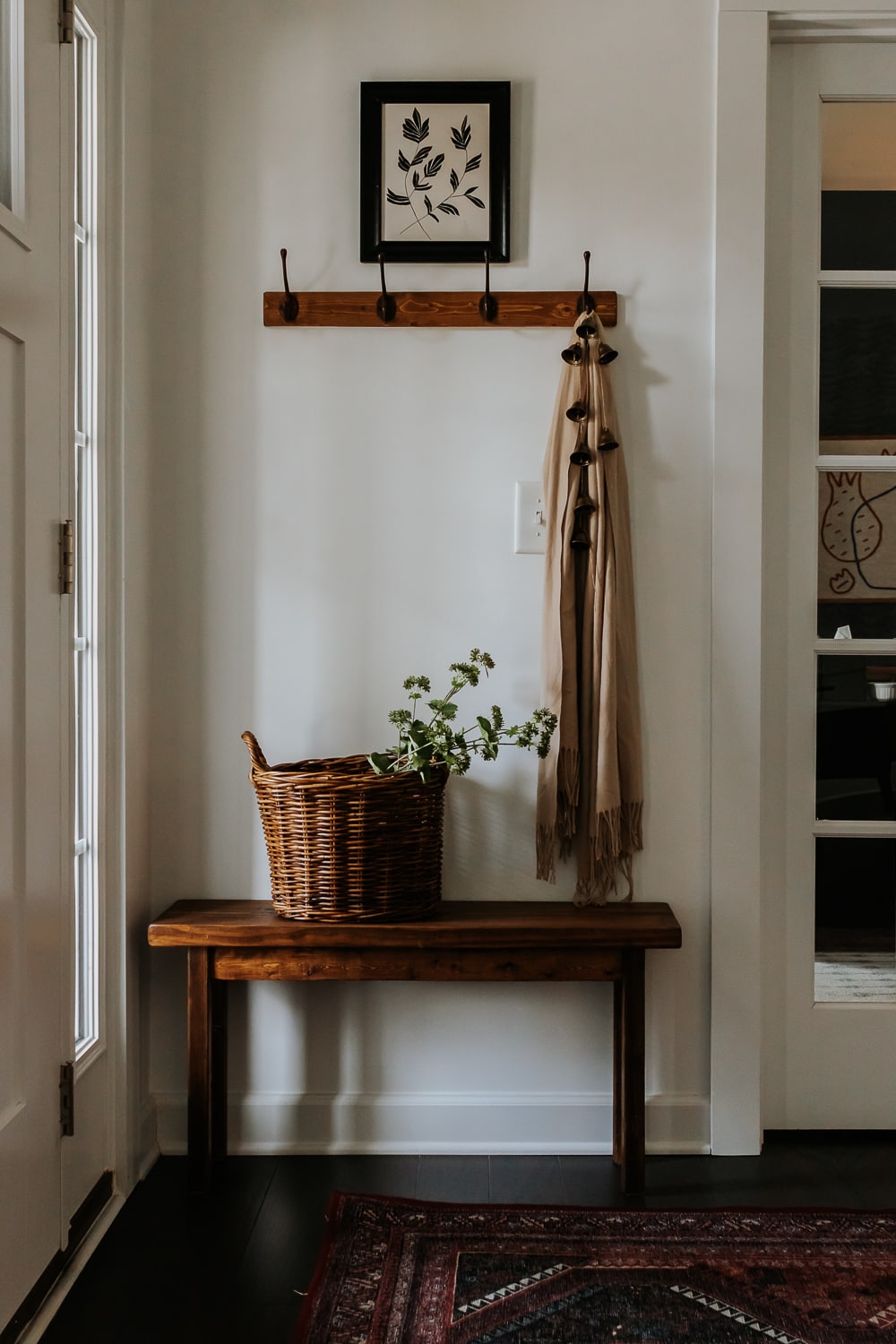 Less than ten bucks in wood will give you this adorable diy rustic bench. It's perfect for creating a little moment in your home!
---
7. Abstract Artwork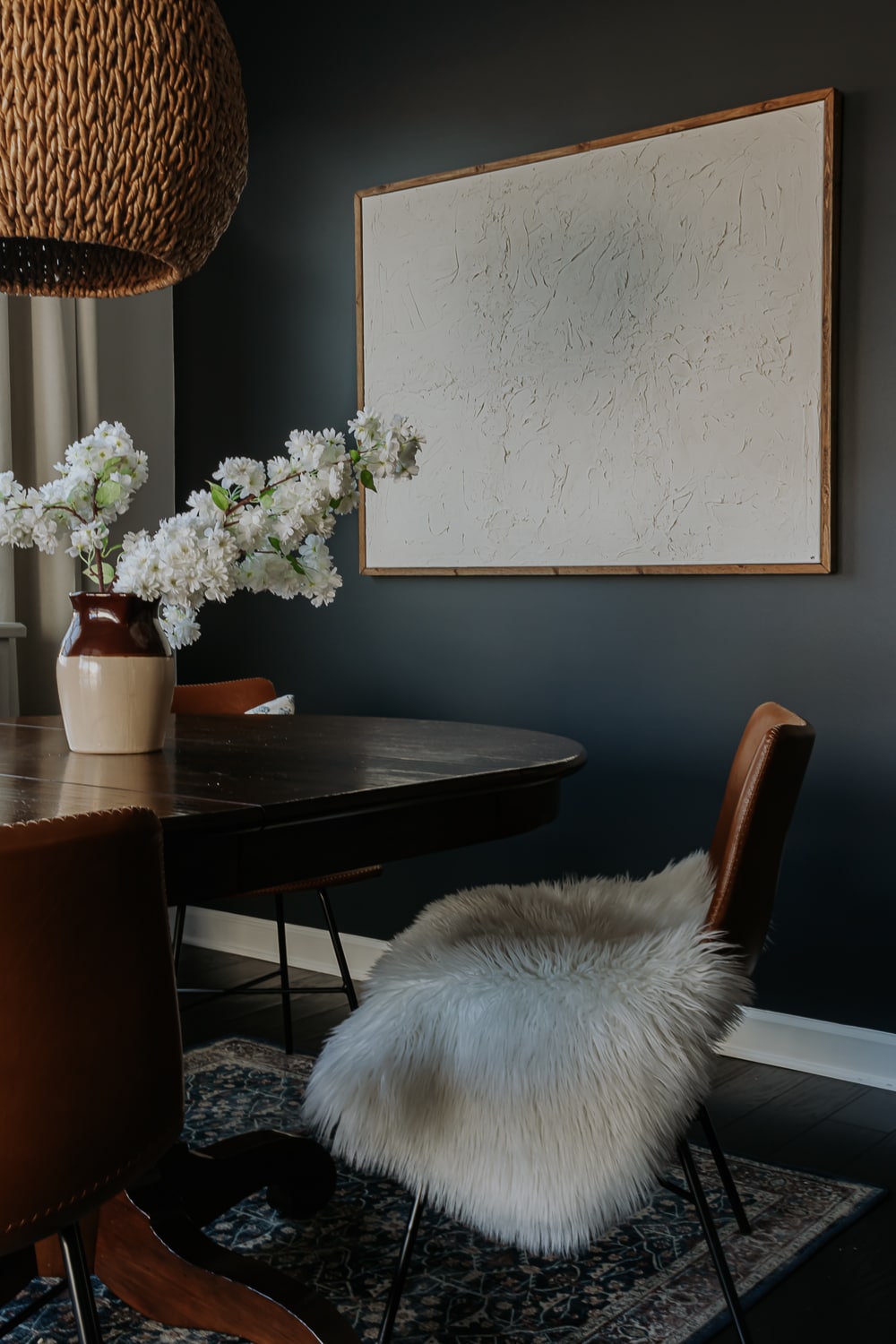 Did you know you can create abstract art with just a can of spackle? This project is fun, inexpensive, and allows your inner artist to come through. Feel free to add some acrylic or spray paint on top for a bit of color, or keep it white for a more modern look. Bonus: Frame your Art afterward using this tutorial.
---
8. Pillow Covers
Changing out your throw pillows is an easy way to refresh a room. Purchase your favorite fabric and make these easy envelope pillow covers in an hour. No zippers are required.
---
9. Wooden Box
These wood keepsake boxes are fun to make, only need wood glue, and are perfect for hiding those ugly remotes in your living space! You can also use them to decorate bookshelves, as these make great décor accents. This is a scrap wood project, no need to buy any fancy wood here. Or you can even use a piece of plywood.
---
10. Lamp Makeover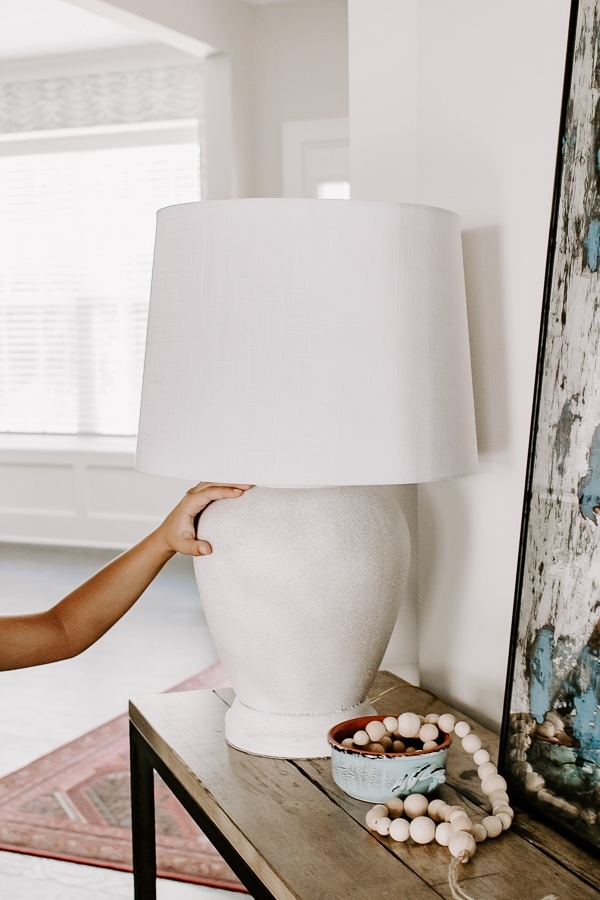 Lighting is magical and helps a space feel more cozy. Take an existing or thrifted lamp, and turn it into a brand new one with some spray paint and a new shade. Get the tutorial here.
---
11. Faux Mercury Glass
These are such pretty accessories and make perfect little homemade gifts. I used dollar-store glasses to keep the cost low. Make a bunch of these mercury glass candle holders and nestle them together for a beautiful centerpiece. Place a couple on your mantel and fill them with battery-operated candles. Make more DIY candleholders here.
---
12. Wood Pedestal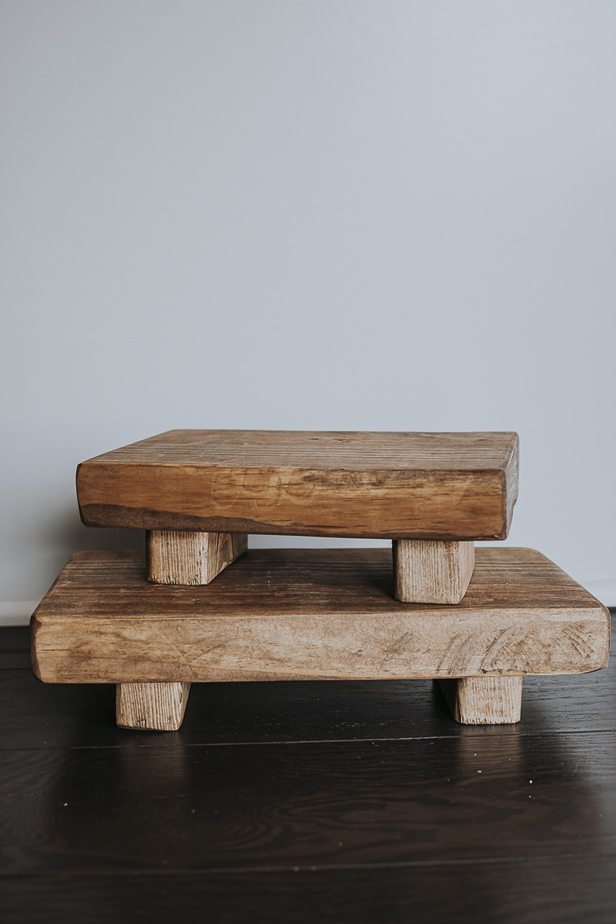 Add some warm wood tones to a room with a wood pedestal. Use it to show off a vase of greens or a soap dish. These are perfect for a kitchen or bathroom!
---
13. Mini Stool
One of my favorite projects ever. These mini stools are great for kids and adults but also make perfect little plant stands.
---
14. Peg Rail
Peg rails might not be the most apparent decor item – but please don't overlook them. These DIY peg rails can add a little whimsy to any blank wall. Why? Because you hang so many cute things from them! Wreaths, scarves, bells, baskets, and more. You will have so much fun with these.
---
15. Laptop Stand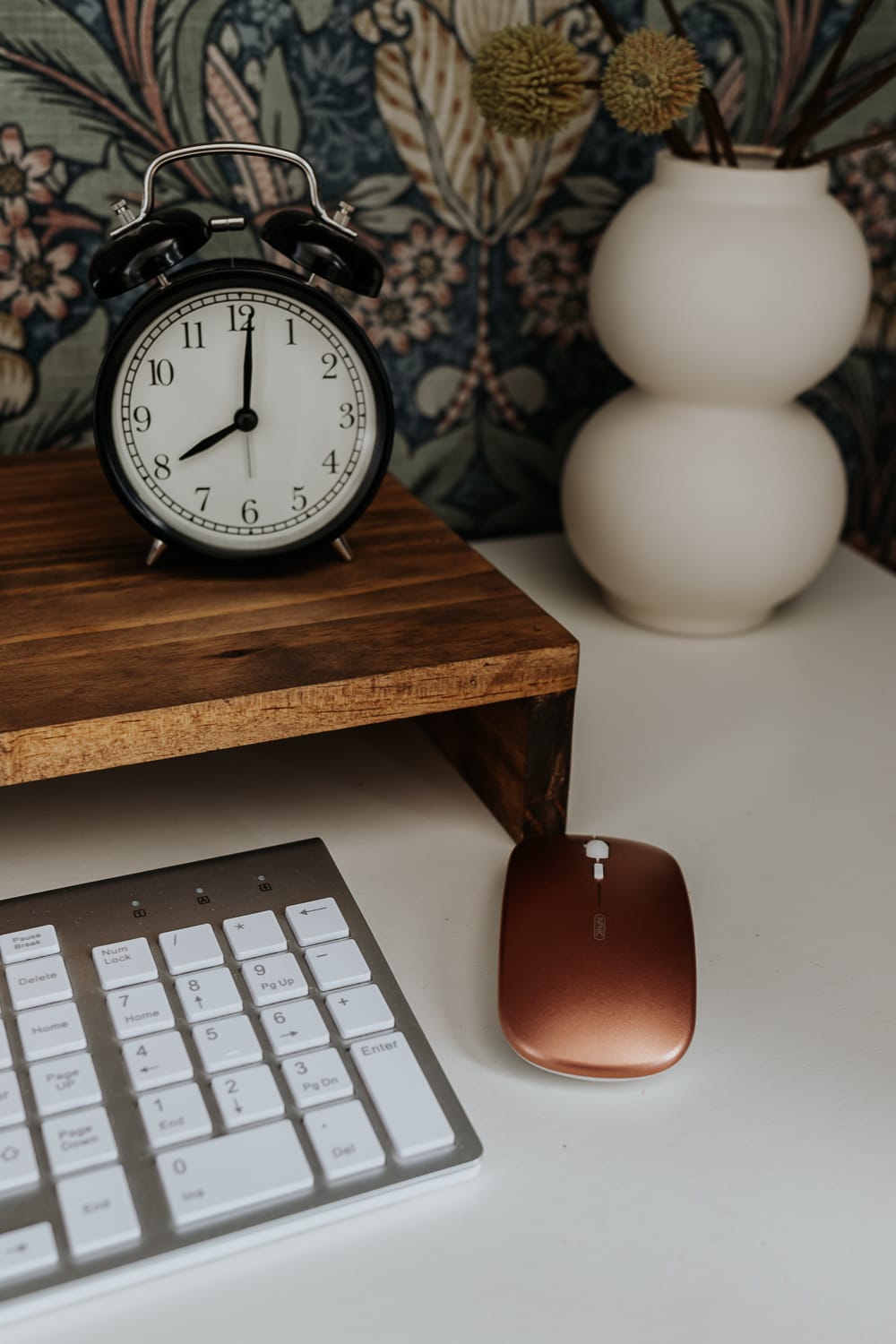 Make one of these Scandi-inspired laptop stands for your home office. All you need are two cheap boards and some wood glue. Your neck and desk area will thank you!
---
16. Bathtub Tray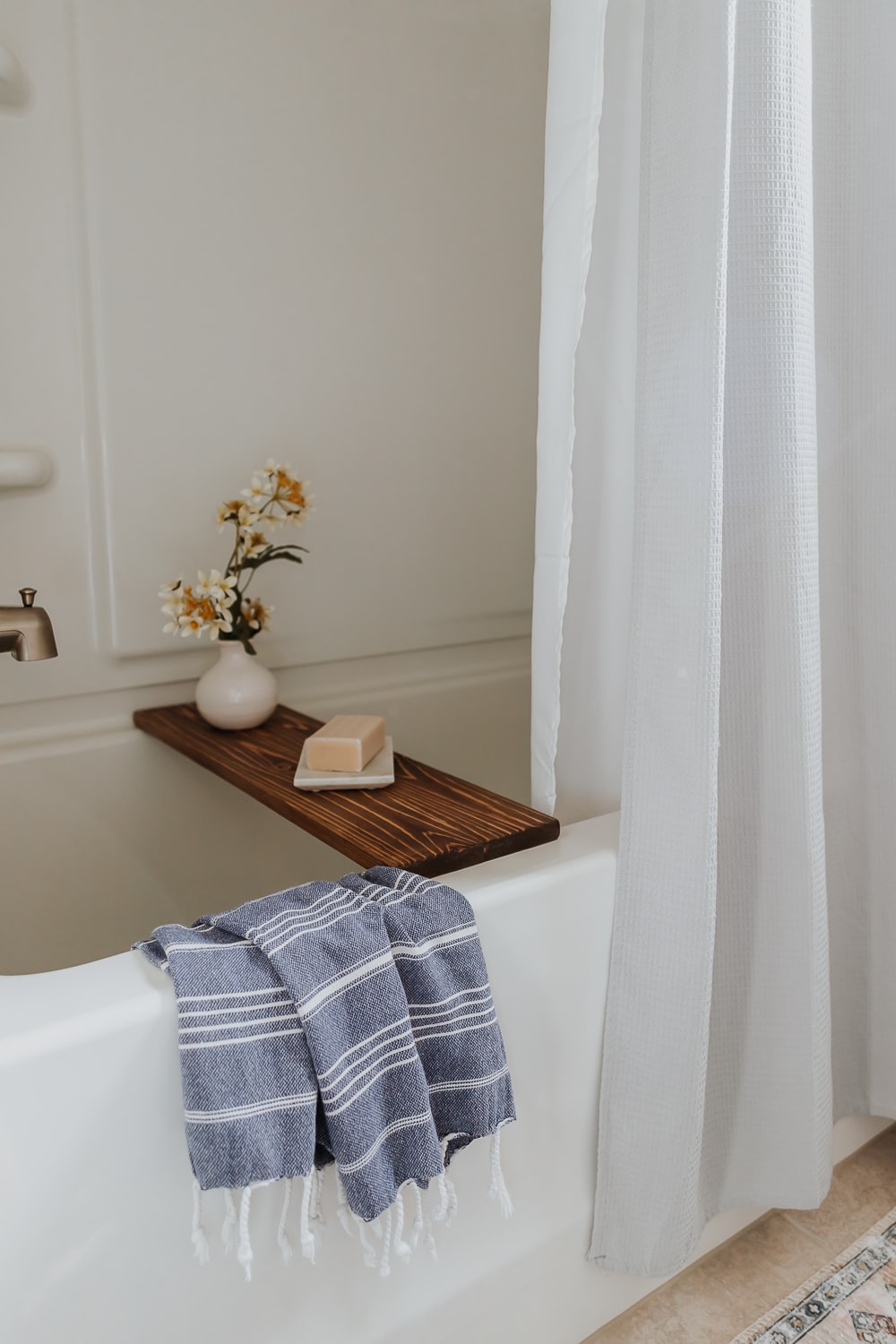 Another favorite project! Sometimes bathrooms can be so sterile looking. These wood bath trays allow you to add a touch of warmth and are also practical for placing sponges, bath salts, candles, and more.
---
17. Clay Knot
You may have seen these clay knots. Did you know you can make your own? It's fun. Place them on a stack of books for a cool conversation piece.
---
18. Bean Bag Chairs
Serena and Lily's bean bag chairs inspired me to make my version. These DIY bean bag chairs are fun, albeit messy, to make. Nothing a vacuum can't handle.
---
19. Blanket Ladder
I had so much fun making this Pottery Barn-inspired blanket ladder from ripped 2×4 lumber. These are great to make yourself because you can customize the look and size. Place one next to your couch for easy access to your favorite blankets.
---
20. Dried Hydrangea Arrangement
If you are lucky to have a thriving hydrangea bush in your yard – once the end of the season approaches, you can cut off florals to make dried arrangements. These last forever and can even be spray painted.
---
21. Hanging Laundry Bag
Another Pottery Barn-inspired project is this grommet hanging laundry bag for my laundry room.
---
22. Fabric Pin Board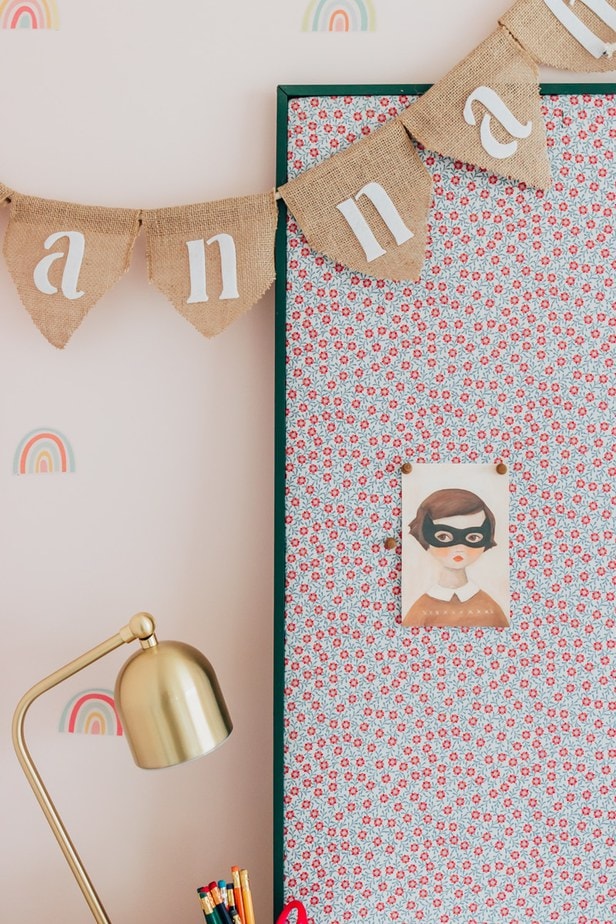 I love the look of those linen-framed pinboards. You can easily make your own from any corkboard you own, thrift, or buy cheaply. These are perfect for teens to keep all those assignments and mementos front and center.
---
23. Felt Pennant
These felt pennants are adorable for a kid's room, but you can make a grown-up variety for a TV or office space.
---
24. Chunky Knit Blanket
Perfect for gifting and even more perfect for snuggling. The yarn tends to sell out quickly, but this chunky knit blanket will be your favorite companion. My dog ended up stealing ours – it's her blanket now.
---
25. Cafe Curtains
These cafe curtains are not hard to make (you can make them no sew with fusible tape) and look so stylish!
---
26. Fleece Blanket
Another DIY blanket, although this one requires no knitting. Just cutting! I give you all my tips for selecting the right fabric in the post. Who couldn't use another blanket for your living room?
---
27. Pinecone Wreath
Pinecone wreaths are pretty and seasonless – you can keep them up all year round. The pinecones can be a bit fussy to get right, but it's worth it and practically free home décor.
---
28. Rope Baskets
Hang a collection of these diy rope baskets on a wall. Or use them as catch-all bowls and room decor.
---
29. Fabric Bunting
These fabric buntings make the cutest kiddo decor! You can use your sewing machine, hand sew them, or use hot glue to create one.
---
30. Cloth Napkins
Cloth napkins are prettier and better for the environment than those paper napkins. Plus – you don't need to sew! You can rip the fabric and create a beautiful fringe.
---
31. Vintage Cutting Board
Note that this is not to be used with food – just for decor! But you can mimic one of those old vintage breadboards with this tutorial. Hang a collection for unique wall decor.
---
32. Wood Lanterns
Inspired by West Elm, this set of wood lanterns will be the perfect patio companion.
---
33. Frame a Bathroom Mirror
Turn a boring builder-grade bathroom mirror into a custom one with this framed mirror tutorial. It's easier to complete than you think when you buy a custom mirror kit!
---
34. Wood Bead Garland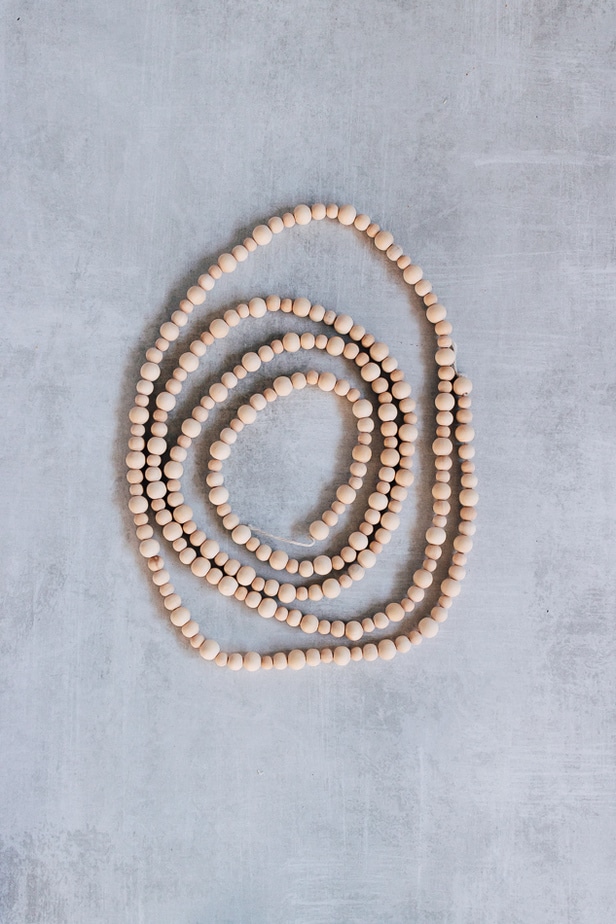 Wood bead garlands are still popular and make great decor! Customize the look using different-sized wood, bone, or glass beads – I like the large beaded garlands. Use them to hang from peg rails and fill decorative bowls, or place them on a stack of hardcover books on your coffee table.
---
35. Stairwell Gallery Wall
Hang a collection of old family photos up your stairwell. This is a great way to honor loved ones and show off your wonderful families and ancestors. It's also a great way to decorate a large wall in your home.
---
36. Hang wallpaper
Completely change a room by hanging some inexpensive peel-and-stick wallpaper. This is a BIG IMPACT project, meaning you'll get a lot of bang for your buck here. And nope, you don't need to spend a lot on wallpaper – check out my favorite affordable peel-and-stick wallpapers here.
---
37. Macrame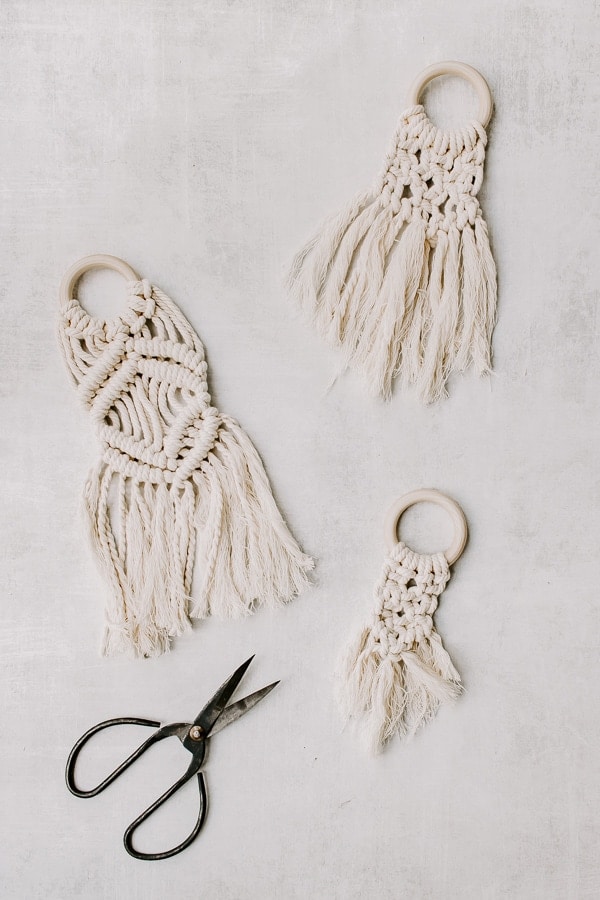 There are so many décor items you can make with macrame! Make a wall hanging, some pretty lighted jars, a banner, and more. If you are a beginner, you'll want to check out these instructions for basic macrame knots. It's all you need to get started.
---
38. DIY Candles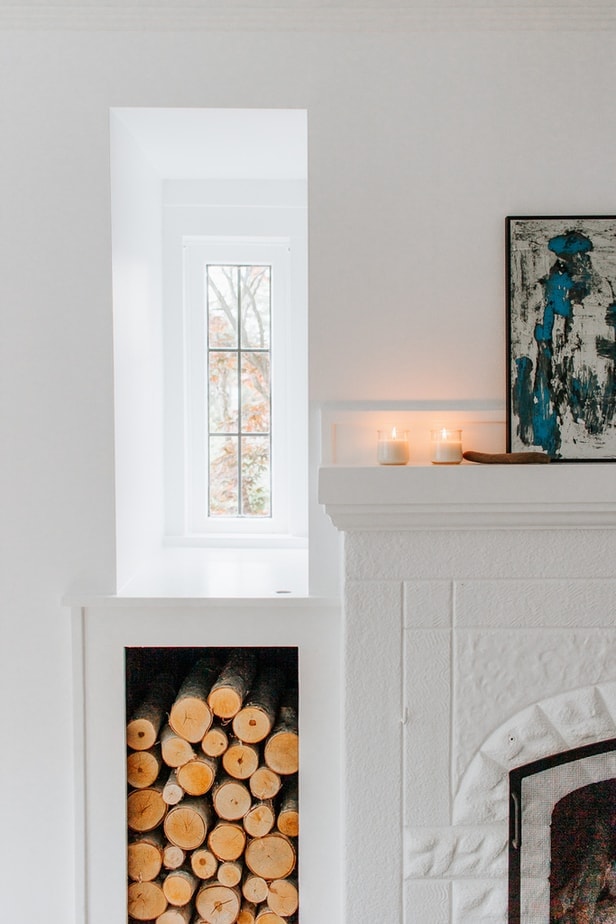 Candles set the mood and create ambiance, and it's easy to create your own. Whether you want to make soy candles, mason jar candles, or beeswax candles – I have you covered!
---
39. Wood Towel Rack
Spruce up a bathroom by creating a simple wood towel rack. This simple DIY will add some character to your bathroom and is pretty darn functional, too.
---
40. Pom Pom Garland
Another adorable kids' room or playroom home decor addition. These pom pom garlands are fun to make – grab a pom pom maker for perfect pom poms.
---
41. Oversized Mat Frames
I love the look of those frames with the oversized mats – but gosh, can they be pricey! I wanted the look but not the price, so I did this by buying cheap frames and swapping the mats out this way.
---
42. DIY Hoop Wreath
This project became one of my most popular! These hoop wreaths are a minimal take on a more traditional wreath, but the nice thing is you don't need to spend a lot on faux flowers to fill them out. And all you need is a glue gun to attach the flowers. Get the full tutorial here.
---
43. Punch Needle Art
Punch Needle is a crafty and fun way to make art. And it's not hard! Especially if you buy one of those punch needle craft kits. You will not be able to stop at just one.
---
DIY Home Decor by Category
Get even more décor inspiration by visiting the latest posts in each DIY category.
Thanks so much for visiting today – I hope these DIY home décor projects inspired you! And remember, perfectionism is not required – no Bob Vilas here. 😉
Xo Karen
Karen Sloan is the founder, editor and syndicated content writer of www.decorhint.com. She offers hints of inspiration for everyday living, including home ideas, DIY projects and lifestyle content. Her work has appeared on Google News, MSN, Pioneer Woman, Apartment Therapy, and Bustle, among others.