DIY Pencil Holders to Dress up your Desk
Since my daughter got a new desk and a ton of art supplies for Christmas, I've been meaning to find a way to organize it all with some DIY pencil holders.
My kid's plastic vitamin containers proved to be the perfect vessel to hold markers, pencils, and gel pens.  For the last few months, I've been collecting them.  Of course, we had to jazz them up a bit.  Read on to see how we did it!
DIY Pencil Holders – Step by Step
step 1 – clean and dry jars
The first thing I did was clean and de-sticker the vitamin containers.  Of course, the stickers gave me trouble.  So I had to use goo gone.  I then washed them in hot soapy water and dried them thoroughly.
Step 2 – Spray Paint Jars
I thought I would give this Valspar Devine Color spray paint a try.  They have a lot of different colors and finishes.  You can use it on wood, metal, glass, and plastic.  And the best part is that one coat dries in 5 minutes, so it doesn't take long to finish the spray painting part.   After one hour, you can "handle" it.  But wait a week until the paint fully cures.
We did this project outside on a breezy, sunny day.  It's best to do this outside because of the fumes.  I gave the containers a few coats of paint, including the bottom.  It would help to shake the paint can before and during your spray painting. 
The best way to use this is to spray about 10 or 12 inches away in a sweeping motion.  I did a series of light coats for an even finish.  If you do heavier coats, then there is the potential to have drips and paint runs. Don't worry; here's an easy way to get spray paint off your skin.
After spray painting, I left it dry (upside down) for a few days.  My daughter chose the color Devine Cupcake – which is a matte finish.  It's a charming, pastel pink color.  Perfect for her room since we have pink everywhere!
The paint looked white initially, then dried to pink!
Overall, I liked the spray paint.  The only negative is that it can be hard to hold the spray nozzle down (that could be a safety thing).  Not the end of the world, though.  (UPDATE: I now almost exclusively use Rustoleum Spray Paint Products).
Step 3: Decorate Jar
After drying, we wanted to cover up the top plastic part where the lid would screw on.  I thought of hot gluing twine on it, but we ultimately decided on washi tape. 
The washi tape we used doesn't stick incredibly well to the containers, so I'll probably have to glue it.  But it does look cute on her desk! We filled her new pencil holders with gel pens, markers, and colored pencils.
It also makes transporting them easier when she wants to color at the kitchen table.  She grabs a jar!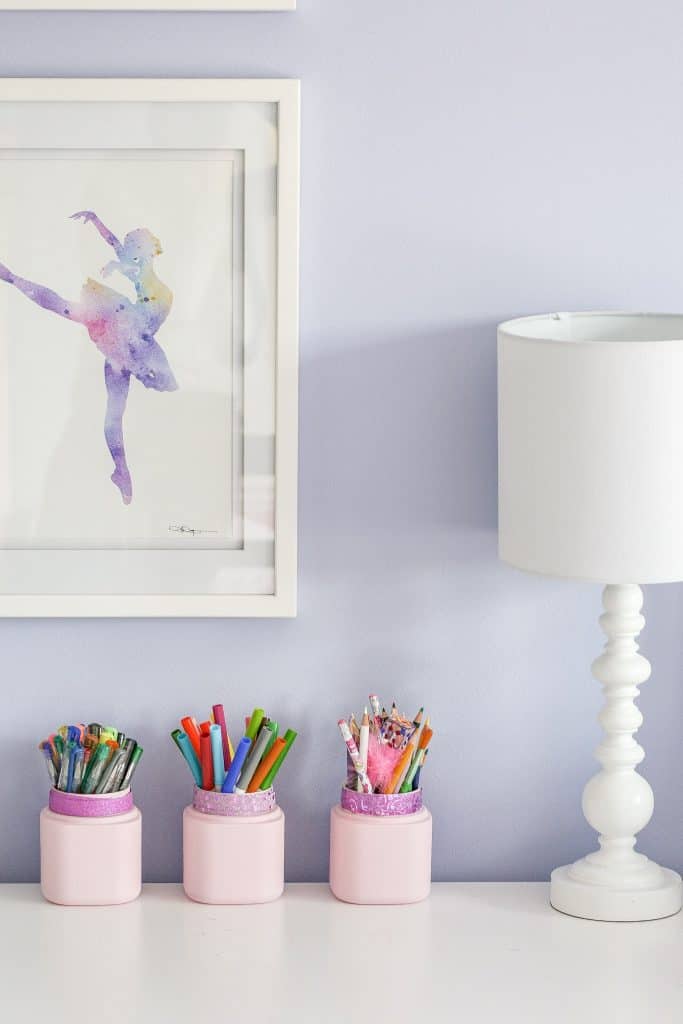 I love how the pink color pops against her purple wall.  For the cost of some spray paint and washi tape, this was a great solution to organizing the clutter of art supplies.  You could easily do this with any glass or plastic jar—even Mason Jars. 
Spray-paint them to match your office decor, or go bold with a vibrant hue.  I hope you guys enjoyed this quick and easy tutorial! 
xo Karen