Trendy Decor: DIY Small Wood Stool
A tutorial for making a DIY small wood stool – perfect for using as a step stool or kids seat.
---
Each year, I find it harder and harder to buy things that I know I could make myself.
This wood stool project is the perfect example of that.
(The exception is anything I find at a thrift store since those items tend to pull at my heartstrings. Not to mention – lumber prices are a little crazy right now!)
Fortunately, you don't need that much wood for this project. More on that later.
I'll admit that my first attempt at making this wood stool was a complete failure. There are not many good tutorials out there and I sort of winged it as best I could.
But the legs ended up wonky looking and it was pretty wobbly. I plan on using this as a kids seat/side table/step stool for the playroom that I'm currently renovating for the One Room Challenge.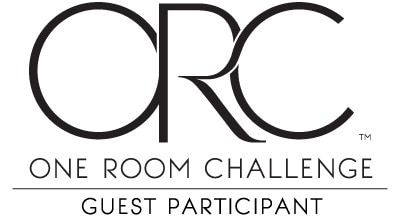 This has to be sturdy since I know my kids will use this as a fort-making device.
Luckily, my parents were in town and it's becoming a little tradition that my Dad and I work on a project together while he's here. I enjoy learning from him and he always has the best ideas for how to sketch out a design.
We decided to try our hands at making (or re-making, I should say) this small wood stool.
This time around? Turned out perfect!
I won't sugarcoat this. This woodworking project is definitely in the medium difficulty category – but if you have the right tools (which I do not, I have very basic tools) – building this is a lot easier.
However, my goal with this blog and these tutorials has always been to show you how to make things with basic tools and cheap wood.  And I'm staying true to that with this project.  
All you're going to need for wood supplies is a 2×4 and a small wood round. (I picked mine up from Lowes for $8.)
You will need a bit more wood tools than I usually use in projects, but none of these are crazy expensive and once you have them – you are set for future projects.
Things You'll Need
Notes: You can either buy a 2×2 or you can buy a 2×4 and cut it down the center to make 2x2s. We used a scrap 2×4 and cut it down the center using a powered hand saw. I'm using an old wood round from a previous project, so that's why you see it stained these pictures.
DIY Small Wood Stool – Step by Step
Step 1: Cut Wood Pieces and Mark Center on Wood Round
This Stool has a cross-legged design.
We want to make the following wood cuts:
(4) 2×2 legs measuring 9 inches long with each end cut on a 15-degree angle (parallel)
(2) 2×2 aprons measuring 9 inches long with each end cut on a 15-degree angle (not parallel)
We also want to mark the center of our wood round so we can center and connect our leg base to it later on.
Step 2: Create Cross-Half Joints in Aprons
We are going to cross-connect our apron pieces in the center.
To do this, each apron needs an opening in the center that measures the width of the apron – so the pieces can cross in the middle and fit together – a term in woodworking called "Cross Halving Joints."
Use your tape measure to measure the width and then mark this area on the apron with a pencil.
We used a vice to hold the wood and a small (but sharp) hand saw to make the cuts. We measured halfway down the center on each piece and made several slits in the wood using the hand saw.
Then, we used a wood chisel to remove the center and make the opening. You should have something that looks similar to this picture.
This part is not hard, but it does take some time and finesse to get the openings just right that your pieces fit together. They should fit snugly – but not be so tight that you can't get them together.
You can use a rubber mallet to gently nudge them into place.
Step 3: Attach Legs to Aprons
Now we are going to attach our legs to the apron with pocket hole joinery.
We set our Kreg jig settings to 1½ inches and made two pocket holes on each apron – one on the top and one on the bottom.
Each pocket hole was made at an angle towards the center of the apron. If you make pocket holes too close to the edge of the wood it can splinter the wood.
Use 2 ½ inch pocket hole screws to join the legs to the apron. Clamping your wood pieces together is essential. You can also use a bit of wood glue on each end for added support.
You should now have a leg base that looks like this (minus the dowels – that's coming in the next step).
Step 4: Attach Leg base to Wood Round
We have to connect our leg base to the wood round.
How do we do this?
One: We can screw it directly to the top, ensuring we use the correct size screws that won't come through the top of the wood round. I recommend using wood glue as well for added support.
Two: We can join them together using ⅜ inch wood dowels. That's what we did. A doweling kit has everything you need – the dowels, the drill bit, and the dowel markers.
I won't go into detail on how to use a doweling kit (that's for another tutorial) but I will tell you that we made 2 dowel holes on each apron and wood glue to make the connection.
Line up the center of your leg base with the center of your wood round (which we found in Step 1), then gently push them together using a mallet.
Clamp the wood round and leg base together and allow the wood glue to set for several hours.
Step 5: Sand and Stain
Now we have our small wood stool assembled!
At this point, all we need to do is sand and stain it. I used my orbital sander and Early American wood stain.
Follow up with a coat of polyurethane.
And that's it!
Finished Wood Stool
I love the way this turned out! This is one sturdy little stool that costs a lot less than buying one at the store (the exception might be a thrifted stool).
I still have plenty of 2×4 leftovers to make another couple of stools if I want.
These are my favorite projects and I'm thankful my Dad was here to show me how to make it.
Related: DIY Wood Pedestal
These wood stools can be used for so many things – decorative and functional.
Little Seat for Kids
Step Stool
Decorative Towel Holder for Bathrooms
Side table (with longer legs – same design)
Plant Stand
Decor Piece – a wood stool is great for bringing in some rustic charm to your rooms
I hope you guys enjoyed this project and it inspired you to try something new.
Thanks for visiting the blog today,
Xo, Karen