---
DIY Wall Organizers are a fantastic way to get rid of the paper and mail clutter that might be taking over your countertops and tables. They are stylish and easy to make! Here are six really cool diy wall organizers.
Most of us have that infamous "stack" of mail, magazines and whatever else sitting somewhere. Whether it's the kitchen counter, the entryway table, the mudroom, the living room coffee table.  It's there.  Hello.
Actually it's funny because I have a tendency to put all our stuff away, hidden in drawers. Then, we end up forgetting about the stuff in there. Whoops! Or a month goes by and my hubs will say – "where is that letter that was sitting here on the counter?" Oh, whoops!
We need an easier way!
DIY Wall Organizers for Extra Storage
I like the idea of a wall organizer because it keeps "the pile" off your counters. And these are stylish enough that you don't have to mind hanging them somewhere. You could even hang them on the back of a door so you can close it out of sight.
Or hang it on the inside of a cabinet – the smaller ones. I actually used to store takeout menus in a pocket folder (like this) that I secured to the inside of the cabinet. It was really handy. I should do that again. Check out some other great ideas below!
Peg Rail or Coat Rack Entryway Organizer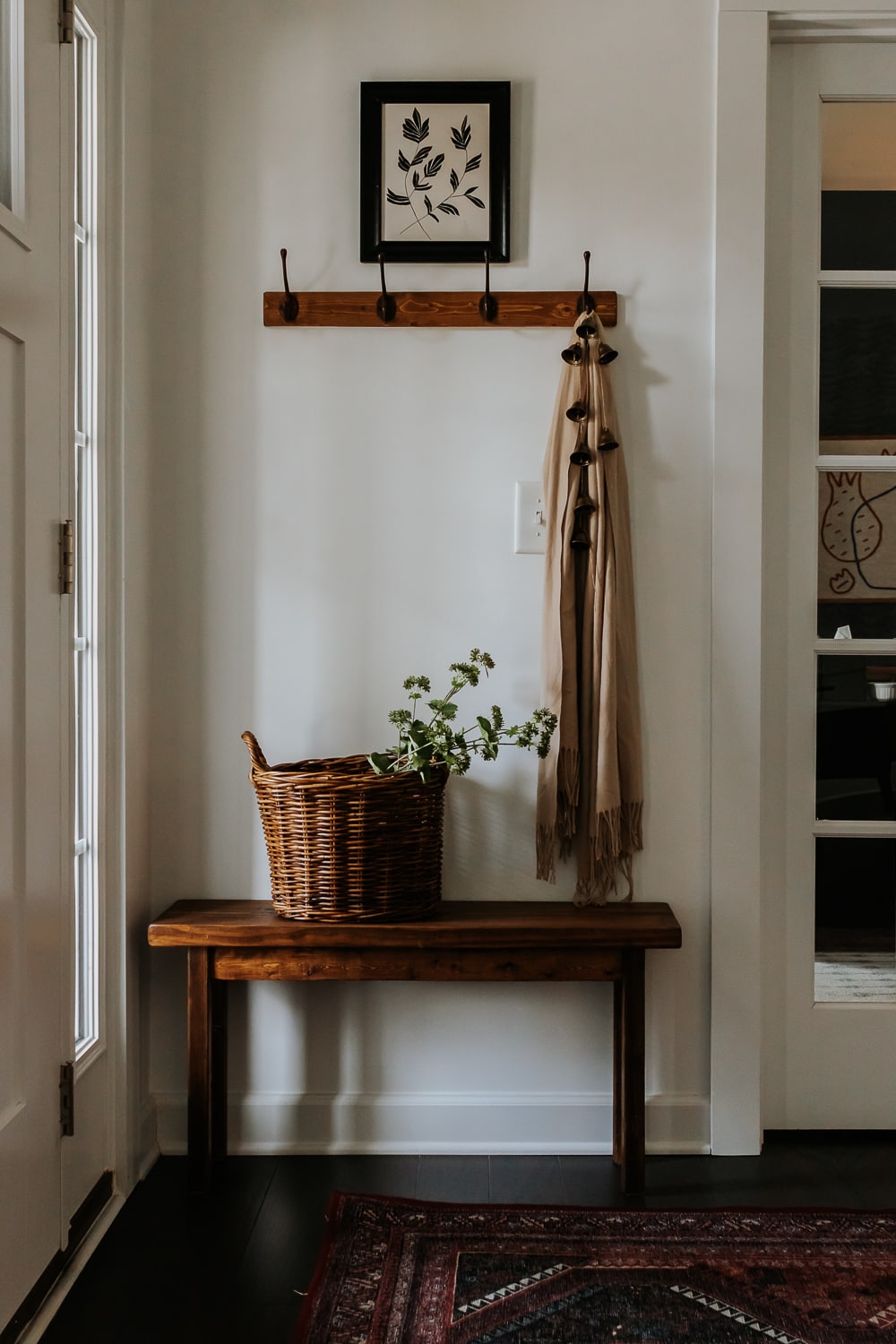 Let's not gloss over the obvious. Sometimes all you need is a simple peg rail or coat rack! We use them all over our house and they are not only stylish, but functional too. Get the tutorial for the peg rail here and the step by step instructions for the coat rack here.
Chalkboard Wall Organizer
I just love the look of this! So simple but so useful. Get the full tutorial at SemiHandmade.
Canvas Cork Boards
Rachel from The Crafted Life took canvas and attached some cork to the back of it.  Then she just painted the front in bright colors.  Easy and makes a statement!
DIY Pottery Barn Modular System with Calendars
This might be the easiest wall organizer DIY on the list. While technically this isn't "building" things, it is DIY'ing your own wall of organizers from Pottery Barn's collection. Choose what you need, put it in any configuration. Don't forget the cute file folders! Shop it here.
DIY Wall Jewelry Organizer
This is so pretty and sculptural. What a great idea for a cool looking jewelry organizer! This neatly organizes earrings, necklaces and Get the full tutorial at Dream a Little Bigger.
A $3 DIY Wall Organizer
She knows bought a $3 iron mesh from the hardware store and just starting pinning stuff to it.  How clever is that??  These industrial wall organizers are so trendy right now too. All you need to get after the iron mesh is little clips or clamps to hang up your things.
Mason Jar Hanging Wall Organizer
This wall organizer was constructed of pine wood and mason jars – little leather straps hold the mason jars up. You can stain this light or dark to your preference, or even paint it! I could definitely see this one in a craft/playroom, or even in a bathroom to free up some storage space. Get the tutorial right here.
Kids Room Wall Organizer
The perfect solution for kids rooms and inexpensive to boot. Grab one of their Skadis pegboards and then fill it up with the attachments of your choice. These little cups are perfect for holding scissors and pencils. Go to IKEA to learn more.
IKEA Hack Wall Organizer
Here's a clever way to turn an IKEA Bed slat into a wall organizer. Get the full tutorial right here.
DIY Pinboard Organizer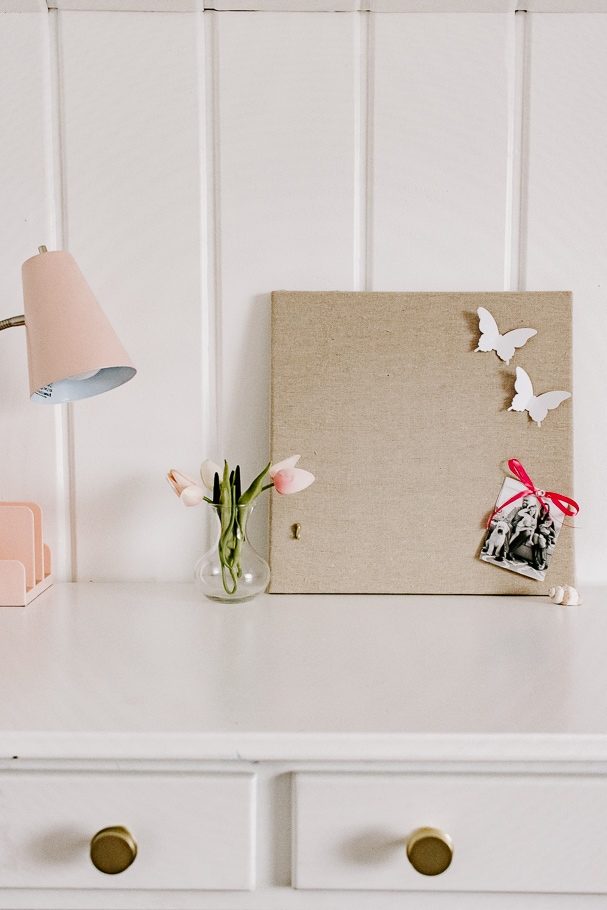 Who says a simple fabric pinboard can't be made into a wall organizer? All you need to make this is a fabric of your choice, a corkboard, a staple gun and some cute pins for hanging things. I have done this twice now and love this project. I think you will love it too! Get the full tutorial for this fabric pinboard right here.
Anthropologie Wall Organizer Knock Off
This looks so pretty.  This tutorial from Fish and Bull uses basic plywood and hardwood store tools.  I love the little shelves on here! No power tools needed. And I do love me some Anthropologie knock-offs. This one would look so cute in a kids room.
Cork and Plywood Wall Mail Organizer
I love how minimal and simple this is.  You definitely can't get too cluttered here.  The pocket at the bottom is so handy to hold mail and other "stuff" that we just seem to have and accumulate.  Go to Burkatron to get the full tutorial.
Pegboard Wall Organizer
Food52 crafted this clever pegboard organizer with some pegboard, hooks and inexpensive scrap wood. You can spray paint this whatever color you want. It looks fantastic the way they styled it! Perfect for kitchen stuff, but this could work anywhere. To get the tutorial go here.
Canvas Pocket Organizer with Grommets
This fabric wall organizer is right up my alley because I love to sew.  And I love drop cloth!  They used this to organize craft supplies but you could totally customize one to hold mail, keys etc.  These pocket organizers are so practical.
Pegboard Organizer with Dowel Rods
This one is so crafty by The Merrythought and I love the clean, shaker style look to this. This was constructed using some inexpensive plywood and wood dowels, (and simple tools like a drill and wood glue). You can customize this any way you want. Perfect for holding hats, scarves, and sunglasses!
Wall Organizer Idea for Craft Rooms
If you have a craft room, or a sewing room and need to organizer all those spools of yarn or thread – this is such a cute solution. You can get the full tutorial right here.
---
Looks like we all need to go to the hardware store now! What do you guys think of these diy wall organizers? Which one is your favorite?
Thank you for visiting me!
xo Karen
Karen Sloan is the founder, editor and syndicated content writer of www.decorhint.com. She offers hints of inspiration for everyday living, including home ideas, DIY projects and lifestyle content. Her work has appeared on Google News, MSN, Pioneer Woman, Apartment Therapy, and Bustle, among others.