Decor Hint is reader-supported. When you buy through links on our site, we may earn a small commission - at no extra cost to you. Learn more here.
This is a quick and easy little tutorial for making DIY wine charms with tassels.
Actually – my 5 year old daughter helped me make them! That's seriously how easy this is. I've seen so many of these adorable little wine charms everywhere that I just had to try this for myself.
Related Post: DIY Rope Baskets
I never used to use wine charms but they have come in really handy lately. My husband and I like to have a glass of wine after dinner and we are always mixing up our glasses. Not that it matters so much when you're married (LOL), but this has taken that little mystery out of our lives.
This is a very easy tutorial. I used simple embroidery thread and you can choose whatever colors you want. Actually, my daughter was the one who chose the color combinations. She did a great job!
You can easily make these wine charms for certain holidays too. Here's what I'm thinking. Green and red for Christmas. Pink and Red for Valentines day. Bright colors for Cinco de Mayo or a summer fiesta. Blue and Pink for a baby shower. You get the picture!
Related Post: How to Make a Pom Pom Garland
I think you will also notice these are not "perfect" wine charms. I actually used regular wire and shaped my own rings because I already had it and didn't want to buy more things (especially this season). But they sell wine charm rings already shaped that you can just add your tassel to. I will definitely go that route the next time.
A great little project for a weekend.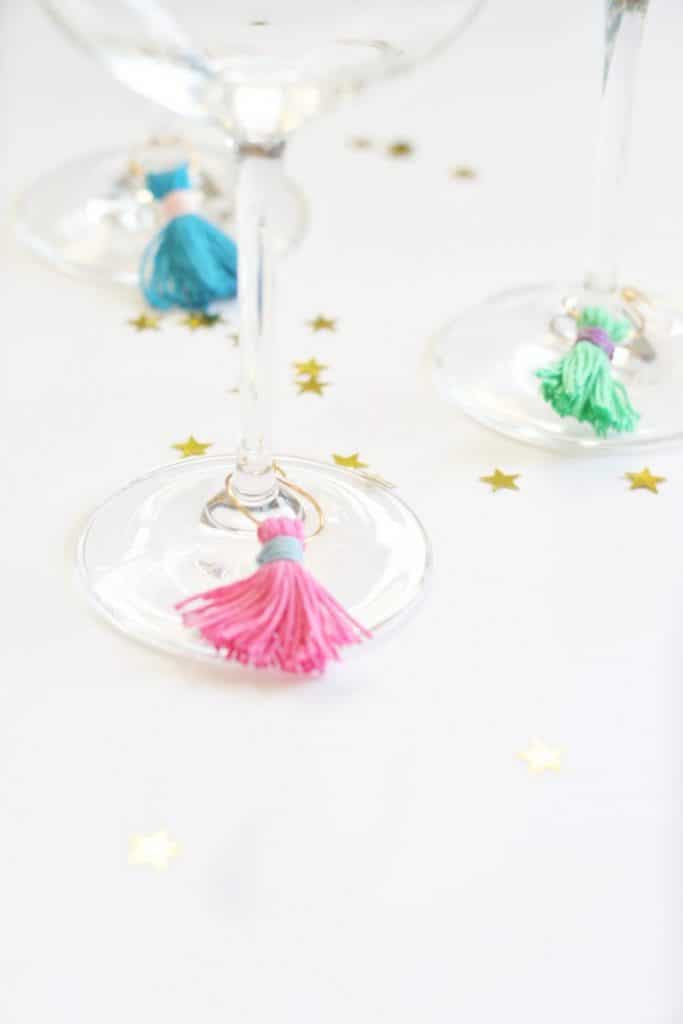 So, let's begin!
Materials Needed
DIY Wine Charms Tutorial
First step is to take two different colors of thread (one for the actual tassel and one for the accent color).
Wrap the tassel thread around your fingers about 25-30 times. I didn't want big tassels so I used a three finger width. I wanted to them bushy so I wrapped them about 30 times which may seem like a lot.
Remove the loop of tassels you just wound from your hand (but don't unravel!)
Take your wire or wine charm and loop it through the top.

*(If you bought the plain wire, you want to shape it into a circle. I used pliers for this but it was pretty easy to bend. Then I shaped the closures by bending back the two end pieces).
Take your accent color thread and wind it close to the top of the tassel near the hoop and knot it closed.
Cut the bottom of the loops of the tassel.
Did I mention these make adorable little gifts as well? If you have an old jewelry box you can put them in here and wrap them up. What a fun hostess gift. Or how about as favors for a bridal shower?
Or course, if you are going to go with the gift route, you might want to consider using the pre-made wire circles. That way they are a little more perfect and you don't have to worry about anyone poking themselves!
Related Post: DIY Gold Nesting Bowls
Well, like I said, it's a pretty sweet and short tutorial. I hope you guys enjoyed! Have a great day guys!
xo Karen