Cute DIY Plant Markers for Your Garden
These DIY plant markers are easy to make and will look so pretty in your garden and containers.  Get the full tutorial for these wooden plant markers right here.  
---
I mentioned before how much I love my herb garden! 
This is really the first year I've been able to grow herbs. 
For some reason, my herbs just wouldn't thrive for me the other years.  I think it's a combination of growing the right herbs for the conditions and using these Miracle-Gro Water Storing Crystals in the soil. 
The only thing I needed was some herb plant markers to label the herbs.
I really want my kids to get involved in helping me in the garden. These labels will help them get to know the different herbs and plants and it will also make it easier for them to collect herbs for our recipes.
So today I'm showing you how to make these really cute plant markers. I know there are tons of ideas out there for plant markers. You can make copper ones, clay ones and painted rock markers.
I actually want to go a much simpler route. But I still want that vintage touch.
Do you know those vintage letters? I just love the look.  So, this tutorial will show you how to make vintage garden markers. Or at least – that's what I'm calling them. 🙂
I certainly can't write them myself…

Husband – "why don't you just write the letters on there yourself instead of using stamps?"

Me – "Because I can't write fancy vintage letters and these stamps will leave cool imprints on the wood.  And because it's cool. And fancy."

Sooooo, yeah.

Letter Punch Kit
I picked up a bag of 24 wood plant stakes for $3.99 from my local hardware store.  But you can find them on Amazon too. I linked to a similar item below.
I purchased the letter stamping kit from Amazon. Despite some negative reviews, I found them to be really easy to work with and they are larger than most – so you can actually read what you're stamping.
I've owned some stamp sets where it's like you need a tiny microscope to read the letters. Well, I suppose you don't need a tiny microscope. Just a regular microscope. That made no sense??
Anyways, now I have this stamping set for future projects.  So it was a useful purchase for me. LOVE!
I will tell you that these stamps are covered in some sort of grease – it's pink.
Here's a funny story.
I actually thought my kids were getting pink stains on our walls and doors and it turned out to be me!  Ha! I didn't even realize it was on my hands and I was going about the house cleaning up. Some stains I can't even get out, believe it or not.  And I'm all out of magic erasers at the moment. Ugh.  

Tip: Make sure you wash your hands after using this stamp set. The stamps are great but covered in grease and you will unknowingly transfer it all over the house.
Ok, so here's what you need to make these adorable DIY plant markers.

Things You'll Need:
Black Waterproof Marker Pen – optional. I like the look of tracing the imprint afterward.

Tutorial for DIY Plant Markers
It was hard for me to break this down into steps because there's really not much to it!
Find all the letters to your particular plant or herb.  Make sure you are pointing them in the right direction on your wood stakes – you don't want the letters to read backward!  
Use light taps of the hammer and try to hold the stamp as straight as possible on the wood stake.  I started out hammering too hard and actually cracked one of my stakes. So light pressure is best.  It's a good thing these wood plant stakes are only 17 cents each!
Once you are done hammering in your letter imprints, go over them with a thin black waterproof marker pen.  You want to make sure it's waterproof otherwise it will run when it gets wet.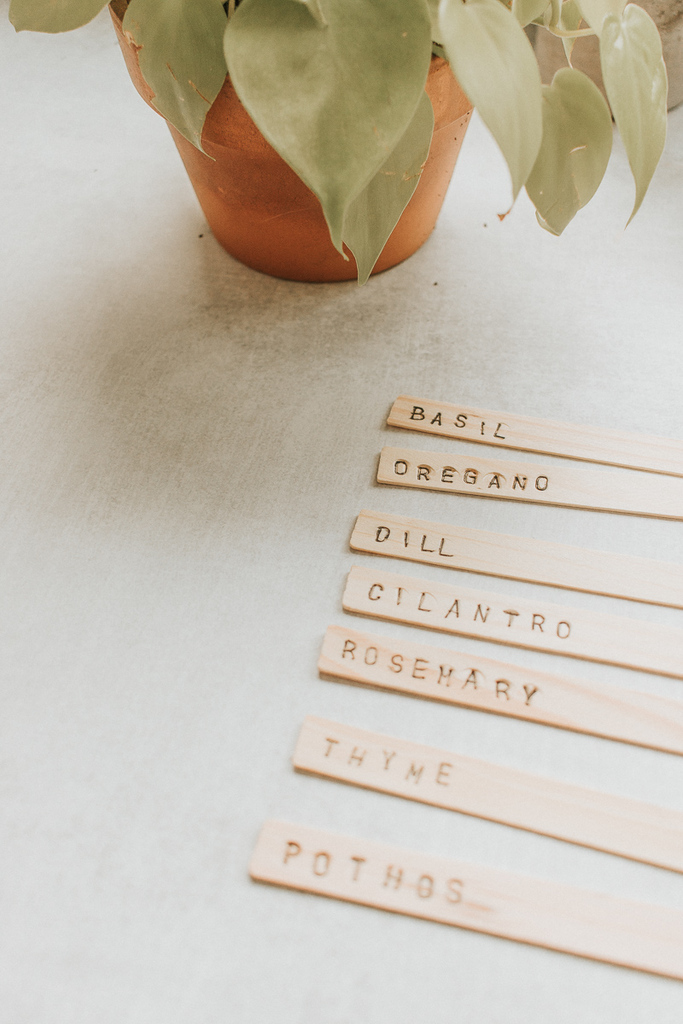 Don't worry if it's not perfect.  I actually like the way they look with the letters kind of casually displayed.  And I love how the letters look vintage! Just the look I was going for.  
That's it, guys! How cute are these plant markers?
I actually found these to be especially handy for my indoor plants.  If you have a ton of plants, as many of us do nowadays, sometimes you can forget what plant you bought. 
This solves that problem. And I find that these give a nice extra touch to your planters too.  
Oh, yes, and one more thing!  
I feel like I say this a lot, but this would be great add-in as part of a gift for a gardener or plant lover.  Give them a stack of these handmade plant markers and a starter herb kit or new indoor plant. Adorable!  
So, just in case you want to see this in action – I made a quick little video for you. This is such a fun project, you guys should totally try it.
And try these other outdoor projects while you're at it …
But will these Plant Markers last outdoors?
Yes, they will! The wood stakes definitely will. I'm not sure yet if the black marker will wear off. I guess time will tell. I can always retrace. But these are super inexpensive and my herb garden will probably change from time to time. It's easy enough to make more.
UPDATE! So we definitely get a ton of rain here in the PNW. My markers are still going strong with all the rain, but the black ink pen I used did run off a bit. I will really have to use a more waterproof marker next time. Just an FYI!
Now it's time for you to get out there and make some DIY plant markers! And start planting if you haven't already.
No time to make plant or herb markers?
Here's some available on Amazon …
xo Karen