Easy DIY toy box with caster wheels
A step by step tutorial for making an inexpensive and easy DIY toy box on wheels!
---
If you want an easy woodworking project for your kids room or playroom – look no further!
I'll show you how to make this adorable (and cheap!) wood toy box.
I'm not an expert woodworker and you don't have to be. If I can do this – you can definitely do this. I used all scrap wood and random parts I'd been saving in my craft stash. More on that later.
If you want to jump straight to the TOY BOX tutorial, just click these quick links to get you there.
If you are coming over from the One Room Challenge – hi and welcome!
I'm Karen, the blogger/DIY'er/photographer/decorator behind this home and DIY blog. I'm doing a revamp of my kids playroom and you can catch up on all the prior weeks by clicking the links below.
You can also visit the other participants of the challenge (and learn more about this challenge) by clicking HERE. So much inspiration there!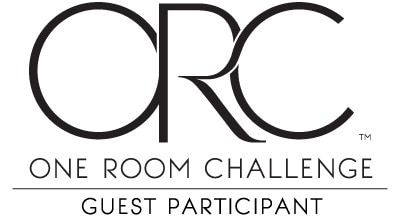 One Room Challenge Updates
"This room is slowly coming together." Direct quote from my 5 yr old. LOL.
Here are the projects completed so far:
Paint
Kids Gallery Grid Wall
Curtains are hung!
Lighting has been ordered (more updates on that below)
DIY Toy Box (tutorial below)
My light fixture from CB2 arrived but unfortunately, the jute shade did not look right with the room. When it was turned off, it wasn't bad. When you turned it on, the light had an eerie, weird orange glow.
My kids didn't want to go in there. LOL.
So I exchanged it for a white shade and I'm hoping this is it. (please.)
I also ordered this really fun lamp from Target and love it! It has a dimmer on it so the room gets very cozy in the evening.
I've only made one wood stool so far and it turned out just OK. I still want to make a couple more so hopefully this week or next I can wrap up that project and show you guys how I made them.
My printable vintage art has arrived and just needs to be framed!
I'm also going to make some beaded curtain tiebacks. A quick project but something fun that will add a touch of character to the room.
Still no rug – I'm not sure I'm going to find one in the time allotted for this project. We will see!
Links to Playroom Decor + Similar Items

Things You'll Need for this Toy Box
Wood You'll Need for this Toy Box
2x4x6 – for inner corners of the box
1/4 inch 4ft x 8 ft plywood – for the bottom of the box
2 – 1x12x6 or cedar boards or pallet wood or whatever you have – for the sides of the box
This is a scrap wood project so I used whatever I could find in our wood stash. Wood is kind of expensive right now!
We have a TON of leftover cedar from some planters that my husband built so I used that to make the sides of the box. I encourage you to use what you have and customize the size of your toy box to your wood specifications.
Easy DIY Toy Box Tutorial
This is a very *rustic* toy box but it works perfectly and looks great!
If you are using scrap wood – you do not need to follow my dimensions. They are just there for example's sake.
Step 1: Cut Wood To Size
We need 4 wood pieces for the inner corners. Cut your 2×4 into (4) 16.5-inch pieces.
We need a total of 6 boards on the shorter sides and 6 boards on the longer sides of the box. Cut 6 boards at 23.5 inches long and cut 6 boards at 21.5 inches long.
(NOTE: I cut my bottom plywood piece after I had my toy box assembled.)
Step 2: Drill Recessed Holes to Countersink Screws & Make Holes for Handles
Since this is a kid toy box – I don't want any pokey screws sticking out.
I used a Forstner bit to first create a little recessed hole in all of my wood boards. You can also use a countersink bit or a spade bit (correctly sized to your screw) to do this.
Measure where you want your screws to be and then mark this point with a pencil. Then use the drill to create the recessed hole at this mark. I am using two wood screws per wood board.
Measure the same mark for each board so your screws line up nice and straight. But don't worry about perfection either.
While you have your special drill bit out – make two holes equally spaced in two of the shortboards. These are going to be our holes for handles.
I actually did this step at the end of the project but realized it's better to do this before sanding and staining. That's why you see stained wood in these pictures.
Related: Simple DIY Wood Bench
Step 3: Screw Wood Pieces to 2×4 to Form Box
Let's start forming the toy box now. Using 2 inch wood screws and a drill with a screwdriver bit, attach your wood board to the 2×4.
Line up the next wood board underneath and attach it the same way. It's up to you if you want spacing in between. I opted for no spacing.
We are attaching three wood boards to each 2×4 on each side. After attaching the shorter sides, you follow these same steps with the longer sides.
Step 4: Cut Plywood Bottom to Size
After we have our toy box assembled, we want to attach the bottom. Flip your toy box over and lay your plywood on top.
Make a mark on each side where you need to make cuts. I used a compact circular saw to cut on these lines.
Step 5: Screw Plywood Bottom to 2×4
Using your drill with a screwdriver bit, attach the plywood to the toy box by drilling wood screws into each 2×4 corner.
While you still have the bottom upright, attach your caster wheels to the plywood into each 2×4 corner. Make sure you don't drill into the plywood screw.
Each caster wheel has a hole for four screws but I found this to be overkill. I only used 2 or 3 screws per wheel.
Flip your toy box over and ensure there are no exposed screws coming through the bottom of the toy box. We don't want any little ones to get hurt! If you have to, you can remove any screws that missed the 2×4 and try again.
Step 7: Sand Toy Box
I felt like I sanded this toy box for days. I used rough cedarwood and holy geez is it rough! If you are using pine boards or something else, it will not take you that long to sand down.
We don't want any splinters or rough wood on our toy box so sand it all down really well.
The orbital sander is one of my favorite tools and it does most of the work for you.
Step 8: Stain or Paint Toy Box
After sanding, take a tack cloth to remove dust. Then, use your favorite stain or paint and decorate your new toy box! You can add names, painted stars or paint each board a different color. It's fun to get creative here.
I just love the rustic warmth that stained wood brings to a room, so that's what I did. A coat of Early American did the trick.
If staining, you want to follow with a coat of polyurethane to protect the wood and your surfaces from wood stain.
Step 9: Attach Rope Handles
Final step!
Take a piece of rope and fish it through the holes and tie a tight knot on each end to hold it in place. I used two pieces of rope so my knot was big enough to not go through the holes.
And that about wraps up this project!
My kids use this for stuffies, pillows, balls, and everything else in between.
When it's time to clean up it seems like this toy box has become a quick clean-up dumping ground. At least it's cute though!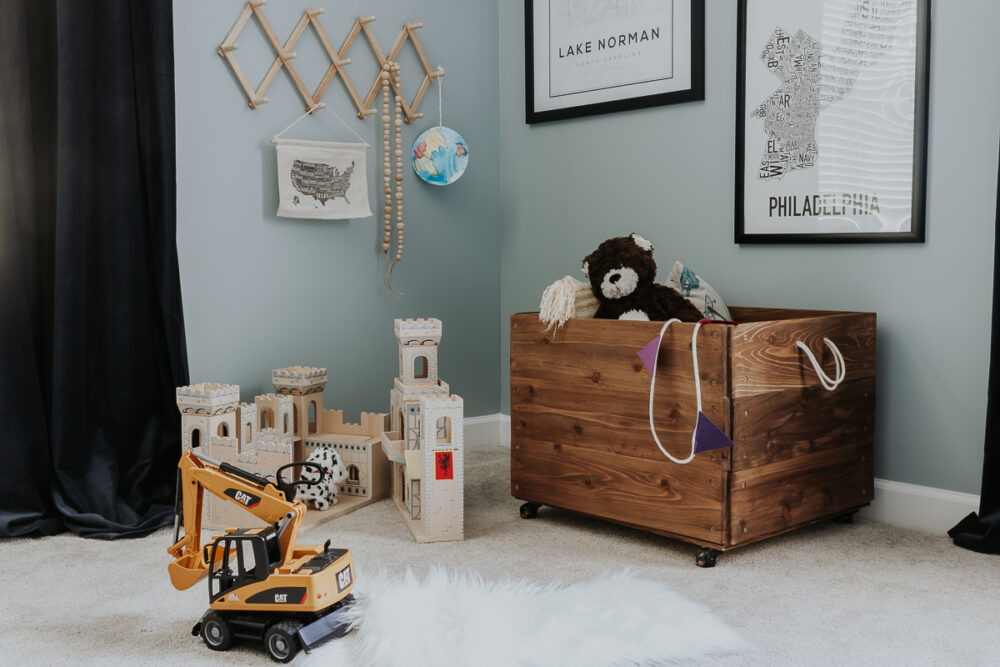 Note: This toy box is not for humans. Or pets for that matter. I was just picturing my kids trying to push each other around in the toy box. That would most likely break the bottom or worse – your kids will get hurt. So just say no. 🙂
Thanks so much for visiting today and I hope you love this easy DIY toy box project!
xo Karen