---
Welcome back y'all!
This post contains affiliate links for your convenience. Learn more here.
I can't believe it's already been 5 weeks since we started the One Room Challenge.
Today, I'm showing you an easy way to hang curtains and giving you a little update on this playroom makeover. I can't wait to get to the big reveal.
If you are just joining me – WELCOME!!
And thank you for stopping by! You can check out all prior weeks by clicking the links below.
Week 1 | Week 2 | Week 3 | Week 4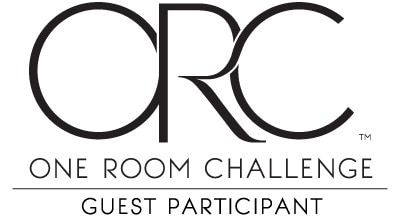 And don't forget to circle back to the One Room Challenge website HERE to check out all the other participants.
Now let's get to this playroom. Where do we stand!? 
New lighting
Check out our new light fixture! Last week I mentioned that our Jute drum shade had to be returned because of the weird orange glow it cast when it was turned on.
It felt like a weird PF Chang's in there.
By the way, there's nothing like lugging a 34-inch pendant drum box back to Fed-Ex. Those are always fun trips.
Thankfully, the replacement white drum shade works perfectly! Look at my fancy gif below. 🙂
I love the size! At 34 inches across it really commands the room. It's pretty inexpensive for a large drum shade. I just love CB2 for their prices. Click on the picture below to shop for this fixture.

I also added a new lamp to the Tv console/toy storage area. It's super cute and comes with a built-in dimmer for cozy movie nights. Can all lamps please come with a dimmer switch?
Framed Art
I framed the art!
I used frames we already have so I didn't have to make any new purchases.

I had some of the artwork already (thanks, kids!) and the rest were printed at Walgreens so all in all this was an inexpensive project.
Rug?
Oh the rug.
I decided on this beautiful oval braided rug from Rugs USA but I'm not sure it's going to make it to the house in time for the final reveal!

I love it though and it will really pull the whole room together.
The Wood Stools
If you remember, I made one wood stool and didn't love how it turned out. To save time – I shopped the thrift store to see if I could find one.
And I found one!
But it was painted a horrible gross brown color.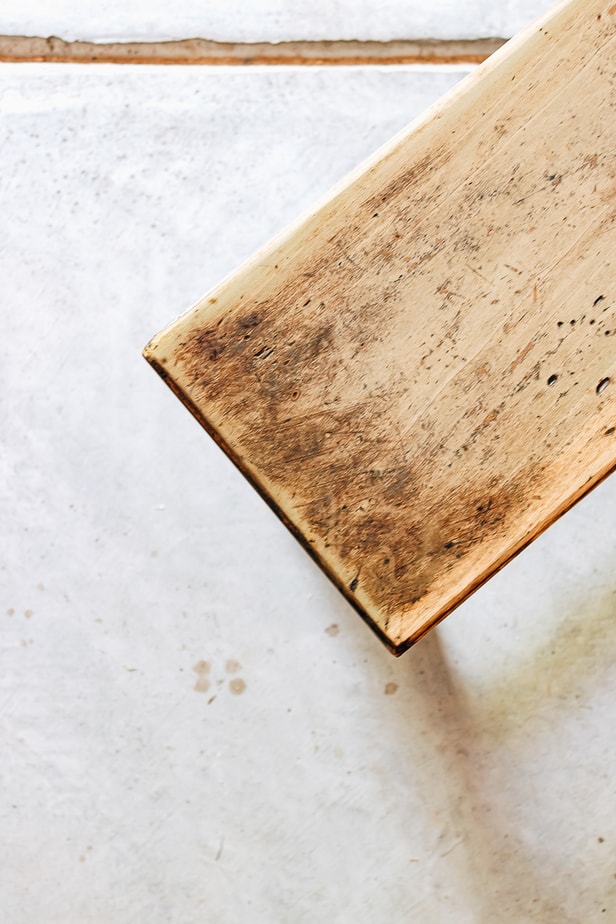 I started to sand it and then freaked about possible lead paint so I'm going to have to use a paint stripper on it.
And I have some family obligations this week so I'm really cutting things close.
These wood stools are definitely not making it easy on me.
An easy way to hang curtains
Now for this amazing tip!
I had to hang two sets of curtains in this room and I'll be honest – I'm not the best at it. I tend to drill my holes wrong or measure incorrectly and it ends up sloppy.
But not anymore.
I'm sharing a trick I learned from Young House Love.
I posted this to my Instagram in a short Reel (but it's hard to film and hang curtains by yourself at the same time). You can kind of get the gist of it though…
Related: How to Get Curtains to Hang Straight
You will need:
Curtain brackets
Cardboard (cut up an old box)
Pen
First, you want to measure on the window where you want your curtains to hang. I chose 3 inches down from the ceiling and 10 inches wide from the edge of the window frame. It's best to hang curtains HIGH and WIDE – it gives the illusion of bigger windows and taller ceilings.
Take a piece of cardboard and measure 10 inches from the side edge and 3 inches down from the top. Place your curtain bracket in this spot and mark the bracket holes with a pen. (Don't forget to do this for the other side of the window frame.)
Use a stud finder on the wall and mark any existing studs you find. This will determine if you need to use anchors or not.
Take your cardboard guide and hold it up against the window frame and up to the ceiling. Drill directly through the cardboard into the two bracket marks you made in step 2.
Now just remove the cardboard and hang the curtain bracket using your perfectly spaced and measured drill holes!
And that's it! I hope this little trick helps you too.
So that's where we stand with this playroom makeover for now.
Tune in next week to see how these wood stools turn out.
Thanks so much for visiting today!
Xo Karen