Revamp Your Space on a Budget: Cheap Wallpapers That Wow
Looking to transform your living space without breaking the bank? Look no further than cheap wallpapers! These versatile and budget-friendly wall coverings offer a hassle-free way to update any room in your home.
With their easy application and removal, you can achieve a fresh and stylish look without the commitment or expense of traditional wallpaper. Discover our favorite affordable wallpapers and unlock endless possibilities for your interior design endeavors.
One of the most frequent questions I get asked by readers is, "Where can I get that wallpaper in your dining room?" Installing wallpaper was one of our first projects when we moved into our new home. And although it took over 8 hours to finish, I still love it just as much a year later! (Which is saying something, for me anyway.)
So this post is long overdue because I have a digital folder chock full of my favorite wallpapers (cheap) that I can't wait to share with you.
These wallpapers are all peel-and-stick so that you know. After diving into the world of peel and stick, I will never go back to regular wallpaper. It's just not worth the hassle to me.

Why use Peel and Stick Wallpaper?
Why not use peel-and-stick wallpaper should be the question. Peel and Stick wallpaper is a fantastic solution for renters and those who want to change their decor frequently (i.e., me).
Peel and Stick Wallpapers are the same prices as regular wallpaper anymore and don't take much prep work. After a quick wall wipe-down, it's just sticking it up on the wall (with precision). No priming and no mucky pastes. No residues to deal with after taking it down.
Not all peel-and-stick wallpapers are created equal. And for this reason, I go for tried-and-true, reputable brands that don't cost a fortune. I once went off-brand with a wallpaper I found on Amazon (this was for my playroom makeover in the One Room Challenge.) And although the paper seemed nice and crazy inexpensive, it ripped a lot of the drywall off the wall when I changed my mind and took it down. So, it would be best if you only used the brands that are familiar to you and have good reviews.
However, you don't need to spend crazy amounts of money on wallpapers. I'm about to show you these cheap wallpapers are all from reputable brands and are easy to apply and remove.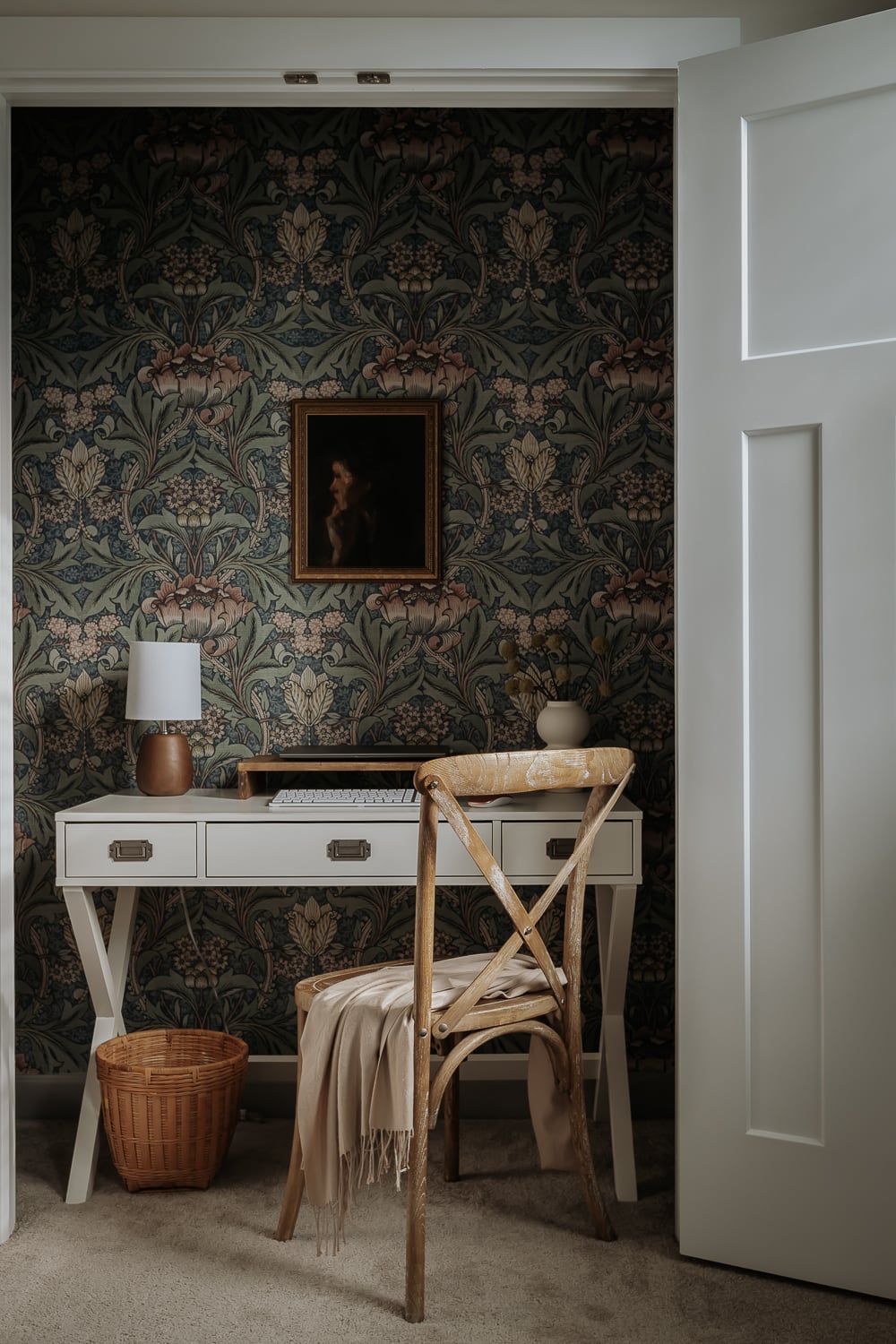 I tend to like wallpapers with a small pattern because I think those have more staying power for me. I won't get sick of those as quickly. But I'm not afraid to admit that I can get swayed by current trends, like these watercolor mural walls that take Instagram by storm.
How to Save Money with Wallpaper
Wallpaper is a great way to add personality to your spaces, but covering a whole room can get pricey. Covering an accent wall is an excellent way to save money with wallpaper. Or, cover most of your wall with molding and then top it off with wallpaper.
You can also add wallpaper to small, unexpected places, like the backs of bookshelves, a pantry or closet, a ceiling, or a small powder room. This is a great way to flavor a room without going whole-hog.
My Favorite wallpaper Brands
These are the brands that I look to again and again and that I've used personally and loved.
NuWallpaper
NextWall
Roommates
York Wallcovering
Many of these brands are available at the same places (Walmart, Amazon, Target, Home Depot), so you might have to dig to see which offers the best price. And some of these brands have exclusives with companies, like Home Depot, where they only offer that pattern at one store. So it pays to look around.
I'm seeing more and more watercolor and scenic-type wallpapers, so I included a few of those. I also love a graphic black and white and those quirky patterns for kids' rooms!
xo Karen