Decor Hint is reader-supported. When you buy through links on our site, we may earn a small commission - at no extra cost to you. Learn more here.
Hello friends!! I wanted to share with you a little mini hallway makeover.
I didn't too much but I added a few things that really liven up that space! And I also did one quick change that brightened the space and really cost nothing at all. Keep reading to find out what that is. 🙂
I hope this gives you a little inspiration for your own hallway.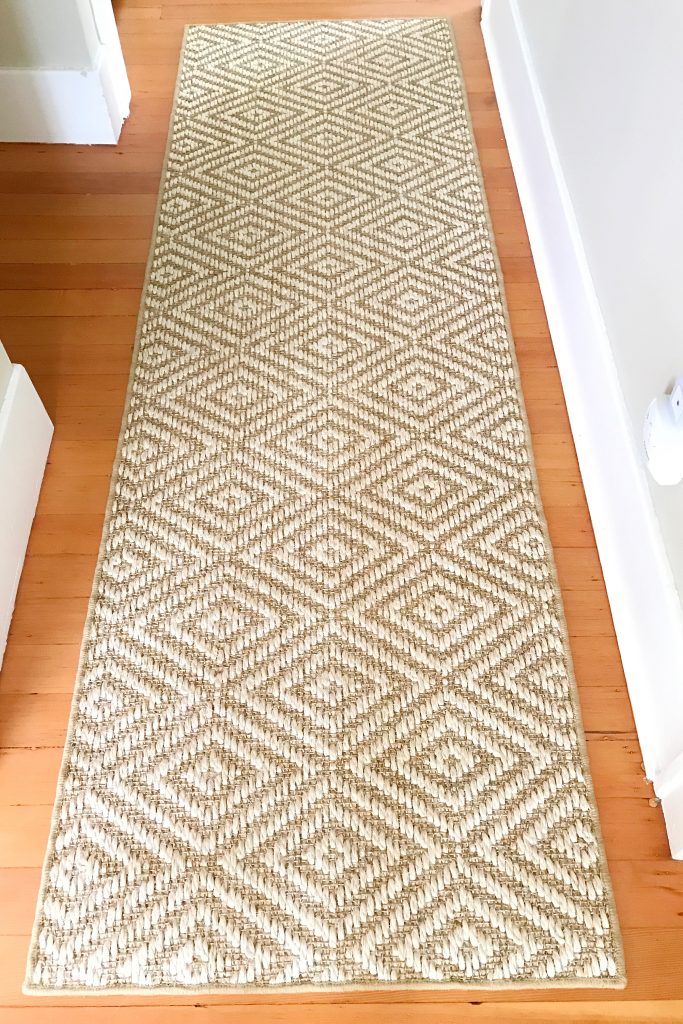 For starters,  we didn't have a runner there and I had been eyeing up this beautiful rug here for a while.  Well, I got it! And guys, it doesn't disappoint.  It's gorgeous and added just the warmth and texture I was looking for.  If we paint the walls white, which we are still planning to, I think it will still go with the overall design.
The other item I changed out was the little knob on our pantry door.
We had this crappy little loose white junk knob on there before and every time I used it to open the pantry it bothered me! You know those little things in your house that make you stop and say to yourself, "I hate that."
That's how I felt every time I used that little knob. And I do realize I've used several sentences now talking about a dang pantry knob. 🙂
Our home was built in 1926 so I wanted a knob that would match the charming glass knobs on our doors. You can see one of the glass door knobs in the picture below. This was perfect when I saw it at Anthropologie and only $8! I love how it came together to look like it was there all along.
When I saw this picture, I just had to have it! This is Sasha (our crazy wheaten terrier). And everyone who comes over asks us if we had a drawing done of our dog.
This picture looks just like her and I love it in so many ways.  If you have a wheaten terrier – you may be thinking the same thing. The dog looks a little sad but could also be contemplative, don't you think?  This is one of my favorite pictures in our whole house.  You can get it here.
That "ruler" height chart is the most adorable growth chart ever! We keep it right outside the kids bathroom and keep track of them every few months.
The last thing on my list was a new lighting fixture.
Unfortunately, a new fixture isn't in the budget right now. The previous owners had these awful dim low watt bulbs everywhere in the house and I've been slowly getting around to changing them out (we have only been in our new house about a year).
Well, this one hadn't been touched yet and I decided to tackle it once and for all. I used a soft white LED bulb that has a warm glow to it. Those harsh LED blue light bulbs definitely don't cast the right light and what was previously there was low light and orangey.
I also cleaned the fixture while I was up there – you know how dust and debris (bugs eek) can get in there and just sit? Ugh. Bugs me (no pun intended). All in all, the new bulb and giving the fixture a good clean made such a big difference and cost me nothing.
So, don't forget the little things when making a change to your rooms!
I'd say this was a successful little makeover and I am happy every time I walk down the hall now. 🙂 If you love makeovers, check out our new galley kitchen and our Trex decking patio makeover. I hope this gave you guys some little ideas for your hallway decor.
Have a good one friends and talk to you all soon!
xo Karen
SaveSave
SaveSave