Room Makeover Before and After – Hannah's Room
I'm so excited to finally be sharing Hannah's room with you all. This room had quite a few projects to complete before I could share the whole thing with you. We are finally here! Woot!
Let's start from the beginning.
The Before
When we moved back into our home after the renovation, her room looked something like this …
Yikes! Not only was there a lot of stuff to clean up, but everything from the walls to the floors needed sprucing up. To say her room felt super cluttered to me was an understatement!
I couldn't stand those beige walls! There was too much furniture and there were also these awkward built in shelves everywhere. We could only make cosmetic changes – no crazy renovations here.
The After
And here's how it's looking today …
In a nutshell, here are the cosmetic changes we made:
Painted the walls and ceilings
Closed up all but one of the built in wall shelves
Donated away excess furniture
Purchased new bedding and sheets
Made my own pillow covers for bedding accents
Changed out desk drawer knobs
Chalk painted her Desk Chair
Added a DIY vintage mirror
Spruced up and Wallpapered the one and only set of built in shelves
Added Artwork, DIY Bunting and a DIY Bead Garland
Added a DIY Pinboard to her desk
Purchased a New Desk Lamp
Purchased a New Blackout Shade
For sources, please read below and see the captions!
Paint Colors
First things first, I had to tackle those walls! The walls have original paneling on them, but the beige was tacky. A fresh coat of white paint would really brighten up the room and make the paneling look more modern.
My original plan was to wallpaper the window wall of her room, but after looking at options, nothing I wanted was within my budget. So paint was the next best option. I ended up painting that wall Angelic by Sherwin Williams. It's the perfect peachy pink – very soft and not "in your face pink" at all.
I didn't just pull this color out of nowhere in case you were wondering. I had purchased a pretty peachy duvet cover from Target for her room and that served as inspiration for the wall color.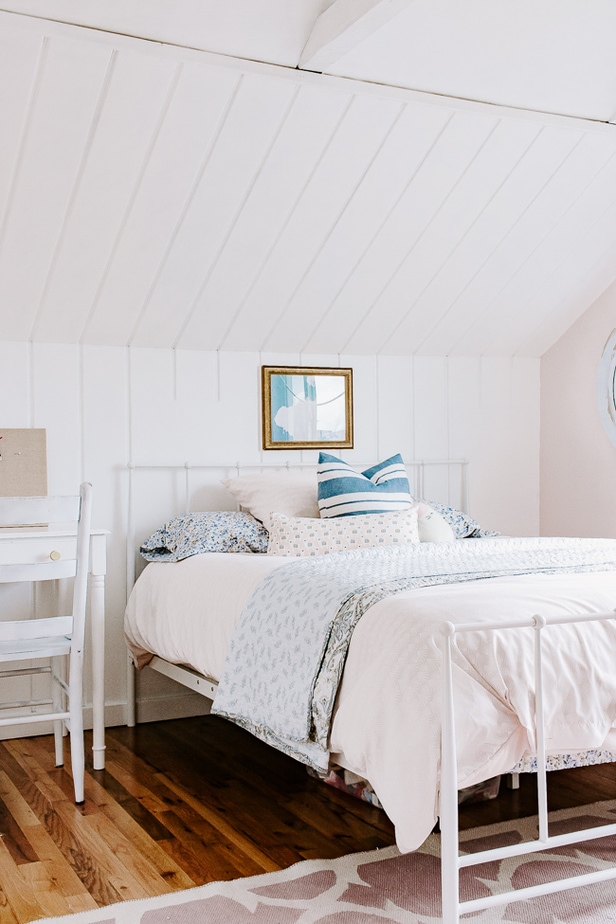 The rest of the walls and the ceiling got a few coats of Behr Ultra Pure White. This paint is almost an exact match for Benjamin Moore's Simply White, which is the same color that we painted the walls downstairs. Using the same-ish color throughout all the rooms in your home really helps to tie everything together.
One of the biggest transformations was closing up those three built in shelves. They were clunky, crooked and got in the way of furniture placement. We took some simple plywood boards and nailed them in there, and then used spackle to close up the holes around the plywood boards.
Hannah already has a set of built in shelves on the opposite wall, which we already spruced up a few months back by wallpapering the shelves.
Bedding
Now that I had this peachy pink color with the white walls – I decided to pull in some complimentary blue colors.
Here's a hint – looking at the opposite side of the color wheel will clue you in as to which colors go best with which. In this case, coral and blue are opposite on the color wheel, and therefore perfect compliments!
I had some leftover blue striped fabric that I used for a previous project. I made her a little pillow for her bed. I found these super soft, blue floral sheets on Amazon and they were exactly the look I was going for. Plus – they are just great sheets. (They have tons of patterns, too.)
The blue quilt was something I found almost ten years ago at Home Goods. It's so pretty that I could never let it go (I know, surprising for someone who throws everything out LOL.) I'm so glad I kept it though. Here's a similar quilt that I found.
The little llama pillow is handmade as well. I can't seem to find the fabric for it anymore! But here are some additional options.
Related post: Easy Envelope Pillow Tutorial
Artwork
The artwork ended up being a mixture of new art prints and things we already had.
I love the look of watercolor and palette knife artwork – it looks collected and aged to me even though it's not. That's why I create some for my artshop!
This Cloud print is from my own Etsy Shop. The blue color of the sky really compliments the blue bedding.
These inexpensive 3D white butterflies were a fun find on Amazon and help fill up a larger blank wall for next to nothing!
And, if you remember, that white mirror project? An oldie but goodie from IKEA that I spray painted and made chippy with Vaseline.
Desk Area
Hannah had this desk already, but those boring white knobs that came with it were doing the room no favors. So I switched them out for some inexpensive gold knobs (these ones here.)
The little peach desk lamp was a super cheap find on Target and it also holds her pens and pencils.
Finally, my latest project for her room – this diy pinboard with linen fabric. I like it leaning against her wall on her desk – it feels more casual to me this way. The belly basket on the floor holds all the paper!
Overall, I'm really pleased with how her room turned out. She has a cozy space now and it feels much fresher and brighter. This little makeover did NOT cost a lot either. The biggest expense was paint. Those wood paneled walls needed three heavy coats.
Sources

I hope you guys enjoyed this tour!!
Thanks for stopping by,
xo Karen