We've been in our new home for almost five months now, and although it feels like there is still so much to do, there is definitely that feeling of being settled. Some rooms are just about done in our home, and others need a lot of time/work/energy so they feel just right. I feel like it will take time, as it did with our Seattle craftsman.
One thing is certain: I feel so happy, blessed, and lucky to be in our beautiful new home. So thankful to be healthy this time of year and loving every minute of this magical season.
Without further ado, here's a photo tour of our holiday home for 2020. Sources for most things are linked at the bottom of the post and below.
We kept things pretty classic this year, with lots of greenery, garland, and red ribbons. All of our handmade ornaments and treasures are still there, like my grandmother's ceramic tree. I love a mix of old and new, and Christmas is a great time to show off those hand-me-downs and diy's.
Our front door is adorned with fresh Holiday Swag and garland, and I casually draped some Christmas lights on there. I purchased a large spool of bright red ribbon to adorn our wreaths, garlands, and tree this year.
Those cedar trees in the front planters are fakes. Our porch gets so much sunlight that everything turns brown without a daily dose of heavy watering (too much for me to handle right now.) These cedar trees are so inexpensive and look incredibly real!
This year, I was so excited to put wreaths in our windows. We needed quite a few, and I found these window wreaths from Walmart for a serious bargain! They look perfect after a lot of fluffing and adding some red ribbon.
Our entryway is my favorite part of our house right now. I just painted it white, and it makes everything pop. Our red foyer rug looks very festive, but I love it all year round.
The dining room is right off the entryway, and we completed a wallpaper project there a few months back. We also added some new furniture from Rooms To Go. I love adding garland to unexpected places, like light fixtures, on top of cabinets, and over mirrors. My kids mostly decorated our tree this year, and they did a great job.
Holiday Home Tour 2020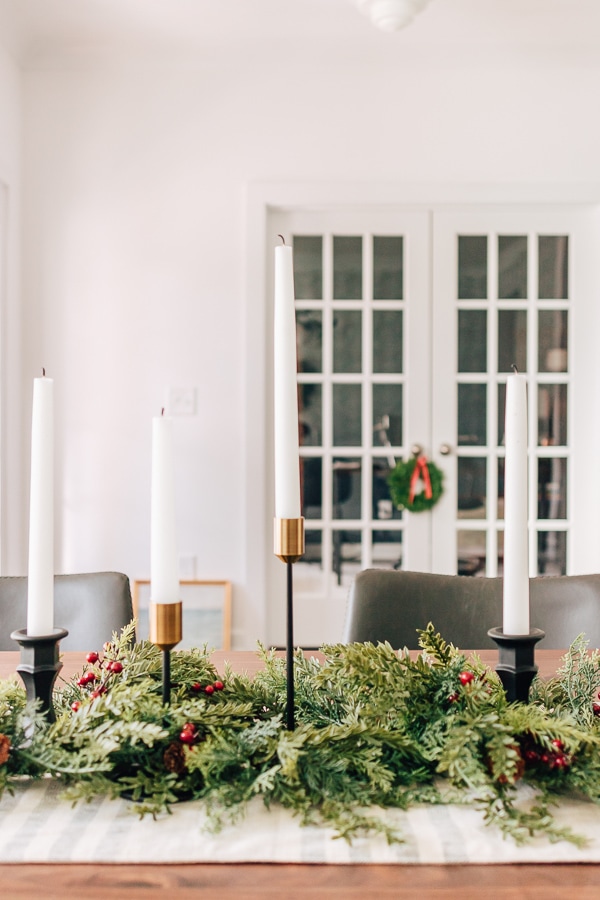 Karen Sloan is the founder, editor and syndicated content writer of www.decorhint.com. She offers hints of inspiration for everyday living, including home ideas, DIY projects and lifestyle content. Her work has appeared on Google News, MSN, Pioneer Woman, Apartment Therapy, and Bustle, among others.