Turn any vase into something aged and beautiful, with just a few materials. Read the diy aged vase tutorial in post!
---
Thrifting is one of my true loves in this world.
I've picked up many cool vases and jugs at thrift stores over the years.
However, it's rare that I find one that's absolutely perfect.
Usually, the style is ok – but the glossy, shiny colors not so much.

I like these aged vases and pots. They look a little textured, are usually muted in colors, and look a bit dirty.
Related: DIY Aged Terra Cotta Pots
This project will show you how to make any vase look old! It's easy and actually fun – it's like creating a little masterpiece on your vases and pots.
Here's a quick before look at my vases:
Watch the Video
DIY Aged Vase – Step by Step
I've seen these tutorials on Instagram and I tweaked the method a bit – I'll explain more below.
Things You'll Need:
Rubber Gloves
Sandpaper
Plastic or Paper Cup
Sealer Spray (optional)
Step 1: Spray Paint your Vase.
The first step in this process is creating a clean, white canvas. Spray paint your existing vase with spray paint and primer in white. This color is flat – so it won't be shiny which is perfect!
Let that coat dry.
Tip: If your pot needs some texture – spray paint it with the textured spray paint and then repaint it white. That will give you some grit underneath.
Step 2: Rub Dirt on Your Vase.
Yes, you read that right. Take your plastic or paper cup and fill it with a bit of water.
Go outside and grab a little bit of dirt.
Mix it in your cup of water until it looks like thick, muddy water. Rub this dirt all over your vase.
(Sorry, this part was messy and I didn't take a picture of it.)
Step 3: Spray Textured Stone Spray Paint and Rub.
After the dirt rub, Spray a bit of textured stone spray paint in various spots on your vase and gently rub it in.
Some folks stop at Step 2. But I wanted to take this project a step further.
Here in North Carolina, our dirt is clay. It's like a reddish-brown color, which looked a little weird on its own.
At one point my husband called this the "diarrhea pot". Definitely didn't want to put that in our dining room. LOL.
It should look natural, not like you rubbed spray paint on it (wink, wink).
When I tried the rubbed spray paint – I knew this was it. This was the exact look I was going for.
The addition of the textured spray paint gave it that deeper brown color I was looking for.
Allow this paint to dry.
Step 4: Use sandpaper to rough up your paint.
Now for the final step – use a bit of sandpaper to rough up your pot.
This smooths out some of the obvious paint streaks and also allows more of the white underneath to show through.
And that's it for this project.
The final step would be applying a sealer spray, but this is optional and I didn't opt to do it.
I'm not really going to be touching my vase that much and it's indoors anyways.
This looks exactly like an aged pot! Almost like concrete, actually.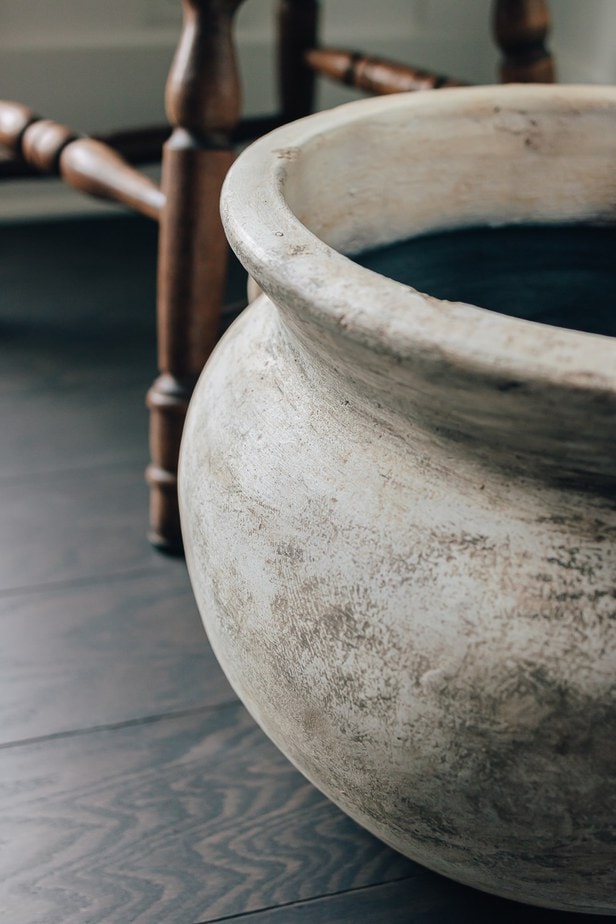 I don't know about you – but I can't tell the difference between this pot and one of the fancy ones.
I can certainly feel the difference in my wallet, since I didn't have to shell out so much money for one of these vintage aged vases.
You can apply these four steps to any old pot or vase you have lying around. You can also do this project with black paint and primer, for a different look.
I hope you guys enjoyed this tutorial. Thanks so much for stopping by today.
Xo Karen
Karen Sloan is the founder, editor and syndicated content writer of www.decorhint.com. She offers hints of inspiration for everyday living, including home ideas, DIY projects and lifestyle content. Her work has appeared on Google News, MSN, Pioneer Woman, Apartment Therapy, and Bustle, among others.