How to Make Cafe Curtains in 15 minutes
I know you guys have been seeing a lot of my bathroom lately!
After I framed the bathroom mirror, it really gave me the motivation to do more.
Today, I'm showing you how to make cafe curtains! And don't worry, you don't need a sewing machine – I'll also show you how to make this no sew.
I remember my mom having these curtains in her house growing up.
And you know what!? I didn't like them! Sorry, Mom.
I thought they looked old school and dated.
But lately, I've seen interior designers use them more and it's really changed my perspective on them.
I think these DIY cafe curtains can be pretty darn cute!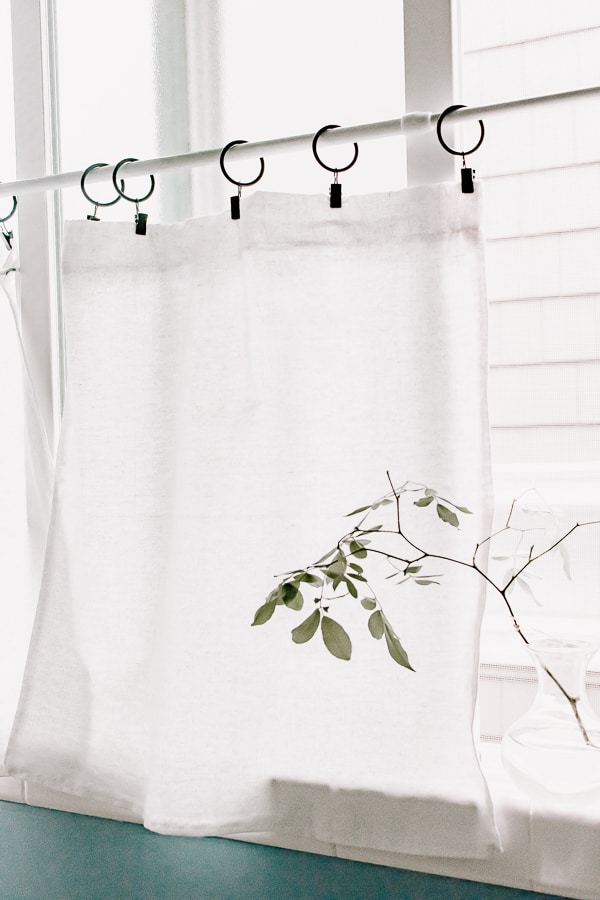 The window in our bathroom is not very pretty. It has frosted glass and it's a slider, which for some reason just looks weird and throws me off.
This is not the first time I've tried to "dress" this window. A while ago I had made a faux roman shade with tension rods to give it some softness. And I loved it but I really wanted to try a cafe curtain too.
Alright guys – let's dive in this project!
Things You'll Need
How to Make Cafe Curtains
Before doing anything – it's best to wash and dry your fabric before sewing to account for any shrinkage.
Step 1: Measure and Cut Fabric
With cafe curtains, you want them to be bunchy looking all the way across – not stretched.
Here's what I did to measure and cut my fabric. I hung up a tension rod across my window and pinned my fabric over it.
I used my window as a guide to cut the length. I cut them slightly lower than the window to account for seams.
For the fabric width, I measured double the size of my window then cut this piece in half to account for two curtains.
For instance, if your window is 24″ wide – you want at least 48 inches wide of fabric. Don't be afraid to use more – go big or go home I like to say in sewing.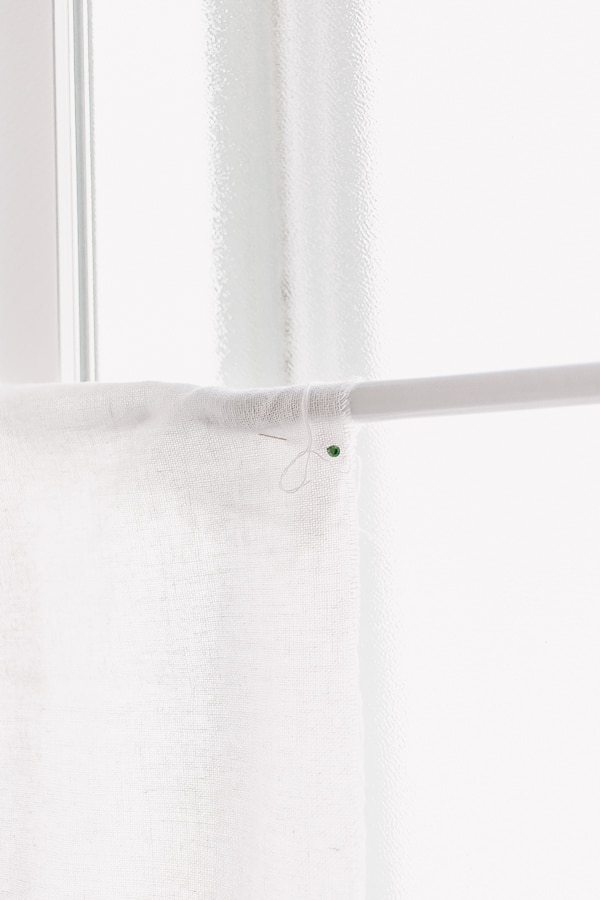 Step 2: Sew Cafe Curtain seams
Now that we have our curtains cut, we need to sew in some seams to make it neat and pretty!
Sew a double hem all the way around on each curtain.
I don't like to measure when I sew (in case you can't tell), so feel free to make your seam as big or small as you want. Don't forget to account for the window size.
*Notes: If you prefer to hang your curtains directly from the tension rod (without clip rings), you will need to sew a pocket hem on the top of each curtain. Then just slide each curtain through the rod and hang it up. I did both ways with this project but prefer the look of the clip rings. Totally your choice!
If you are not using a sewing machine, use a simple fabric adhesive tape to bond your seams.
Step 3: Hang and Enjoy!
Our curtain is pretty much finished!
Simply attach your clip rings to each curtain and hang it up on your rod. Ideally, you should use a rod that's the same color as your clip rings. I have a black matte one on order so I'll update this post soon.
These cafe curtains were so simple to make and the white linen gives just the right amount of softness to that window.
After framing the mirror, hanging some simple DIY art, and sewing up some cafe curtains – I'm pretty pleased with how this bathroom is looking lately!
I would definitely give this project a try if your bathroom is missing something – a simple set of cafe curtains may be all you need.
And you don't even need to sew.
Thanks so much for visiting me today!
xo Karen