---
Summer is still in full swing where we are. And we are still mostly stuck at home due to quarantine restrictions.
What do you do when your kids don't want to go outside anymore because it's "too hot?"
Answer: You have them do a fun activity with you that will literally force them outside (and help you decorate your house at the same time.)
This article contains affiliate links to products we love. Please see our policy page for details.
You make sun prints!
Sun prints are a perfect summer activity because you can use the hot, bright sun to your advantage. And it's cool to see what kinds of "art" you can create with items foraged from around your yard or house. This is fun for all – adults too!
Plus, after you create your sun print art you can frame them up and hang them somewhere in your house as a little reminder of this fun summer activity.
Oh, what a way to pass the hot summer day.
Things You'll Need
Sun print Kit with sun print paper and an acrylic block – we used this one
Small object for making sun print art (see below for tips)
Water for rinsing your sun print paper
Hint: Sun print paper comes in all different sizes. We used the small size. It's just easier to work with and easier to rinse. Plus, you will only need a small frame to get them hung up.
Small Objects for Sun Print Art
Leaves
Berries
Twigs
Pine Needles
Flowers
Buttons
Safety Pins
Feathers
Small tools
Pins
Paper Clips
How to Make Sun Prints – Step by Step
Follow this guide (and be sure to check the instructions on your specific sun print kit, too!)
Step 1: Forage for some items!
Grab the kiddos and go on a nature walk or a treasure hunt in your home. Look for small objects that would make a good imprint on your sun print paper. We mostly used items from our yard and the forest near our house.
For us, the berries didn't turn out as good as the leaves. We didn't find any ferns but I highly recommend trying them if you have them around. Ferns would turn out pretty neat. You can also search for buttons and things like that in your home. It's fun for kids to see what kind of imprint each object leaves.
And if you want to get all sciencey on them – you can read up on how exactly this process works. Just google it to find out.
Step 2: Gather your Materials
Before heading out into that hot sun, make sure you have all your materials at the ready since you can't expose the paper to the sun beforehand.
Basically, the process goes like this.
Grab a piece of sun print paper, then the acrylic block, then set the object on top. I've also seen kits ask you to put the object in between the paper and acrylic. And either method works.
Then, put the whole thing out in the sun and watch the paper slowly turn from blue to white.
It will take anywhere from 1-5 minutes for it to expose. We tested the times and the full 5 minute exposure worked the best for us.
Step 3: Rinse your Paper and Let it Dry
After the time is up, grab your paper and rinse it under the faucet for a minute or so. You should see the blue print of your object on the paper.
After rinsing, the white areas turn blue and the blue areas turn white. It's magic and my kids loved this part.
Let the paper dry completely after rinsing. It will continue to develop into that beautiful rich blue color.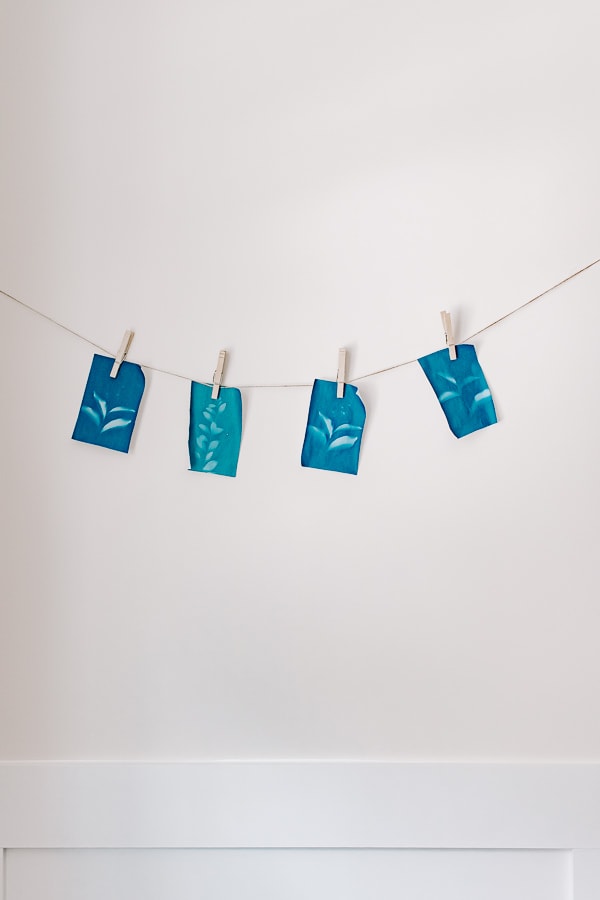 Awesome!
After the paper is dry you can frame them up. These sun prints look cool on your wall, especially in a gallery wall or grid layout. It's just a quick, fun summer activity for a hot day.
Enjoy your art!
Xo Karen