How to Distress Chalk Spray Paint (Video Tutorial)
How to use and how to distress chalk spray paint. If you want to easily create a distressed look on your furniture, follow this tutorial. See the before and after of this beautiful antique chair.
---
I inherited this really lovely, shaker style, wooden chair from my grandfather. It's very special to me.
I remember that he used to sit in this chair at his desk and pay and mail bills. (Remember when you had to write checks for bills instead of electronically send them?)
I actually loved this chair as-is. It was aged perfectly. But the chair was meant for my daughter's room and as much as I loved it like that, it was clashing with all the peachy pink and white in her room.
So the time had finally come for me to paint it! But I still wanted it to have that aged look. That's where this Chalk Spray Paint comes in.
I love using Rustoleum. It's pretty much what I use on all my paint projects. It's the best, in my opinion.
I ended up getting a really good result just by using this spray paint, instead of the ol' paint-in-the-can variety. And yes, you can still distress it! Very easily, in fact.
Let me show you how I did this.
Things You'll Need
How to Use Chalk Spray Paint
Ensure that any hardware on your furniture is removed or masked prior to spray painting.
The beauty of using chalk paint is that you don't really need to prime or prep your piece of furniture (as long as it's not bare wood). You can just spray it right on top! And that's literally what I did. Although I have read that priming can make the paint adhere better. Up to you. I opted no to save time.
I recommend spraying this outdoors, as I do with every painting project. The fumes are icky and it can be messy. Paint on top of old cardboard or a piece of drop cloth or painter's plastic. (Unless you don't care if you spray paint your grass!)
Spray the chalk spray paint in even, light coats. Don't spray too much at any one time or it will drip and dry that way. Nobody likes runs in their paint. But you can always distress that part off later – more to come on that.
Spray painting in direct sunlight is not recommended.
After the 1st Coat of paint
This spray paint dries to the touch in about 20 minutes. I thought at first that one coat would cover the chair completely, but as it dried, the chair soaked up a lot more paint and I started noticing thin areas.
The color dries very neutral WHITE! There really is no warmth or yellow undertones to this white paint.
After the 2nd Coat of Paint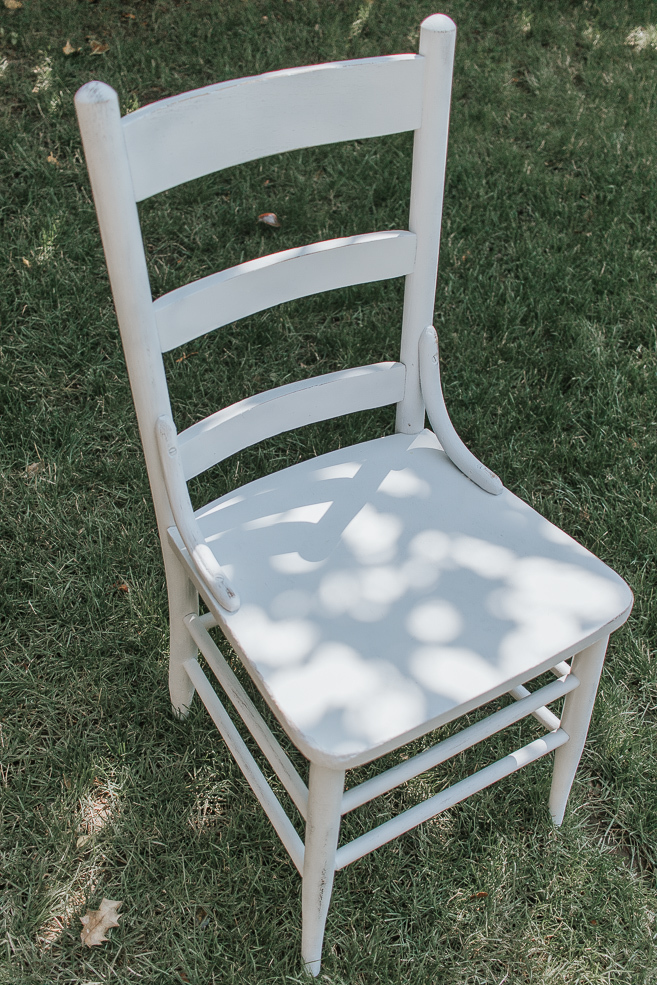 After 20-30 minutes, I went ahead with a second coat.
I ended up using two whole cans of chalk spray paint to complete this project. And to be honest, I probably could have painted 3 coats to make it really perfect.
This Rustoleum Chalk Spray Paint dries to a very matte, smooth look. Just like your typical chalk paint in a can!
If you spray 2-3 coats, in between the proper drying time of 20 minutes, you will get a very nice chalk paint finish.
I can almost guarantee that you will need at least 2 coats (3 to make it just right).
A lot of the reviews for this spray paint said that it took many more coats than originally thought. And I totally agree.
But if you're patient, you will get great results with this spray paint.
So, after the 2nd coat, I left the chair to dry completely for 24 hours. At this point, you can leave as is, or apply a top coat like this.
Did you know that I recently changed this chair back? Yep. Learn how to use citristrip and see how I restored this chair to it's former glory!
How to Distress Chalk Spray Paint
Distressing this paint is the best part! Once your paint is dry, take a fine or medium grit sandpaper and sand a few areas on your furniture that would naturally be distressed.
I sanded down the edges of the chair and the tops. I lightly sanded the seat and the back and the front of the legs.
The goal was to have this chair look somewhat worn but not too worn. Do you know what I mean?
Here's how some of my edges looked after sanding …
The distressing part was super fun. I really had to pull myself away from distressing too much. Crafter's problems? 🙂
The Final Result
Here is the final result of my chair! What do you think?
I'm currently giving Hannah's room a mini makeover. You get a little sneak peek here with these pictures. Check out her bookshelf project from last week. Oh, and I have a post on how to make that cute little pennant garland in the photo above.
UPDATE: See Hannah's New Room!
Back to the chair…
If you look really, really close – you can still see a few thin areas of paint. That's where that whole recommended 3rd coat comes in.
However, I am totally a fan of this chalk spray paint and will definitely use it again. It will save you so much time and there is no need for any paintbrushes.
Pssst : Check out how to get spray paint off of skin! An easy trick!
I think the key is applying light coats, waiting through the proper drying time, and making sure to apply 2 or 3 coats (at least).
where to buy chalk spray paint
If you guys have followed some of my other paint projects, you will know that I am a huge fan of Rustoleum spray paint products. In my research, I've found the best selection for Rustoleum has been The Home Depot.
I just love their wall of spray paint!
However, sometimes you can get a good deal on Amazon. It just depends on the seller.
Don't forget to check your local hardware stores too. We have a local hardware store right around the corner that I just love visiting. The prices are not the cheapest, but the atmosphere is wonderful and I think it's so important to support your local shops.
And I have a few more projects in the works for Hannah's room. I really love how it's turned out so far and can't wait to show you the rest.
Have a great day guys!
Xo Karen