Best Lego Storage Solutions
---
Are legos driving you crazy yet??
In this post, I'm going to show you some clever lego storage solutions that are easy to implement and maintain. Because legos can end up driving you crazy.
Have you ever stepped on a lego? Torture.
Find legos in your laundry? Annoying.
But legos in the dog food bin? Now you've taken it too far.
I have two young kids and they both LOVE legos. And their friends and family (including my husband and I) LOVE giving them lego sets as gifts. So we have built up a lot of legos in this house!
Don't get me wrong – I think legos are great. They keep your kids occupied (for a little while at least) and they allow their little imaginations to run wild. But there are so many dang pieces. And some of them are so itty bitty, I have stud earrings bigger than those pieces.
The storage we use for legos is just storage, it's not "organization". If I had to put legos away (or try and make my kids do it) by the color and/or size every time, I would go permanently insane. That's just me. BUT! I also included some ideas for those who do like to organize that way, too.
Let's get to it.
Lego Storage Solutions
Here are a few ideas for storing your legos that will make you happy and that your kids will find easy to keep up with!
1. Lego Play Mat and Storage Bin

The amazing thing about this storage bag is that you can spill out all the legos and then literally just cinch them back up into the bin. Easy peasy and great for travel, too.
Whoever invented these lego drawstring activity mats deserves a medal. I actually considered making one of these. I'm still considering it, actually.
2. Lego Brick Storage

If you have a kid who is really into legos, or you want more stylish Lego storage, then check out these lego storage bricks and lego storage heads. You can pop off the top or open the drawers for easy storage. They can be stacked to save space as well.
3. Lego Brik-Case

The Brik-Case is great for travel because it comes with a building plate on top and a handle for carrying. I can see kids using this on a long car ride. Perfect for grandparents, too!
4. LEgo Cinch Bag

If you prefer something smaller, this cinch bag is a good option. You don't have to worry about legos spilling out after you closed it and this could easily fit in a closet somewhere.
5. Lego Compartment Storage

Alright. For those semi-professional Lego players out there, this solution is for you. You can buy a few of these compartment bins and organize your legos by color/size/etc. Don't forget to grab a label maker and label each compartment for easier clean-up.
6. Lego Activity Tables

I love these tables! You can easily pull out legos as you need them and then just shove them all back in the bin when you're done. Plus, it's a table too – which is great for playrooms and can be used for other things as well. You can also make your own activity table, then buy storage bins that fit underneath. Same idea but MUCH cheaper. This is what we do here at home!
7. Lego DuFfle Bag and Play Mat

At first glance, I thought this was just a duffle bag. But after reading the description and reviews, I realized this is more than that. This whole lego bag unzips to reveal a playing mat and three separate lego compartments. Then you can zip the whole thing up when you're done. Similar to those play mat bags. Again – this is genius!
8. Mesh Clear Zipper Pouches

If you like to organize your legos by "set" and include the instructions too – then you will love these Zippered Pouches. This is actually the same thing I use to organize games and puzzles. I just include the picture or game directions in each pouch. This set comes in a variety of sizes, so it will fit the small and medium-sized lego kits.
9. Supersized Wood Toy Organizer

If you have a lot of Legos and you want more sturdy storage, then this supersized wood toy organizer might do the trick. It has several different sized bins that you can use to organize Legos by color/size/type.
10. Lego Storage Under the Bed
I know what you're thinking. Really, Karen!? You're showing me under the bed storage? Ha! I know. It's a no-brainer, though. It's out of sight when it needs to be but still accessible to your kids.

We used to keep the lego sets in Ziploc bags organized by "kit". It included the little lego instruction book and everything. I was so proud of myself. And then I realized that my kids were dumping each bag of lego sets onto the floor. At the same time. In the same space.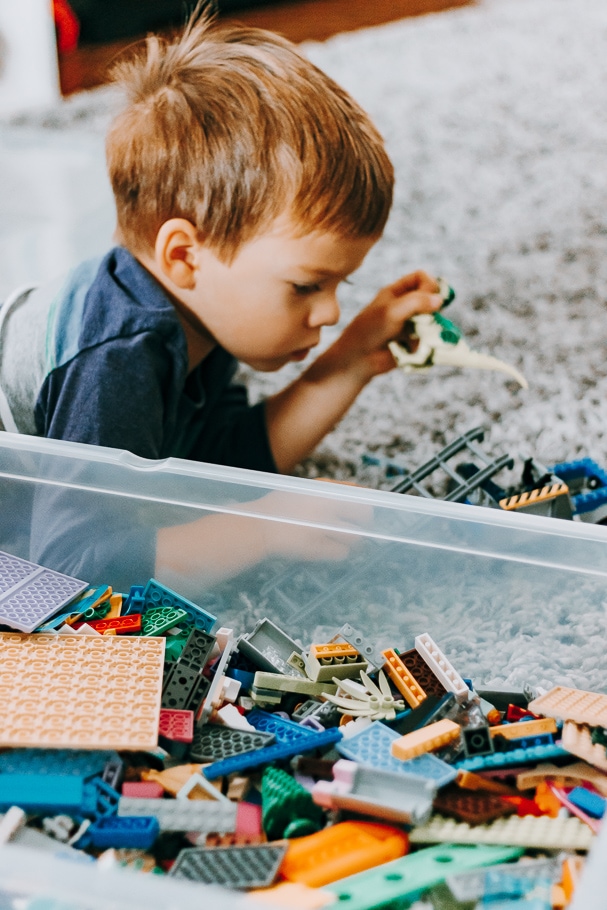 That's when a little light bulb went off in my brain. I thought – they just want to play legos and build things, they don't want to rebuild whatever it is they built before. So why was I making this harder than it had to be?
After we finish building a lego kit, all the legos get dumped into a large storage container with wheels that lives under the bed. They can pull it out when they need, and shove it back under when mommy needs clean spaces. And the best part? It takes five minutes to clean up.
But, isn't it hard for them to find what pieces they want? Nope. It really isn't. I don't have this bin filled to the tippy top. It's about halfway filled and they can dig through it easily to find what they want. If you have a ton of legos you can always just add more under the bed storage containers.
As for the Lego creations they really cherish, we don't take them apart. We save them and they get put on display on a special shelf in their rooms.
I love not having to use Ziploc bags anymore. And those Lego instruction booklets? Recycled. 🙂
11. Baskets and Wood Bins
I can't leave this easy lego storage method off the table. Although a basket makes it a little more difficult for your kids to dig through all the legos, it's the easiest method, to begin with, because most of us have a basket lying around somewhere already. Plus, baskets just look cute anywhere and in any room.

Find a basket with a cute lid if you don't want the contents visible to everyone. My son has those large building blocks that we throw in a pretty basket and it keeps everything so neatly put away!
Fair Warning – your kids might like to dump and run. [I just realized that statement could have two meanings. Ha.] For the purposes of this post, I mean dump the basket and run. It's happened many times in our house. Ugh, mom life. (Another point for the under-the-bed storage – your kids can't really dump that. Or at least mine can't.)
I also love these wood stacking bins from Amazon and Target. They look really nice, are super sturdy, and make it easy for kids to reach in and grab whatever they need. They fit perfectly in those cube storage systems.
12. Lego 3 Drawer Storage Rack System
I like this lego drawer system because it's so compact – it has a set of drawers underneath and a play space on the top. If you are really pressed for space, this is a good option for you! According to the reviews, this one is a hit for the grandkids – so grandparents take note here (wink, wink).

Conclusion: Storage Picks Roundup
I hope this post gave you some good ideas for where to put all those legos. Here are all of those lego storage solutions for you again. Just select any picture for more information. Thanks for reading today!

xo Karen