Alright ya'll! It's time to show you our brand new galley style kitchen!
I was hoping to get more art and decor up, but then I thought – let me show where we are now and then I can show you the progress as I add rugs, art and other decor accessories. But this is only part 1 – so expect more to come after this.
It's amazing to think that about 7 months ago, our home looked like the above pictures. Our kitchen was tiny, we had no storage and our dining area was cramped. I also didn't like those open cabinets – it made the space feel cluttered.
Fast forward a couple months later and our home looked like this …
And now looks like this!
So much has changed, and yet the overall footprint of our home stayed the same. So, you don't always need to add square footage to change the look entirely!
The floors went from an almost orange-y tone to this rich, red oak color. The floors made a dramatic difference in the overall feel of our place. And I love having floors that match everywhere. I also love that you can still see the grain in the red oak – that was definitely something we wanted. You can read all about our red oak staining experience here. And here too!
For our kitchen, we chose white shaker style cabinets and soapstone counters. I am obsessed with the soapstone! We only oiled them once so far, but I actually like the look both ways.
I'll be doing a whole post on these soapstone counters in case anyone is considering them.
We chose shiplap for our backsplash. We were debating between this and subway tiles, but we just love the textured look of shiplap.
Another dramatic change was the log wall we installed. Ok, technically, this is our living room but you can still see it from the kitchen. Actually, this log wall was a cabinet and we just took the door off and painted the inside black. It looks so cool, right?
This was my husband's idea so I need to give him all the credit. I love the way it looks!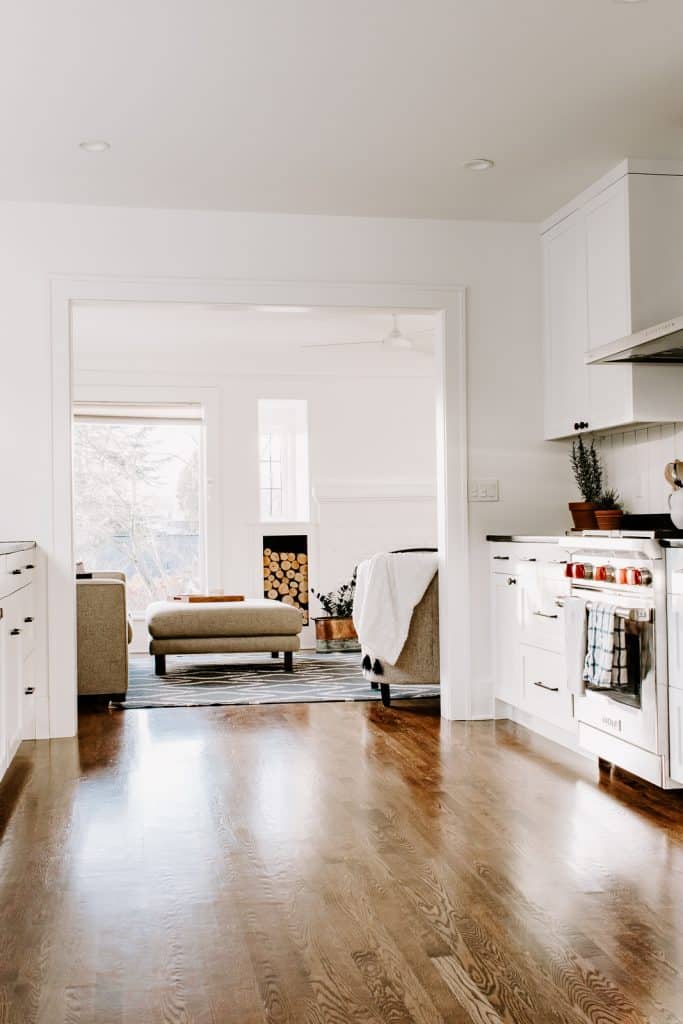 Looking towards the back, it's now completely open with panoramic doors that slide all the way open. Since we have a smaller craftsman, we wanted that true indoor/outdoor feel.
Our outdoor area is an extension of our home in the spring and summer. It's like another living room! We are always hanging out there since we renovated the patio. I can't wait until it gets warmer so we can open them up!
We were lucky that we could reuse most of our appliances. The only new appliances we purchased was this Subzero refrigerator and the wine fridge. The Refrigerator is amazing guys! So much room and it has a built-in water feature on the inside. Love that!
This is our new pantry. We have a little secret in there – our microwave! Check out my post on pantry organization to see more of this cabinet on the inside!
Right next to our pantry, is our shoe bench area. It's right off the door so it's a great place to sit down and take those shoes off. Plus – the top lifts up and it's where we store a bunch of our shoes.
We added a DIY leather drawer pull to make it easier for my kids to open. It works like a charm! Easy 5-minute fix.
I also sewed up a custom cushion cover for the top. I was originally looking at buying a custom cushion but was not at all about to spend hundreds of dollars for this little bench here. I ended up making a DIY cushion cover for around $65. It can be zipped off and thrown in the wash when need be. Plus – I can always change up the fabric without feeling bad about wasting a ton of money. 🙂
This is our wine and coffee bar area. When we entertain, it's a great place to put food items buffet style and I love decorating those shelves!
We decided after the fact to paint this wall here in our coffee bar area and the one by our shoe bench. The color is Sherwin Williams Web Gray.
I can't believe how different it is. The white walls (Benjamin Moore Chantilly Lace) really brightened it up and made everything feel clean and fresh. We still need to get some colorful art up on those walls and some pretty pillows on that couch.
I would also love a vintage rug in this kitchen!
Well, what do you guys think of our new galley kitchen? By the way, you should go here if you want to see more photos AND get some kitchen counter decorating ideas.
xo Karen