Paris Bistro Chairs  – where to find them and inspiration on how to use them!  These beautiful Parisian bistro chairs give your rooms that perfect pop of texture and interest without the clutter.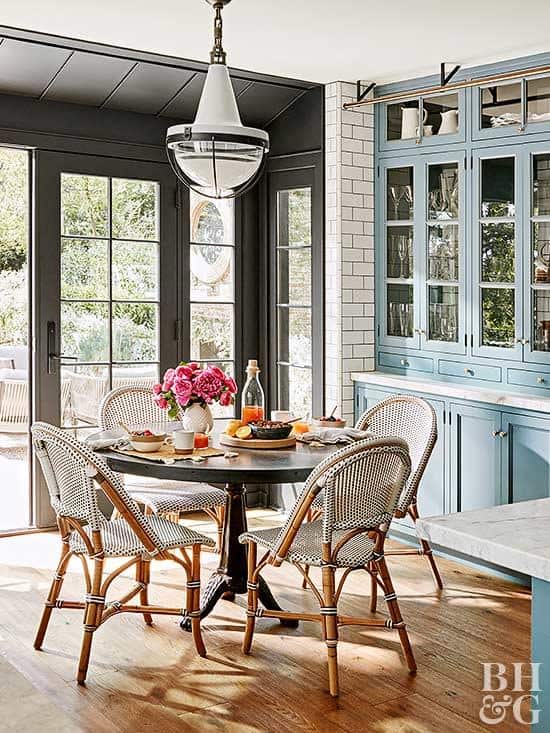 My husband and I are currently obsessed with these Paris Bistro Chairs.  And I'm so excited and surprised!  Why?  Because we never agree on any design choices!
It's actually become a funny running joke between us.
Just last night he said – "I was thinking that maybe we could get a new rug for our living room after the renovation."
I replied – "Ooooh yea, I'm game.  Can we get something slightly larger?"
He bursts out laughing.
"What?" I asked.
He replied :  "I was going to say we should get something a little smaller. "
Ha!  Literally, this was just last night and it's how every conversation we have about decorating goes.
And yes, I am married to a man who likes a say in the decorating.  My dad could care less and my mom does all the decorating now and when I was growing up.  With my hubby, it's definitely a joint decision in many aspects.
Any one else in this same boat?
I'm not complaining (well, sometimes I am when I don't get my way).  But it does force you to compromise.  And it forces you to keep an open mind.
So anyways, back to the chairs.  I am totally digging these Parisian Bistro Chairs!  I think they add so much to your room without adding – well, so much.
I can't stand clutter so why not bring something in like a cool, interesting chair to turn things up a notch?
These chairs also remind my hubby and I of many dates we had at our favorite French restaurant.  In fact – we had one of our wedding pictures taken at the restaurant.  Yep.  Me in my white gown and him in his tux.  That's how much we loved it and how much it was a part of our life.
Why I never thought to add them to my own home until now is beyond me.  But, your tastes change as time goes on.  You learn a lot as you immerse yourself in the world of decorating.  And eventually it just inspires you.
Paris Bistro Chairs – The Collection
Ok, this isn't the "ultimate" collection.  But these chairs are all from well known brands and they are just beautiful!  There are also some pretty affordable options here.  🙂
Sources for Bistro Chairs
From left to right…
Top Row: 
Second Row: 
Third Row: 
More Options…
From left to right…
Top Row:  
Bottom Row: 
If you are looking for a simpler looking bistro chair – Target has a folding one that is pretty neat and less than $50!  UPDATE :  This chair doesn't seem to be available anymore, but Target still has some good options.
Inspiration for Bistro Chairs
Inside or out, these chairs can be used anywhere!  Mainly around the dining table, but you could also use one in an entryway or the end of a hallway.  Or how about in the corner of a guest room?
You guys I love these chairs so much!