---
How do you create this great space for kids and keep it organized and keep it visually pleasing? Today, I'm sharing some fun playroom design ideas for you!
This post contains affiliate links for your convenience. Learn more here.
Updated to add: Our playroom has changed since this post was first published. And my kids have grown up a bit – see our new playroom makeover here.
It turns out, the answer to the aforementioned question was right under my nose! You see, my daughter has attended a Montessori preschool for the past few years. Montessori is a way of teaching children based on science with an emphasis on independence.
According to the Montessori method, all children are eager and ready to learn so long as they have the right supportive environment to learn in. The child independently learns through this environment while looking to the teacher when needed for further support and guidance.
I can say that having Hannah in a Montessori school has been extremely beneficial to her and I believe wholeheartedly in this method of teaching.
Most Montessori classrooms are set up the same way. They usually have a bunch of little tables and chairs, lots of open space, and low, open shelving with a variety of toys, puzzles, and learning materials neatly arranged on them.
In Hannah's classrooms, there were also mats that children could roll out onto the floor to "define their own space for working." There are reading nooks, flowers, and comfy rugs. It's calm and inviting. It's perfectly engaging.
So, why I didn't think to model our own playspace after this is completely beyond me! I used to think that toys had to be out of sight and out of mind at the end of the day.
And then it finally clicked.
My husband said to me one night – "you know, it's ok to have some toys out here permanently, it IS a playroom."
So, here's what I did…
Playroom Design Ideas
declutter first!
This is a toughy. I get it. If I do this in front of Hannah nothing would ever leave the house. Plus, some toys might be a little sentimental to me too.
As a parent, you probably know what toys get played with the most and which toys are outgrown, or which toys your kids lost interest in. Take them, put them in a big box or bin and donate them. If you can do this with your kids, all the better. I've found that since we have less, my kids play more.
Because when the playroom is cluttered their little minds are cluttered and they can't mentally see through that mess. That's why my kids were bored. They just didn't really know where to begin and how to access it. It's really important to pare down as much as you can. And then cheer when you realize all the new space you freed up! Woohoo!
Here are some great ideas for getting organized as well as for setting up a Montessori-like playroom that will keep your kids playing and playing and playing…
Use Cube Style Open Shelving
Purchase some cube-style open shelving if you don't have some already. Ideally, it should be low storage or laid horizontally so kids can easily reach into each cubby. I got mine from Target and Walmart. I use fabric storage bins from Target. They have tons of patterns and they fold away neatly when you don't need them. But really, who doesn't need them? 🙂
Table and Chairs
A cute little table and chair set goes a long way in a playroom. Don't put a lot on the table – try to keep it as minimal as possible. Maybe a cute set of buckets for crayons and pencils. The neater it is, the more kids will use it. Trust me.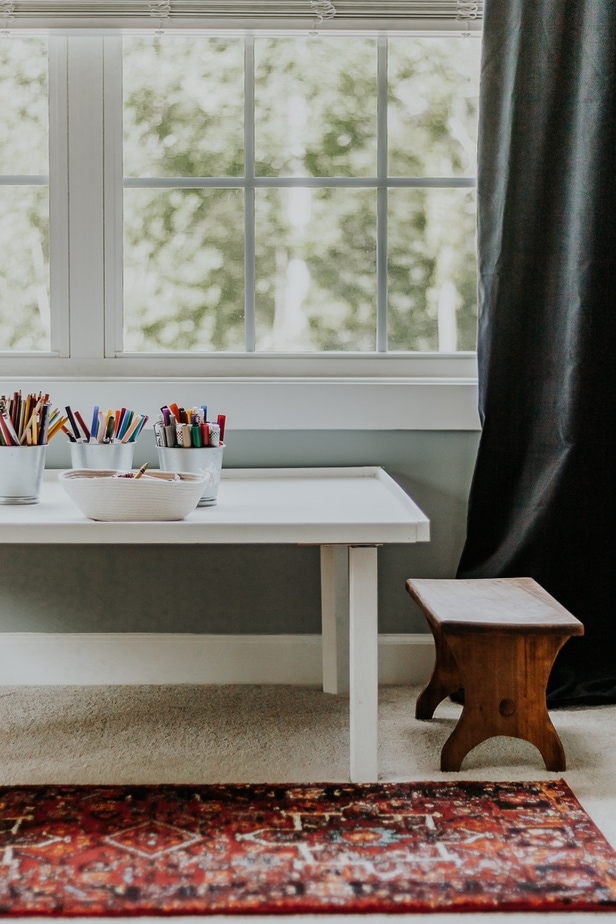 Keep Themed Toys Together
Keep the same themed toys together for imaginative play and easy access. For instance, our play food is stored next to our play kitchen which is near our grocery cart that is next to the toy cash register. You see what I mean? Building blocks are all stored in those open bins next to each other. Just pull it out and play. Paper, coloring books and crayons are stored in one drawer. Magnets and puzzles are stored in another. Matchbox cars are stored near the road playmat. This not only makes playtime easier but cleanup time easier as well.
Create a Reading Nook
A bean bag chair or one of those "anywhere chairs" would be perfect next to a neatly organized shelf for books. Put down a faux sheepskin rug and I can't imagine any kid who would say no to that space! Try to color coordinate your books. It's more visually appealing to children and they learn in the process.
Display some Toys
Not every toy has to be in a labeled bin, in fact, it's better for some items to sit out by themselves on shelving. Some toys look really cute displayed in the open and it will encourage playing! We have these little music machines that are perfect for displaying. Use a tray to display a puzzle that can be put together or a magnifying kit they can use to explore nature. A globe, a wooden train set or truck, and a bead activity cube look particularly stylish when they are displayed.
Conquer those Stuffed Animals!
I came across some really great ideas for organizing stuffed animals. If your kids are anything like my kids, we have stuffed animals in every little nook and cranny of the house. And I can't.get.rid.of.one. I used to store them away but I now realize that they can look really cute and become a part of the decor. Try an over-the-door shoe holder, a planter hung to a wall, or just a rattan or rope basket to corral them all.
You can also make a toy box and just throw them all in there!
Add some Kid-Friendly Decor
Not only can toys be your actual decor, but you can decorate with kids artwork or an adorable star garland. Add some wall decals – they are easy to remove and change as your child grows. Create a chalk wall for kids to play with. Put down some fun, colorful, and comfy pillows. Make it a magical space that kids want to be in! But remember not to go too overboard or you will end up with a cluttered space again.
when your living room is your Playroom
Now, what if your living room is your playroom? Do you let the kids take over and not claim any space as your own? As most of you know, we live in a 1920s craftsman. There is no dedicated playroom here. We have to make the most of our spaces! In this case, we use our furniture as part of our playroom storage.
Our ottoman holds games, our TV console holds artwork and puzzles (and yes DVDs). Our cube-style shelving unit has nice lamps on it. We semi-divided the room with our sectional.
The kids can play in the open space or behind the sofa if they want to. We have no door to our closet, so I put up a cute curtain that can be pulled shut when the kiddos are in the bed. (And the kids like to pull it shut to make a fort anyways). The toys are still there, but organized and ready for the next day. I feel like I can still decompress in this space after a long day.
I can definitely say that after clearing out a lot and organizing this way, my kids play a lot more and are less bored and more imaginative. Plus, our playroom is looking a lot cuter these days! 🙂
I hope these playroom design ideas helped you!
xo Karen
SaveSave
SaveSave
SaveSave