Free Printable Valentine Cards for Classmates
Never buy valentine cards from the store again! Print these free printable valentine cards for classmates (or design your own). I'll show you how.
Imagine this …
It's 7 pm the night before Valentine's Day.
Your daughter walks by and casually reminds you about her Valentine's Day card exchange at school tomorrow. Suddenly, you look up from the mail, (aka scrolling Pinterest, cough, cough), and realize you forgot.
You forgot.
You have a lump the size of a giant gummy bear in your throat. You realize the stores are probably sold out of the good classmate cards. (Unless your daughter likes Monster Trucks.)
Plus, it's late and you're both tired. What's a Mom to do?
First, take a deep breath.
I'll show you how to make some V-day cards with free, simple online software. Or you can just print the ones I've included in this post. Easy-peasy.
All you need to do is print and cut the cards out, have your kid sign them and you're done.
Phew – crisis averted.
If you need some unique and fun Valentine's Cards for your kids' classrooms, then you've come to the right place.
The good news is that you only need a few materials to make these and they are just adorable. Your kids will also get plenty of cutting and writing practice out of this activity.
You can download the V-day cards at the bottom of this post. Four cards print on one piece of paper.
I recommend you print on cardstock so the cards don't feel super flimsy. But heck, you can use whatever paper you have and fold them into little cards. Attach a treat to them or don't. Totally up to you!
Speaking of treats, here's a quick note about V-day treats …
We wanted to attach our favorite cherry candy treat to go along with the card theme. We found some cherry Airheads at Target and attached those to the cards as a sweet treat.
Hint: You could also look for cherry lollipops or fruit snacks. If your child's school doesn't allow candy, you can also look for scented cherry stickers, cherry pencils, red crazy straws, etc. You can attach those items to the cards as well.
I made up these little Valentine cards in Canva. Canva has a whole bunch of free icons and templates you can use to make your cards, so I recommend you check out their site.
You can pop on their site, create a
Hannah and I picked this design out together. We just couldn't resist the cute cherry illustration! We designed them as circle cards, but you can cut them into a rectangle shape if you prefer.
Let's get started!
What you'll need:
Printer with Color Ink
Special Treat (see gray box above – candy, pencil, twisty straws, etc)
Pen/marker (to sign them!)
Optional – stickers to decorate cards with
How to Make Printable Valentine Cards for Classmates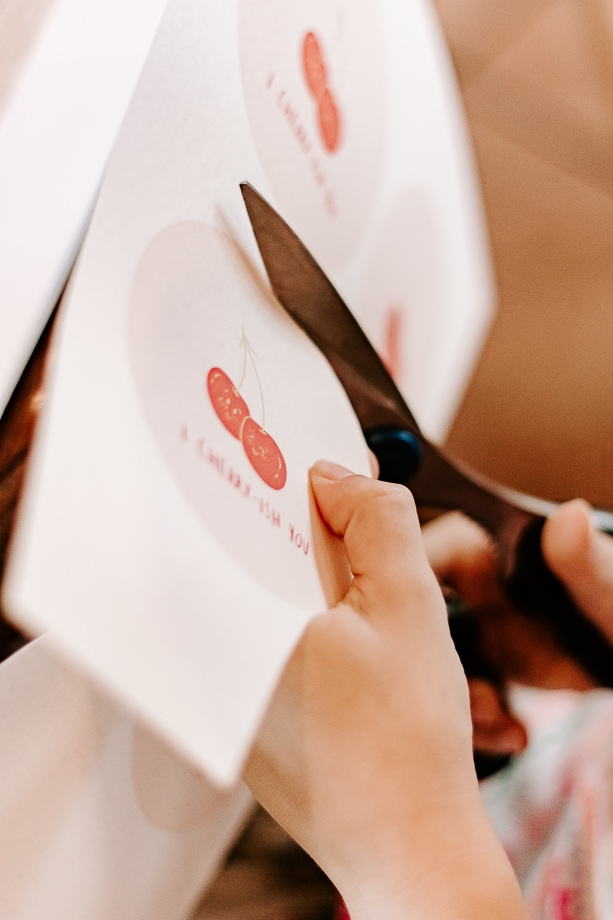 These cards are a little project you and your child can do together. A great way to bring out their creativity.
How to Design your own Cards in Canva …
Ok, let's get started. Grab your son or daughter. They can pick out the designs themselves (with your supervision, of course!)
Pop on over to Canva.com
Click on Create a Design on the left-hand side and then choose US Letter Document from the drop-down.
A blank page template will pop up in a new window. Under Elements, choose Shapes from the menu on the left-hand side. Click on the shape of your choice. You can change the color and then resize the shape to fit in one quadrant of your page. Now just duplicate (upper right-hand menu) the shape three times to fill in the other three quadrants.
Under Elements, search for Valentine's Day. A whole bunch of cutesy Valentine graphics will come up. You can also add backgrounds and texts.
After you are finished, just print them out. Click on the arrow on the top-right menu. I printed ours out as PDF Print.
You still with me? Good.
Let's move on to the next step.
What to do after You Design your cards…
Cut your cards out with scissors or you can also use pinking shears to create a fun jagged edge. (Pssst: this activity is great cutting practice for your kids!)
Punch a hole in your cards and also in your candy wrapper (be careful not to punch through the actual candy). If you attach pencils or straws, you can just tie them or tape them to the card.
Use a ribbon to tie the cards and candy treats together. We tied them with a knot but a little bow would be cute too.
Don't forget to have your child sign the cards and decorate each one with a little sticker if they want.
Click this button to download your cards.
Are these the cutest little Valentine cards or what?
And you're done! Your kids will have so much fun making these cards with you. In fact, you might never buy Valentine's Day Card's again! How about them apples!?
For more awesome and easy crafts for kids, be sure to check out these posts:
xo Karen