Here's a fun Valentine's project to do with your child for their school. Download and print these free printable valentine cards for classmates! This simple project takes no time at all and gives your kids plenty of cutting and writing practice too.
If you are looking for some unique and fun Valentine's Cards for your kids classrooms, then you've come to the right place.
My daughter and I decided to make our own Valentine's cards this year and we had so much fun putting them together. In years past, we just bought the premade ones from the big box retailers and then she would just sign them. It was fine but being the crafty people we are, it didn't satisfy our need to DIY.
The good news is that you only need a few materials to make these and they are just adorable. Plus, your kids will get plenty of cutting and writing practice out of this activity. Just one more thing to cross of that to-do list, amiright?
You can download the V-day cards at the bottom of this post. Four cards print on one piece of paper. I recommend printing on cardstock so they don't feel super flimsy.
Here's a quick note about V-day treats …
We wanted to attach our favorite cherry candy treat to go along with the card theme. We found some cherry Airheads at Target and attached those to the cards as a sweet treat. You could also look for cherry lollipops or fruit snacks. If your child's school doesn't allow candy, you can also look for scented cherry stickers, cherry pencils, red crazy straws, etc. You can easily attach those items to the cards as well. Of course, you could always just go with the card only option, too!
I made up these little Valentine cards in Canva. That's where I got the cherry design. Canva has a whole bunch of free icons and templates that you can use to make your cards, so I recommend you check out their site.
Hannah and I picked this design out together. We just couldn't resist the cute cherry illustration! We designed them as circle cards, but you can certainly cut them into a rectangle shape if you prefer.
Let's get started!
What you'll need:
Cardstock– 65lb is good. Keep in mind that really thick cardstock might get stuck in your printer!
Printer with Color Ink
Scissors
Special Treat (see gray box above – candy, pencil, twisty straws, etc)
Pen/marker (for signing them!)
Optional – stickers for decorating cards
How to Make Printable Valentine Cards for Classmates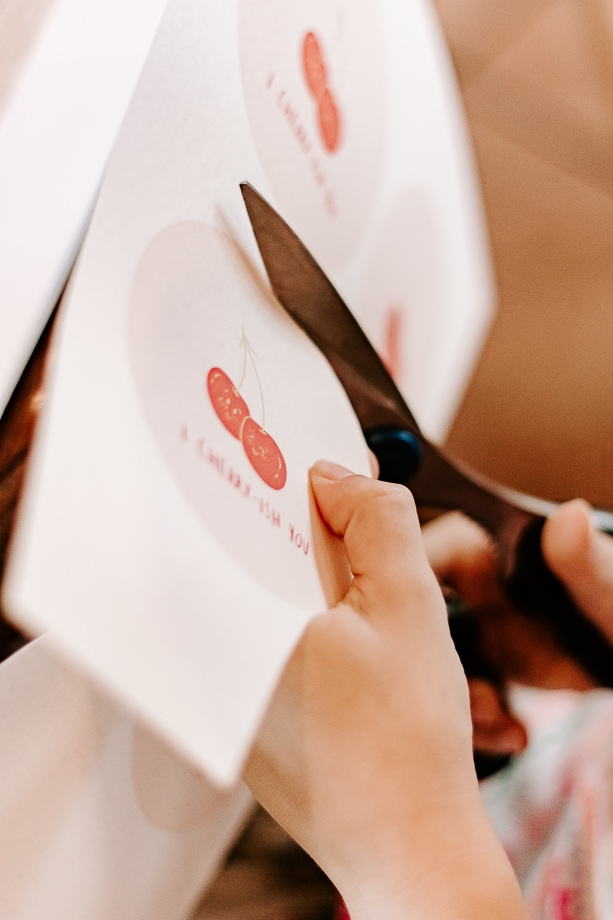 These cards are definitely a little project that you and your child can do together. It's a great way to involve them in making their own cards, instead of just signing the pre-bought ones.
Here's what you do …
Print out your cards on cardstock. I recommend cardstock so they are not super flimsy.
Cut your cards out using scissors or you can also use pinking shears to create a fun jagged edge. (Pssst: this activity is great cutting practice for your kids!)
Punch a hole in your cards and also in your candy wrapper (be careful not to punch through the actual candy). If you are attaching pencils or straws, you can just tie them or tape them to the card.
Use a ribbon to tie the cards and candy treats together. We tied them with a knot but a little bow would be cute too.
Don't forget to have your child sign the cards and decorate each one with a little sticker if they want.
Click this button below to download your cards.
Are these the cutest little Valentine cards or what? 🙂
And that's it! Your kids will have so much fun putting these together.
For more awesome but easy crafts for kids, be sure to check out these posts:
Thanks so much for reading and visiting my blog today!
xo Karen