A roundup of the best rattan bookcases and rattan bookshelves.
---
You guys asked and I'm here to deliver. A couple of you reached out and asked for more roundup posts on cane and rattan furniture. And so I'm back today with another furniture roundup for y'all.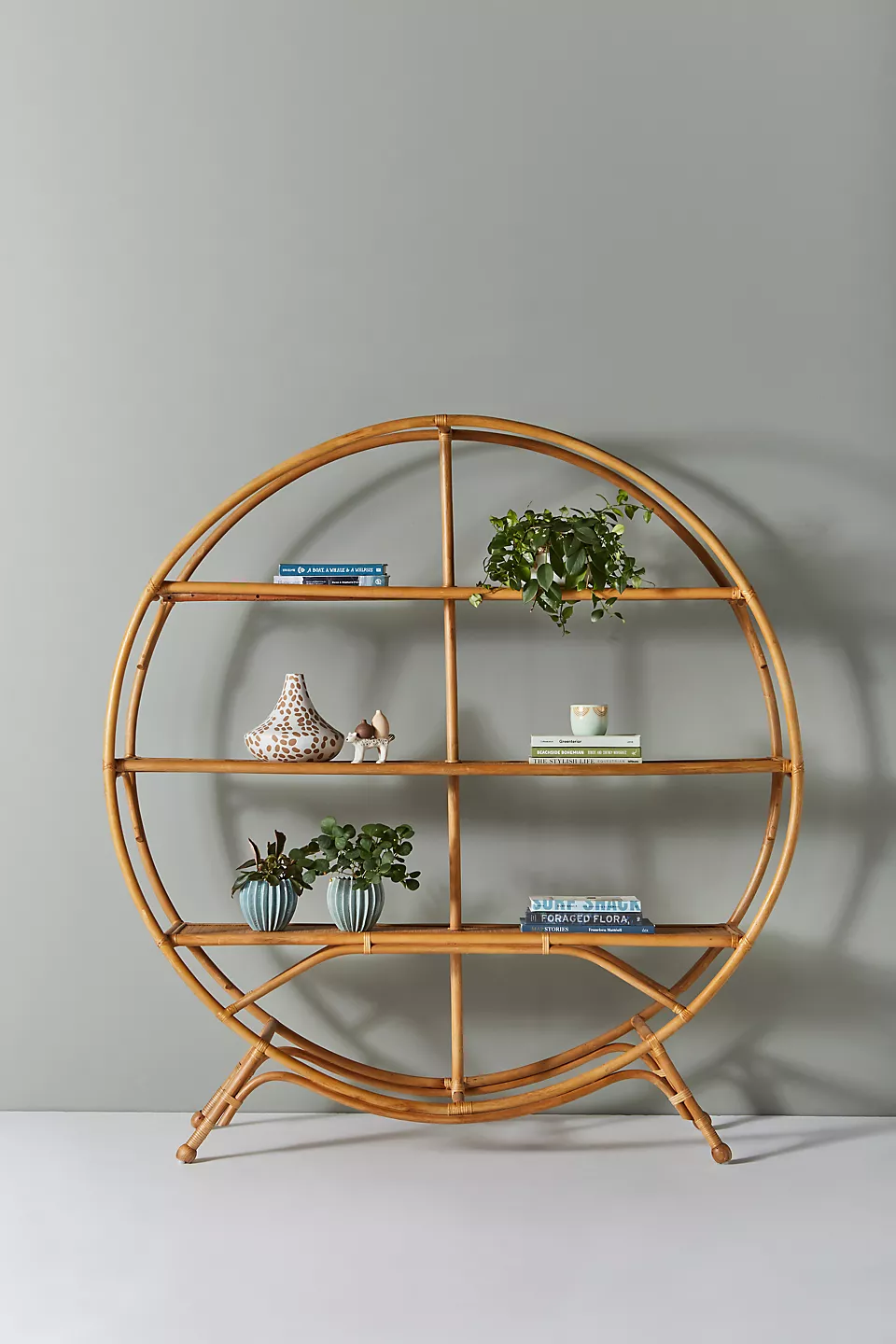 If you want to keep up with all things cane, see the following posts:
Rattan and cane are not the same things but they are from the same source (here's a good explanation). Cane is the outer bark of the rattan tree. Rattan is very strong and typically used to make furniture and chairs, while cane is most often used as "accents" on furniture (like the backs of chairs and also used in cabinet panels).
Today is all about rattan bookshelves and bookcases! So without further ado, let's get into this roundup.
Classic Rattan Bookshelves
If you want that classic rattan bookshelf look, you will love the Serena and Lily Balboa Bookcase collection. Choose between a wider bookcase or a more narrow one.

This bookcase is made of solid hardwood and engineered wood and hand wrapped in rattan.

For a similar look, but a lower price, check out the Fargesia Bookcase from Burke Decor. It stands 64 inches high and 24 inches deep, so it's narrow enough to fit in those tight spaces! Burke Decor has an amazing selection.

Also worth a look, with cane accenting the back of the bookcase is the Caprice and the Higgs Bookcase both by Burke Decor. The Caprice is actually very similar looking (probably the same, let's be honest) to the Philene from Lulu and Georgia and the Dolores from Pottery Barn. So see where you can score a better deal if you love this one!

If you prefer glass shelves on your rattan bookcase, the Mateo Etagere from Jayson Home is a good option. It's 80 inches tall and 30 inches wide, and made of a rattan wrapped frame with five clear glass shelves.

Another beauty and also so affordable is the Wood and Cane 4 Bookshelf bookcase from Hearth and Hand, and available at Target! I just love the simple look to this and customers gave it glowing reviews.

Finally, to wrap up the classic rattan bookshelves, is this beauty by West Elm. The back of the bookcase featured woven cane in a circular pattern. It stands pretty tall at 98.5 inches!

---
Boho-style rattan bookshelves
Let's start with the Ria Bookshelf from Urban Outfitters. If you want a true boho look to your room, this is a good choice for you! It's made entirely of rattan with rounded edges.

Burke Decor, as I mentioned earlier, has a good number of rattan and cane furniture pieces to choose from. This Elwood Flat Rattan bookshelf is a fantastic option if you want a true summery, beachy bohemian vibe. It's completely handcrafted from rattan, which means no two pieces are exactly alike.

Another incredible option for arched rattan bookcases is the Irving from Anthropologie. You need a bigger space for this one, as it's 71 inches wide, but it really makes a statement! Crafted with a rattan frame, woven rattan shelves and wooden legs, it definitely has a boho feel to it.

I'm also in LOVE with Homary's Boho Woven Rattan Bookcase. It's smaller, but those curvy lines in the front are stunning! I could totally see this in a kids room (as they designed it) but also to make a statement in a hallway or bathroom or reading nook.

Homary is a lot like Wayfair, in that it has a crazy amount of options and most for reasonable prices. They offer free shipping on all orders, and a 30 day return window. The reviews seem to be hit or miss, so I'm wondering if you guys ever tried them??
Speaking of Wayfair, check out the 78 inch tall Edgewater Rattan Etagere. This looks like a vintage piece! You can choose between almost 20 colors and its' constructed entirely of sturdy wicker and rattan.

Arched Rattan Bookcases
Here are some beautiful arched rattan bookcases. If you have a room with a lot of squares – meaning square furniture, square mirrors, square art – considering bringing in some arched accents to soften up all those points.
Let's start with the beautiful Lina Bookshelf from One King's Lane. It feels very light and airy to me. A perfect design to keep a room from looking too busy. This rattan wrapped bookcase is similar to the Mateo Etagere from Jayson Home with the glass shelves, but it's larger and features more rounded corners.

For a more affordable option, check out the Tall Sienna Arched Nylah Bookcase from World Market. Actually, World Market has two good options here. The Nylah Bookcase is made of rattan, rubberwood (it's crazy durable) and plywood. It has this unique swooping design in the back. This would be a great accent piece for a bathroom!

Their second option, and one of my personal favorites, is the Rattan Arch Darlene Bookshelf. (Not to be confused with Darlene from Ozark.) This bookcase features four fixed shelves and is constructed from rubber wood and rattan. I love the woven rattan encasing the bookshelf.

Finally, we have this stunner of a piece – the Natural Rattan Bookcase from Homary.

Wrap up
I hope this helps you on your search for that perfect rattan bookcase!

xo Karen