Here's a little progress report for you guys.  I'm excited to show you what's been unfolding at our home over the last month.  It's pretty much gutted!  I'll separate this post by area with explanations to make it a little easier to comprehend the spaces – it's just a hot mess right now.  You might look at this and be like…huh??  :0)
Exterior
I'm starting with the exterior.  We will eventually have all new siding.  Right now – we are planning on going for a Navy Blue Exterior with white trim.
These photos are exactly what we are going for…
The exterior color featured here, according to the painter, is Old Navy by Benjamin Moore.  Isn't it pretty?
Of course, we won't have the metal roof but I still think it will look good.  Especially with all the white trim we have.
Our house was set up with a separate apartment suite on the bottom.  They had this center door which threw off the curb appeal of the whole house (which you can see in the 2nd photo above).  UPS and Fed Ex always left packages there and it was such a pain.  And I always had to explain to people when they were coming over that we are at the top door, not the bottom one.   So – we are taking it out.  I'm planning on adding some pretty window boxes to the front or perhaps just a trellis with a climbing vine to the middle area there.  Not to mention – the basement area on the inside will look so much better without an awkward door in the middle.
And yes – we will absolutely be fixing the landscaping out front!
The back of our house – as pictured in the first photo there – will have a set of  Panoramic Doors with white trim.  These doors are awesome.
You can see how they work HERE.  The other option was La Cantina doors, which we also loved.  But we ultimately chose Panoramic and they are less expensive as well.
It will look very similar to this…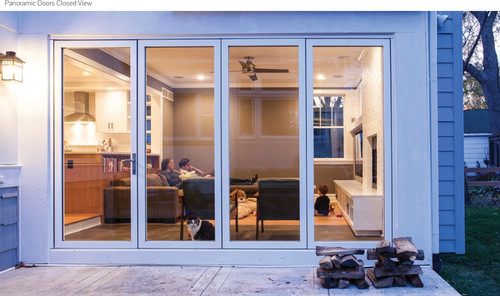 Kitchen Area
Don't you love our kitchen?  Ha.
So the first photo there will be where our stove area will be with cabinets.  Directly across from that will be the sink and refrigerator area with a large window – see the square shape framed in the 2nd photo?  That's our window!
It will essentially be a large galley kitchen.  We are leaning toward white shaker cabinets with black matte knobs.  The matte black knobs really pop! I really want to throw a rustic looking island in the middle but we will see how much space we have.  The ultimate goal is to have the whole space be open so we don't want to clutter it back up with another piece.  But we'll see!
It will have this type of feel to it…
The last photo on the right will be where our dry bar area will go.  We will have open shelving above and a wine fridge.  We haven't quite figured out how we want everything laid out, but I'm seeing a lot of inspiration.  Like this…
I love the mixture of new with rustic elements thrown in.  The shelves look somewhat worn and add texture while everything else is new and bright.  Love that.  Also – can you imagine how fun it will be to decorate this area for the holidays?   =)
Here's a peek at the before …
Floors, Closets and Stairwell
Our stairwell will be opened up so they will eventually be taking that wall down.  I may be dreaming, but something like this would be pretty cool…
Or this…
I know they are two totally different concepts.  I love the idea of a simple, clean, modern iron stair.  But I also love how they used the wall space as storage in the first photo.
Our floors look exactly like that 2nd photo there and they will probably look that way for a while.  We still have to choose the style – we like red oak.  Not sure of the stain yet.  I found this on Houzz for a bit of inspiration.  I'm partial to the 2nd from the bottom but concerned about it showing every little speck of dust and dirt.
Do you guys have any thoughts on this?  Any one have any experience with the darker stains of wood floors?
Lastly, our bedroom closet will be somewhat cut in half.  (I know!)  I can't believe I'm cutting a closet in half.  What am I, nuts!?
See the little window in the closet in the last photo on the right above?  It actually lets in a TON of light.  Why do I want to waste that on a closet?
I want that light in OUR room.
It's actually the cutest window ever because it's original to the house and we want to incorporate that into the bedroom.  We will put a little desk area there.
So, that wall will eventually be taken down as well.  The closet is still a good size and I think I can get pretty clever with the closet built ins.  (Thanks, Pinterest!)
So that's basically where we are in a nutshell right now!  You can check through my archives to see what our home looked like before.
I hope this gives you guys some inspiration.  I'll be updating as we go along with tips and tricks through each phase.  I can't WAIT for it to be done.
Talk to you all soon!
xo Karen