5 Fool-Proof Screened in Porch Decorating Ideas
Ideas for decorating your Screened in Porch on a budget!
---
It's time for us to get our screened in porch in order. Since we moved in, we basically haven't done much with this space, aside from adding a little potting station and some privacy shades. Today I thought I would share some of my screened in porch decorating ideas on a budget.
I've been collecting some photos for inspiration and breaking down the elements for our screened in porch. I even put together a mood board of what I'm thinking. I definitely don't want to spend a lot of money on this project and I want it to feel like an extension of our home, so I'll be incorporating similar colors and design styles.
Considerations for Screened in Porch Decor
Since we have had this screeend in porch for a little while, I've learned a thing or two about what works best in these spaces. Here's a few considerations to keep in mind.
Choose Weather Friendly Fabrics and Furniture Although it's a covered porch, you will still get exposure to dirt, cold, wind and rain. So, it's best to choose pillows, rugs and furniture that withstand the elements. I'll go through some of my favorite budget friendly picks below.
Keep things Cohesive Think of your screened in porch as another room in your home. Try to keep things cohesive and bring in some of the same colors and styles that you use throughout the rest of your home.
How do You Intend to Use Your Porch? This will determine the direction of your design and what furnishings and other elements you need to make the most of your vision. Consider a ceiling fan or heater if you plan on using it for more than one or two seasons.
Screened in Porch – Decorating Ideas on a Budget
Here are some ideas for decorating your screened in porch on a budget.
1. Add some Cool Lighting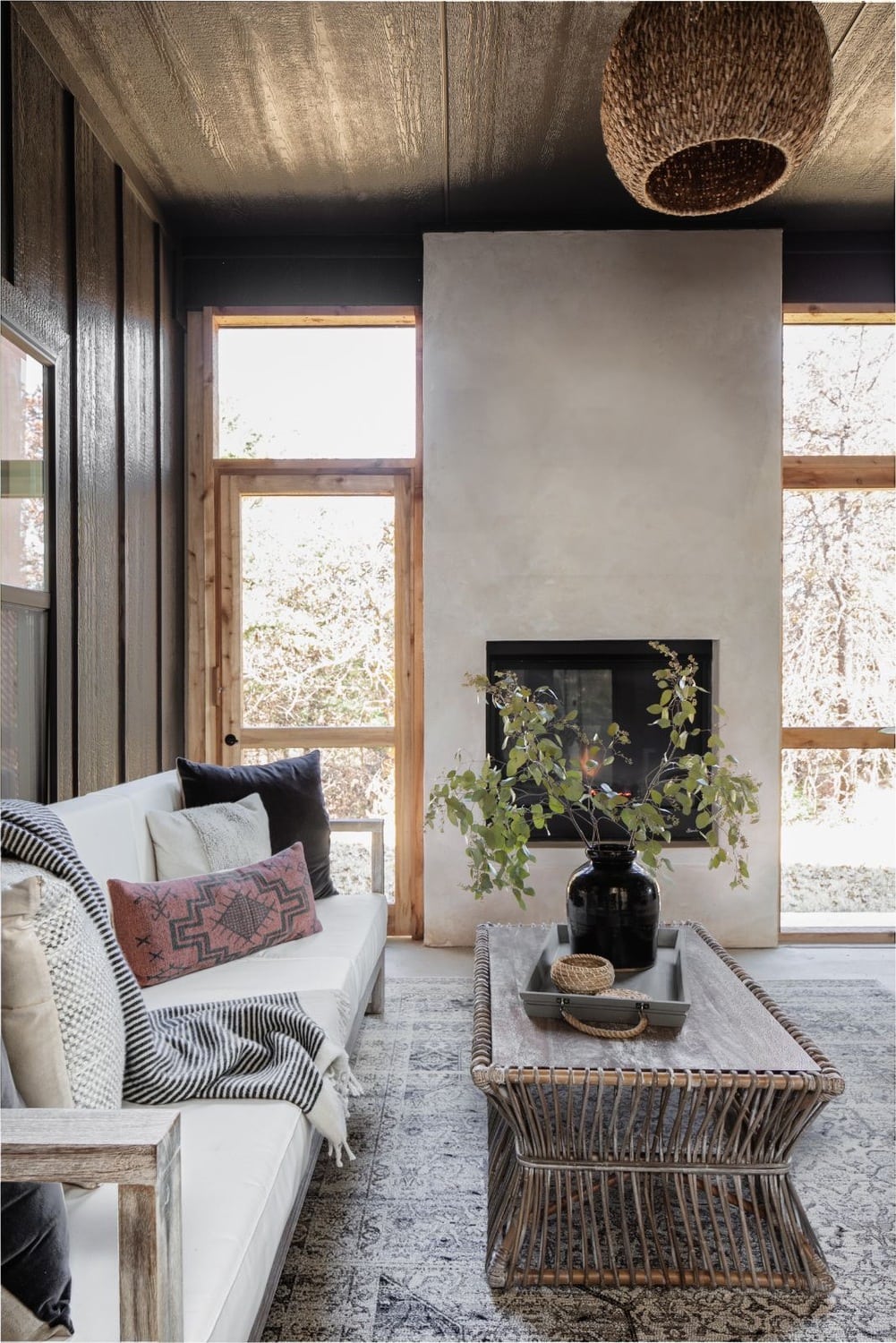 You don't need to spend a lot of money on lighting, simple string cafe lights and DIY Wood lanterns can make a such a difference in setting the mood and making things feel a bit cozier. IKEA sells those rattan pendants for a good price and all you need is a ceiling hook and an outlet to get them up. You may also want to consider an outdoor ceiling fan to keep things breezy in the hotter months.
2. Focus on the Floor
A rug can make your screened in porch feel more like a room. And there are so many great options for inexpensive outdoor rugs these days. (Be sure to check out Rugs USA and Ruggable.) But that's not the only option. Consider using paint and a cool stencil to make your porch floor look like a tile. A budget friendly option for a statement look!
3. Highlight the Ceiling
One way to make your screened in porch area pop is to highlight the ceiling. You can do this with wood paneling or choose a paint color. Take a que from the charming porches of the South and paint it blue, or "haint blue" according to old wives tales. For our porch I'm actually thinking black, that way our black fan will recede into the ceiling. I also think it will make things cozier!
4. Add texture
I feel like every room, whether inside or out, needs a bit of texture. You can thrift a wicker chair, or add a rattan lampshade or pendant or a pouf. A pouf like this one can serve as a side table (just add a tray) or extra seating or just a foot rest!
But pillows and cozy throws and rugs also serve as texture, so load it up out there!
5. Add Artwork
You might not think artwork is appropriate for a screened in porch but it totally is! And with the options for digital art and thrifted frames, you can absolutely do this on a budget. If you are using wood frames, you probably want to keep them closest to the interior (so they don't rot in the weather). But think outside the box with your art too – hang wall baskets, a temperature clock or even a thrifted vintage sign.
Outdoor Porch Mood Board
Sources: Shop this look right here.
xo Karen