Time for another round of 7 favorite things! This is a curated collection of 7 things I'm loving. Check out this month's favorites …
I've owned this popcorn maker for over two years already! My kids love popcorn. Actually I love popcorn! But I've read all the scary things associated with microwave popcorn bags that you buy in the store. So I switched to buying the popcorn kernels. You can customize the flavors and it's much more economical this way. I keep the kernels in one of my clear pantry organization bins.
This popcorn popper is silicone (so BPA free!), dishwasher safe (yay!), and collapsible for easy storage (woot!). The popcorn taste great!
My favorite combo : Avocado oil + Mrs. Dash Fiesta Lime Seasoning
My Kids Favorite combo : Avocado oil + McCormick Cinnamon Sugar
So good guys!!
There are really only three brands of jeans I wear. They are all pretty affordable. Levis, Gap and Old Navy. I recently picked up these Old Navy Power Straight Jeans because I love the color! That light blue denim just screams summer to me.
These are comfortable, stretchy and look great with just about anything. They are high rise, so I like tucking my tops into them. They would look especially great with this Madewell Simple Pouch Belt Bag. It's on the wishlist guys!!!!!!
My kitchen was in desperate need of color or texture (actually both). I really really really (did I say, really?) wanted a Turkish rug but my husband is not a fan of them. He thinks they are more of a fad that is going to go out. So I compromised and bought this super affordable but great quality jute rug runner.
I figured if we hated it then I could stick it somewhere else and the price wasn't going to be a killer. Luckily we love and it makes such a difference! It's not just a sea of hardwood floors in the kitchen anymore.
PS : I took a picture of my DIY Soy Candles on it too!
These chairs! We ordered a set of two adirondack chairs for our front porch. We sit up on a hill so we have a view and watch the sunset here. It's sooo nice. These chairs practically assemble themselves (it's very minor), they are stain resistant, you never have to maintain them, paint them, seal them, and they are made right here in the USA. Amazon has them for sale or you can buy directly from the Polywood site. But I mean, two day shipping so yea!
Five // This Instagram Account
Every now and again I come across an Instagram feed that just totally blows me away and gives me so much inspiration. This one totally does that! If you guys are on Instagram, you should definitely check out The Inside Collective. It's so inspiring!
While we are still searching for art for this giant blank wall above our two chairs in our living room, I was able to add this really cool Floor Lamp from Amazon. It gives a little pop of warmth to that corner and looks very sleek. It came with a bulb but in my opinion its a bit bright. I'm still going to use it and just buy a dimmer to turn it down some. It's actually very heavy and sturdy.
The base is a really cool looking concrete – but overall doesn't take up too much room. So it's perfect to stick in all those little corners where you need light.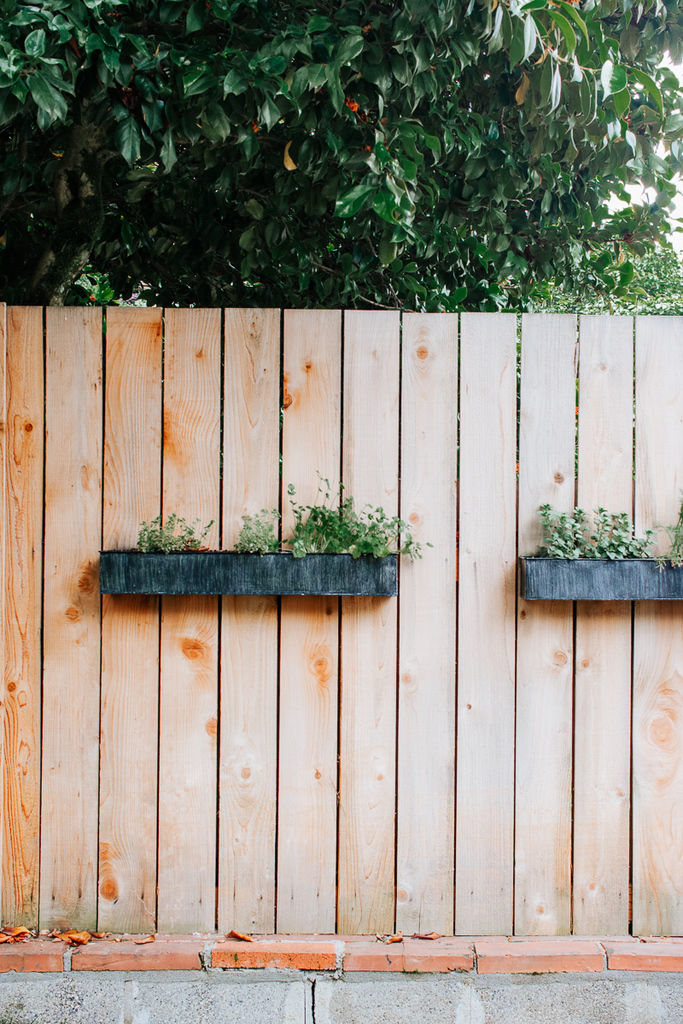 I recently planted a bunch of herbs in my fence planters. I really was never able to get them to grow successfully before. It's a weird spot where it gets late late sun. The planters are small and so they dry out quickly which is a challenge.
But not anymore!
These Miracle-Gro Water Saving Crystals have saved my herbs! Sprinkle them in the soil and they help control over and under watering. Genius! My herbs are thriving and my cooking has never tasted so good. Ok – that last one may be a stretch. ha!
Want more?
Check out last month's Seven Favorite Things!
xo Karen