A compilation of Vintage Gallery Wall Ideas.
---
One of the most popular requests I get from readers is how to put together a gallery wall of vintage art. I generally sell single prints and long landscapes, but I'm so pleased to let you know that I am now offering done-for-you Vintage Gallery Walls.
What does done-for-you gallery wall art mean?
It means you can purchase these beautiful gallery wall art bundles and then just download, print and frame! This is the easy way to hang a sophisticated gallery wall of prints. These gallery wall bundles can be purchased securely for under $10. Just click the button under each gallery to be taken to the purchase page.
We've compiled unique vintage gallery wall ideas (more coming soon) that will inspire you to hang one up in your own home. Without further ado, let's explore some possibilities!
To Shop these Gallery Walls, please visit my Etsy Shop here.
Vintage Hunting, Hounds and Horse Prints Gallery Wall
This is more of an eclectic gallery wall of hunting and horse prints. It feels very regal to me and would look perfect against a dark, moody painted wall. This set of 10 prints are sized at 8×10 and 16×20 inches – and you can just download the art, print them as you see here and place on your wall. Easy-peasy!
It took me a long time to come up with this gallery wall. I wanted them to all be in the same color palette and same theme – so I spent months looking for the right art. I love how this turned out.
To Shop these Gallery Walls, please visit my Etsy Shop here.
---
Vintage Gallery Wall of Portraits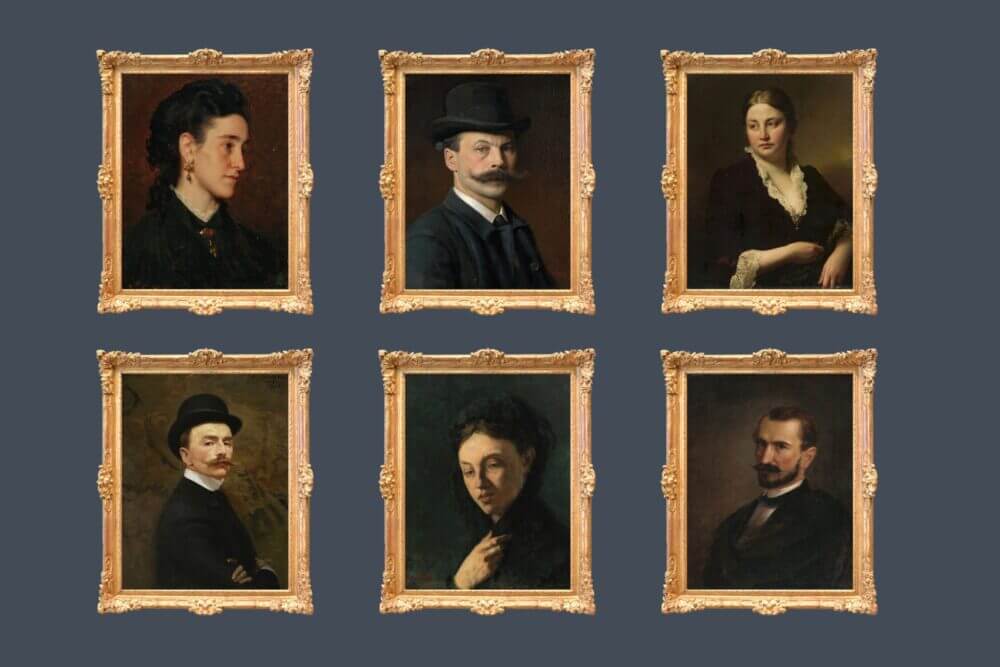 To Shop these Gallery Walls, please visit my Etsy Shop here.
Some of my favorite portrait paintings – this set of 6! These have a darker, more mysterious quality to them. And I know we are talking about gallery walls, but it's worth noting that these portrait prints look great as singles too. So you have enough to put a portrait in 6 different rooms if you want. These can be printed up to 16×20.
---
Vintage Fish Gallery Wall
To Shop these Gallery Walls, please visit my Etsy Shop here.
This is a set of 6 vintage fish prints can be printed up to 16×20 inches. I worked really hard on color balancing these prints so they felt more cohesive. I also added a bit of a dry brushing effect. I love the final outcome and could see this in a beach home or a kids bathroom.
---
Vintage Fox Hunting Gallery Wall
To Shop these Gallery Walls, please visit my Etsy Shop here.
More hunting art! But I'm absolutely loving this set of 12 fox hunting illustrations. They tell a little story. I found these and had to clean them up quite a bit, and decided to create a faded circle around them so it almost looks like you are peeking in on each story. These can be printed up to 8×10 inches.
---
Bird Illustrations Gallery Wall
To Shop these Gallery Walls, please visit my Etsy Shop here.
If you are looking for more color, consider this set of beautiful bird prints. These are beautifully detailed and not only add a pop of color, but they also bring a touch of nature indoors. These are a set of 9 prints (can be printed up to 16×20 inches) and meant to be styled as a grid.
---
How to Print these Gallery Walls
My favorite place for printing vintage art is Mpix.com. But you can also use Walgreens, Amazon, Frame it Easy and the Print Space.
Make sure your prints are downloaded to your computer.
Here's how to print your art at Mpix:
Go to Mpix.com
In the menu, Under Prints, select Giclee Prints.
Click on Create a Giclee Print.
Sign in or Sign Up.
Add your Photos.
For each print, select the appropriate size from the left hand panel.
Click 'Add to Cart' and checkout.
Ideas for Framing these Prints
I'm partial to vintage art frames, and I love these frames from Amazon. But you can also add a touch of modern by choosing all black or wood frames. I like these thin frames from Target as well. Buying the frames in a bulk can be a good way to save a bit of money – we all know how expensive framing can get. And don't forget IKEA – they have a ton of great options for frames that are pretty affordable.
If you are going to go with a grid gallery wall, I think these gallery walls look best when using the same type and color of frame for a cohesive look. You can also add on an oversized mat in a different color.
However, if you are going with a gallery wall that includes different sizes- you can definitely mix and match frame types and shapes. Instead of sticking to one standard style, choose a variety of frame styles and arrange them in a way that creates an interesting and dynamic display.
For example, you could pair a large ornate frame with a small simple one, or mix different shapes such as square, rectangular, and circular frames. This technique is especially effective when incorporating vintage artwork, as it adds to the overall eclectic feel.
Also try incorporating antique mirrors into your gallery walls. Not only do they create a unique and eye-catching display, but they also add depth and dimension to your space.
More Ideas for Vintage Gallery Walls
Adding natural elements to your vintage gallery wall is a great way to create an organic and cohesive look. Pairing botanical prints with other nature-inspired elements such as woven baskets, antlers, and natural wood frames can help to create a rustic and inviting feel. When creating your vintage gallery wall, consider using a mix of textures and materials to add depth and interest.
If you're looking for a unique twist on gallery walls, consider displaying vintage vinyl records. With their bold album covers and iconic designs, vintage records can make a statement and add a retro vibe to your gallery wall. Whether you choose to frame your records or display them in their original jackets, they are sure to grab attention and create a one-of-a-kind display.
Another idea? Use antique keys to create a rustic display. Antique keys are a great choice for adding a touch of charm and character to your vintage gallery wall and you can usually find them by digging through an antique mall. By grouping keys in different sizes and styles, you can create an eye-catching display that draws the eye in. It can be fun to collect them!
To add even more dimension to your gallery wall, consider hanging a collection of vintage hats. Not only do they showcase your style, but they also add a touch of nostalgia and history to your display. Whether you're a collector or just looking for a fun way to display your hats, hanging them on the wall is a creative solution. You can arrange them in a straight line or create a more organic arrangement.
If you're an enthusiast of vintage and history, incorporating vintage maps into your gallery wall is a great way to showcase your interests. Maps can add a unique and whimsical element to your display, and they also serve as a conversation starter for guests.
Finally – framing old book or music pages is a great way to elevate your vintage gallery wall. These can be a conversation starter for sure.
These vintage gallery wall ideas are just the beginning of the possibilities for creating a charming and character-filled space.
Remember, a vintage gallery wall is not just about the art, but about creating a unique display that tells a story. So get creative and let your imagination run wild. As interior designer Bunny Williams once said, "If you love something, it will work. That's the only real rule." Happy decorating!
xo Karen
Karen Sloan is the founder, editor and syndicated content writer of www.decorhint.com. She offers hints of inspiration for everyday living, including home ideas, DIY projects and lifestyle content. Her work has appeared on Google News, MSN, Pioneer Woman, Apartment Therapy, and Bustle, among others.