Decor Hint is reader-supported. When you buy through links on our site, we may earn a small commission - at no extra cost to you. Learn more here.
Ever wonder what to use to clean hardwood floors? This is a guide to cleaning your hardwood floors like a Pro.
---
Hardwood floors are so beautiful. And yet, they can be such a pain to maintain and keep clean!
That is – IF – you don't know how to do it in a way that's easy but effective.
Today I'm showing you how I keep our hardwood floors clean and pretty.
Even with two young kids.
Even with a dog.
This method is so simple, I sometimes do it daily depending on the season!
What to Use to Clean Hardwood Floors
I'm a huge believer in keeping things as simple as possible, especially when it comes to cleaning.
If you make the process a pain in the "you-know-what", you will never want to do it.
I use two products. That's it.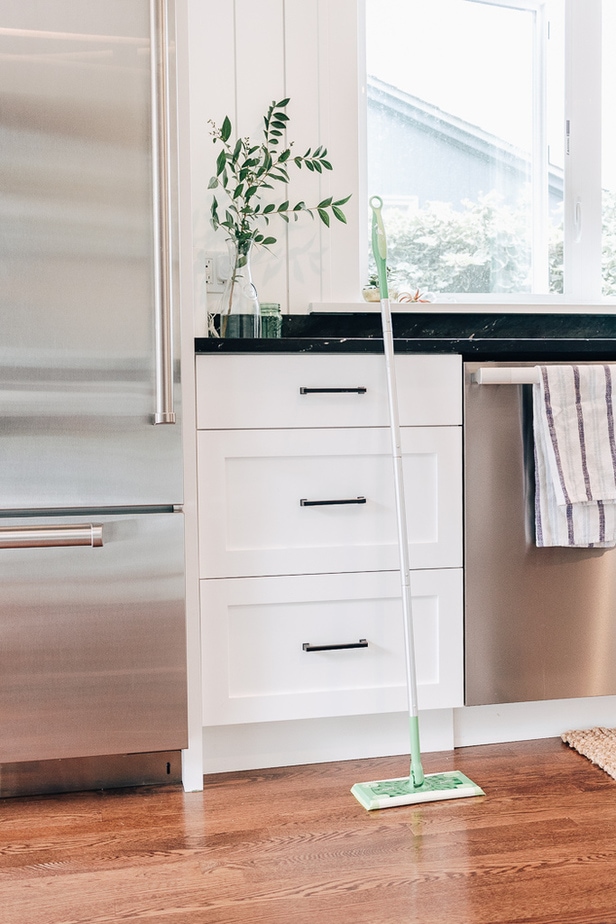 A spray bottle of Murphy's Oil that only takes a minute to whip up and a hacked Swiffer mop (will explain below).
Murphy's Oil has two different floor products. You can either use their squirt and mop product or simply use their concentrated formula and mix it in a spray bottle with warm water before you start mopping.
I use their concentrated formula and just whip up a small batch before I begin mopping. I included the recipe below. Seriously it's easy – no measuring!
I figured out that the easiest and best way for me to keep up with regular hardwood floor cleaning is to make it a simple grab and go process.
I re-purposed my Swiffer mop by using these washable, microfiber mop pads.
These microfiber pads are amazing at cleaning your hardwood floors. And they can be thrown in the wash and re-used time and time again.
Related: How to Clean Oven Racks so the Dirt just Falls Right off
No more buying Swiffer wet pads.
No more storing clunky boxes of way-too-wet floor pads. (Why are they are drenched when I pull them out!?)
No more having to deal with mop pads falling off during the middle of mopping!
I am seriously done with all of that.
This simple spray and mop method is so easy to maintain! It's easy on the wallet too.
One bottle of spray cleaner lasts FOREVER and the microfiber pads are washable so you simply throw them in the laundry when you're finished.
I used to use Bona Hardwood Floor Cleaner. But after trying Murphy's Oil – I will never go back. I find that I get a MUCH better clean with Murphy's Oil. Plus, it just smells so good!
Murphy's Oil Soap to Water Ratio
If you decide to use their original concentrated formula, here's the correct ratio.
The correct ratio Of Murphy's Oil to Water is about 1/4 to 1/2 cup of Murphy's Oil to 1 Gallon of Warm Water. This works out to about a 1:32 ratio or 1:64 ratio.
If using a spray bottle, you can add 1-2 tablespoons of Murphy's Oil to every 32 ounces of warm water.
To make this easy, I just eyeball a 2 tablespoon squirt in the spray bottle and then fill the bottle with warm water. I never found this to be an exact science. This is supposed to be quick and easy, remember? 😉
Did you guys know that Murphy's Oil has been around since 1889?
In fact, if you ask your older relatives they've probably used it themselves or know someone who did. My grandmother sure did! And my mom continues to use it today.
Murphy's Oil is the best cleaner out there for your hardwood floors.
It will also work wonders on your wood furniture, your kitchen cabinets, your leather furniture, and even in your bathroom. And it works with tile and linoleum flooring, too.
And it smells amazing. Every time I use this cleaner, my family says the house smells really good.
Alrighty – so let's get to those hardwood floors, shall we?
How to Clean your Hardwood Floors
Here's my super easy process for cleaning hardwood floors.
Things you'll need
Swiffer Mop
Empty Spray Bottle
Warm Water
I broke this down into simple steps.
I clean my hardwood floors this way about twice per week. Sometimes more depending on how dirty they are and what season it is. (Hello, rainy season in Seattle!)
Mix up your Murphy's Oil Solution using the ratio above. If you are using the Squirt and Mop product, you are good to go!
Vacuum or dry dust your hardwood floors to pick up any loose dirt and/or debris. You don't want to use the beater bars on your vacuum because they can scratch the floors. Most vacuums these days have a hardwood floor setting. Use that if you can.
Starting from one end of your room, spray/squirt a small section of flooring. Quickly go over this section with your mop, front to back and side to side.
Continue to spray and mop this way until you make it to the other end of your room. Your floors will dry quickly and be very clean and pretty!
Now all you have to do is remove your dirty microfiber pad and throw it in the wash. I also take this time to put on another clean floor pad – that way I'm all set for the next cleaning. 🙂
After I'm done mopping, I sometimes take a wet paper towel and go over any areas of stubborn dirt that I couldn't get with the mop. (See below for how to tackle tough spots.) I also pick up any excess loose dirt that the vacuum missed.
Easy peasy!
How to Clean Grime and Sticky Stains off your Hardwood Floors
Sometimes we end up with these really sticky, gooey stains on our floors. I know that our furniture pads can sometimes cause them and other times it's just our kids and our dog being … well … kids and dogs!
Most of the time, Murphy's Oil can tackle sticky stains. But sometimes, these stains can be ridiculously hard to get up with just a mop.
For the really troublesome spots, I use a bit of Goo Gone.
It dissolves away the sticky part so you can just wipe it clean. I just use a paper towel or microfiber cloth with it. Sometimes it takes a bit of elbow grease.
Goo Gone has proved to be safe for our hardwood floors – however, test a small inconspicuous spot first if you are worried.
After wiping the sticky spot away with Goo Gone, I make sure to wipe down the area with a bit of Murphy's Oil or dish soap. I don't want that area to be too slick.
How to Prevent Dirty Floors and Scratches
Benjamin Franklin once said; "An ounce of prevention is worth a pound of cure."
The key to beautiful floors is to prevent them from getting too dirty and dingy in the first place.
Here are a few tips and products we use to keep the dirt and scratches to a minimum – even with a dog and two young kids running wild through the house.
Boot Tray/Shoe Bin
We are pretty much a shoes-off at the door household. The exception is for guests – we don't make any guests take their shoes off unless they want to.
This shoes-off policy not only keeps our floors cleaner, but we also don't end up with a bunch of shoes lying around in random spots throughout the house.
We have a large shoe bin with a leather handle near our back door for this purpose, but you could also invest in a stylish boot tray. It's easy for my kids to just open and dump in their shoes.
Related: Stylish Leather Drawer Pulls you can make in 5 minutes.
Door Mats
We use these nonslip rubber doormats during the rainy season to help collect water and mud from the outside. If it's really a mess outside, I throw one of these dog mats on top. They soak up so much water and dirt from my dog's paws and it's machine washable for easy cleaning.
Furniture Pads
Furniture pads are a must! We put pads on the bottoms of all our furniture pieces that sit on the hardwood floors. This includes the dining room chairs and table. Since the dining room chairs are constantly being pushed in and out, I find that I have to replace these pads every couple of months.
Hint: I found I was replacing furniture pads way too often. And the constant slipping off and sticky residue they left on the floor was driving me bonkers. So I used a bit of gorilla glue and permanently attached them to the bottom of my chairs. When I clean, I just take a moment to vacuum the bottom of each pad and they are like new again. No more falling off. No more sticky stains.
Pet Bowl Mat
We keep this rubber mat under our dog's food and water bowls. You can also use a tray which will help contain any spilled water and keep it off the floors.
Regular Vacuuming
I make it a point to regularly vacuum our floors. I pretty much do this daily along with our living room rug. If you don't love to vacuum like me, keep a Swiffer dry dust mop handy and give it a once over every day or every other day if you can.
I used to own a Dyson but didn't like it at all! The cord was way too small and I found the suction to be just meh. I would think for the price they are charging it better work like gangbusters.
I absolutely love this vacuum. It cleans so well, it has a hardwood floor mode, and their customer service is top-notch. I've had it for several years now and it's still going strong. And trust me, with daily use I am giving it a run for its money.
I hope this simple cleaning method for your hardwood floors help you. If you have any more tips or tricks, please share them! Hearing from my readers is my favorite.
For more cleaning tips, check out these posts:
Cheers to cleaner hardwood floors!
xo Karen