I found the Holy Grail of Carpet Stain Removers
I haven't been this giddy over a cleaning tool in a long time. The Dyson got me. And I LOVE my O'Cedar cleaning mop. My Bissell steam shot makes me happy. But this, THIS is the holy grail of upholstery and carpet stain removers. I'm talking about the Bissell Little Green. (And also a fantastic stain remover product I will discuss below. )
The Little Green machine is like a tiny version of a carpet cleaner. It's not an upright machine, so you must bend down to use it. But it's soooo worth it. I spent about two hours tackling our upstairs carpet this weekend; it looks brand new.
Here are some of the things I love about this machine.
A small side note; this machine is bigger than I originally thought. I was picturing a yoga block-sized carpet cleaner. It's way bigger than that but still kind of compact, if that makes sense. And I like that. The water tank holds 48 ounces, so I was able to use it for a while before I had to refill it. You must use warm water, not hot, and the cleaning solution goes right into the tank with the warm water. There is a separate tank for the dirty water.
This machine came with a sample of the Bissell cleaner, but I'm not yet convinced I need to use it exclusively. I did use it initially, and it works great, but then I thought – I wonder if this machine will work with my favorite carpet stain remover and just warm water. I can still use the machine's power to remove the stain. And it worked!
I don't know if this voids the warranty, but oh well it worked. I'll have to price out both the Bissell carpet cleaner and my old standby stain remover and see which one is more economical in the end.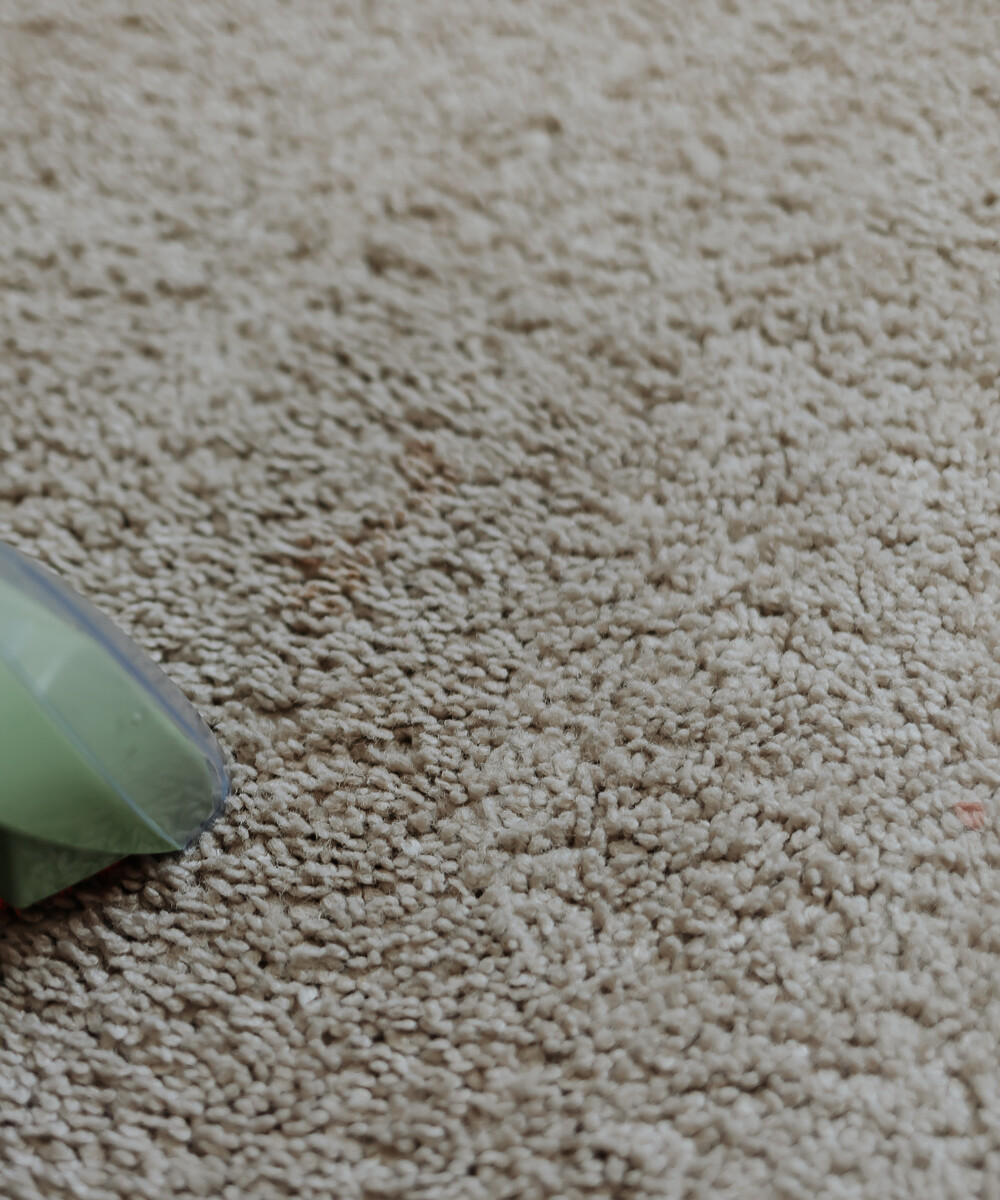 Another side note; vacuuming prior can help. Not only does this make the stain more visible by pulling on the carpet fibers, but it also picks up some lint and debris so the Bissell doesn't have to. The Little Green Machine is technically not a vacuum; it's a stain remover that suctions.
Favorite Carpet Stain Removers
The stain remover I'm talking about is called Chemical Guys Super Cleaner. Yes, it's technically for cars and RVs. But it's amazing on all carpet and upholstery. One night when we were hanging out with the neighbors, I spilled red wine all over our light gray outdoor sectional. It was terrifying (lol).
My neighbor ran home and grabbed this cleaner that she swears by, and after a few sprays and blots, the red wine completely, and I mean completely, disappeared. It was like magic.
I've also tried Chemical Guys Foaming Citrus Fabric Cleaner (which is what I used for these photos), and it works really well. It needs to be HEAVILY diluted. It comes out bright neon yellow like a highlighter. I found this easy to use with the Bissell Green Machine because I could put just a dot of the cleaner (a little bit goes a very long way) on the stain, then use the spray of warm water followed by the suction of the Bissell to really demolish the stain. The end result was a carpet that looked practically brand new.
Here's another before/after.
Now, you might be thinking – doesn't the Chemical Guys stain remover just work on its own? Why do you even need the Bissell if you love the stain remover so much? And while yes, it's true that this stain remover from the Chemical Guys is great, there were a few stains on our rugs that I was having trouble removing completely. And I needed something more.
That's what prompted me to buy this Little Green Machine in the first place. Every time I walked upstairs, I saw a few remnant stains that I couldn't work out completely. That's my OCD, clean freak eagle eyes at work. And it was driving me insane. Especially – the pet stains.
We have a dog. She's almost 12, and she has kidney issues, unfortunately. And lately, we've been finding random small spots where she may have had an accident while we were out or sleeping at night.
We used to keep her crated at night (she adores her crate), but since she is older now, we want her to have the option to stretch out where she feels most comfortable. Unfortunately, that means more random pet stains. Plus, we have kids who like chocolate milk. Enough said.
The Bissell stain remover comes with Febreeze in it, so that takes care of the smell. But the Chemical Guys cleaner also has an odor remover. They both work great. The power of the machine was the icing on the cake.
If you think your carpets are clean, give this machine a whirl and see how disgustingly dirty the water looks afterwards. Ick!
You can also use this on upholstery. If you have a sofa or ottoman or chair that has seen better days, you can give it a quick refresh with this machine, and it will look like you got a new piece of furniture!
Did I mention that the Little Green is highly satisfying? I ended up using it for two hours straight. I wasn't initially going to write this post, but I love it so much I just had to share it with you. Highly recommend.
xo Karen