Charming Antique Storage Cabinets
I've become obsessed with antique storage cabinets. I keep double-tapping them on Instagram and pinning them on Pinterest. I love the cozy vibe they bring to a room.
And as much as I love the storage cabinets themselves – I really love that I can create a whole vignette around these storage cabinets.
Throw a few framed prints around the sides, an old wooden stool by the side, a basket and some old pottery on the top, and maybe a cute tassel from the knob. And of course -of course – some beautiful garland draped across the top for the holidays.
I've seen these cabinets called all kinds of things, from hutches to china cupboards to wardrobes to armoires. I am obsessed with them all.
Especially the old wood ones with a little bit of chipped paint, some dinged up parts and some patina. But I'm just saying no to glass fronts. It's too much clutter for our house. We already have an etagere in our open living room/kitchen area which I am filling with books little by little. I need a clean looking, closed front.
Now you might be thinking – well, then this isn't really a hutch or a china cupboard. It's more of an armoire or wardrobe. And that's fine – I'll call it whatever I just really love it. And I want one in our eat in kitchen area. It feels kind of empty there now that I moved our painted sideboard to the dining room.
Ideally, I would find one at a local thrift shop for a ridiculously low price that's the perfect size and look and take it home. But you know how impatient I get. And you know how much I love to recreate the look. So I've been gathering photos so I can build my own. (With my Dad.) Probably our last little project together.
Antique Storage Cabinets
Some of these are actually for sale, just click on the caption link to be taken to the source. Or, you can head down to the shop the post section below these photos. I hope you enjoy this inspiration!
They also have an Etsy shop which is a favorite of mine – just really beautiful things.
Even Wayfair sells these beauties if you are willing to look. Even though this one has the glass front, I love the overall weathered look and those legs.
Liz from Love Grows Wild has the most beautiful cabinet here! I just love those old wooden knobs and the bleached wood.
Here's an example of a glass front storage cabinet. I still love them – just not for our house. This one is weathered just right.
I fell in love with Ina and her style a long time ago. But this hutch. Swoon! I'm sure this cost a pretty penny. But it really makes a statement in her barn.
While I personally love these cabinets in their bare wood look, even the painted ones are beautiful, like this sage colored one.
Elsie Green is a huge source of inspiration for me. Even if you are not in the market for a storage cabinet – you definitely need to check out her offerings, so much good stuff.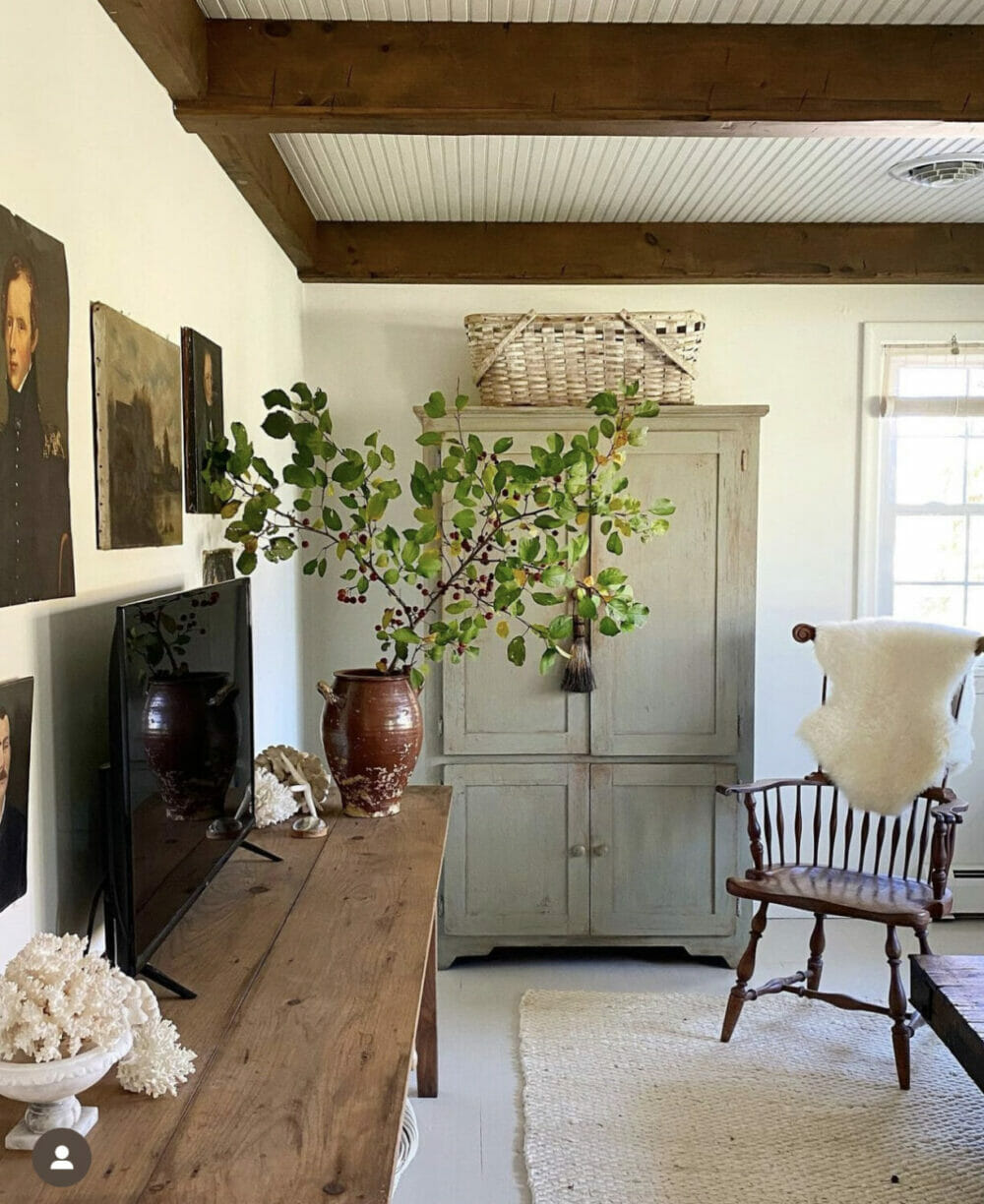 Shop the Post
Click on any photo for additional information.