Best Amazon Home Decor Finds
A peek at my favorite Amazon Home finds and the Best Amazon Home Decor Brands.
---
Amazon is offering more and more home decor.
And I've found some pretty dang good stuff! I thought you guys might like to see what I found, so I put together this list of my favorite Amazon home decor finds. If you like Amber Interiors or Studio McGee – or if you just like to get the look for less – you won't be disappointed in this list.
You can also check out my Amazon Storefront. All these items (and more!) are neatly organized in my storefront and you can browse that way too. And since I'm constantly shopping on Amazon (it seems), I post my Weekly Amazon Finds right here.
Use this table of contents to skip around if you like.
Amazon Home Finds Under $100
Here are some of my favorite home finds from Amazon – all under $100! These include everything from pillows and decor, to bedding and baskets. Click on any photo for more information!
Be sure to check out my favorite Walmart Home Decor finds next!
These Rugs
I've purchased a few rugs from Amazon over the years and have to say that there are two in particular that really stand out for me.
First, this one is from Amber Interiors x LoLoi. I have it in my bathroom and it's such a pretty pattern! For the price, it looks a lot more expensive than what it is. I highly recommend you guys check out her other patterns.

Second, is this beautiful, cushy red rug. It's not a vintage rug but it has a beautiful pattern nonetheless and it's really soft and bouncy underfoot. I get a ton of compliments on this one! I keep moving it around my house. Currently, it sits in our new laundry room.
Favorite Kitchen Accessories
I've been looking for a few timeless but functional pieces for my kitchen counters. Things that are both functional for cooking AND cute to look at. I love this oil carafe and I have to say I think I'm actually using less oil now! It looks really pretty on my counters as opposed to that "Kirkland" generic brand of olive oil. It comes with additional pouring spouts and is totally dishwasher safe.

I also grabbed this wood pepper mill and I really love it. It adds a bit of wood texture to my counters and it works really well. It grinds the peppercorns well, It doesn't hold a TON of peppercorns, but I don't have to refill it as often as you would think. This is definitely one of my favorites.

Finally, these bamboo scrubbers are so nice. In fact, when my mom came to visit to she loved it so much I gave her one to take home. It comes with a little scrubber dish and you can put a few drops of dish soap in there and use it all day as you're washing dishes. I like the wood top too – I'm all about the wood accessories in the kitchen. I've thrown this thing in the dishwasher too and it seems to be fine, with the exception of a small crack in the wood. Luckily – you get THREE of these when you purchase so it's enough to last you a while.

These Drapes and Sheer Curtains
I'm highlighting two sets of curtains that I really love. First, these velvet drapes are the best! I posted not too long ago about my favorite inexpensive drapes and curtains and these are definitely on that list.
Velvet is one of those forgiving materials with curtains because they have weight and hang nicely. They look a lot more expensive than they really are. These velvet drapes are so pretty, well made, come in a ton of different lengths, and are inexpensive! I'm using them in my guest/office room right now but I'm going to buy some more of these.

Second, I'm highlighting these beautiful faux linen curtains I just put up in our bedroom. I wanted something light and breezy. These are so gorgeous and very inexpensive – which means something when you have to buy more than 1 set.
These Cabinet Knobs and Farmhouse Hooks
When we moved into this house, the cabinets already had knobs on them but they were chrome. And our kitchen cabinets are gray. And our counters are gray. And our appliances are stainless steel. Do you see where I'm going with all this? TOO MUCH GRAY!
I needed something to break this all up and I thought brass or black hardware would do the trick. Unfortunately, my husband is not a fan of brass so these black knobs it is!
Now, cabinet hardware can cost you a fortune if you go to Rejuvenation or someplace like that; but I also think you can score a deal on good hardware right from Amazon!
These are not as good as Rejuvenation hardware quality – but they are pretty dang good and LOADS cheaper. These are really sturdy and well made AND you get a lot in the pack.

Along with these knobs, I found these rusty old hooks and I am so in love with them. Some days I find myself walking into the foyer just to look at the old hooks. (that sounded very strange haha).
If you want that old rustic look, these hooks are your best friend. BUT let me warn you that the screws they come with are junk. So be prepared to go out and get new screws. I just took the screw to the hardware store and found an almost exact match in black.
These Wood Stools
Let me start off by saying that I originally wanted different stools. Unfortunately, Sean and I didn't agree on what we wanted so we ended up compromising with these wood stools.
To my surprise, I actually really like them!

They are not expensive and have held up to my kids jumping on and off of them and standing on the legs. The only negative is that the wood buttons keep falling off, but not a big deal to me. They are really charming and also work as a mini side table!
These Throws
Amazon has so many good throws these days it can be overwhelming to comb through. I bought this navy throw for my bedroom, we have a little sitting area with a fireplace and it's the perfect spot to curl up with a good book.
This blanket is SO SOFT and I love that comes in so many different colors.
You can also buy this throw in an oversized version and I'm partial to those because you can also use them as bed throws.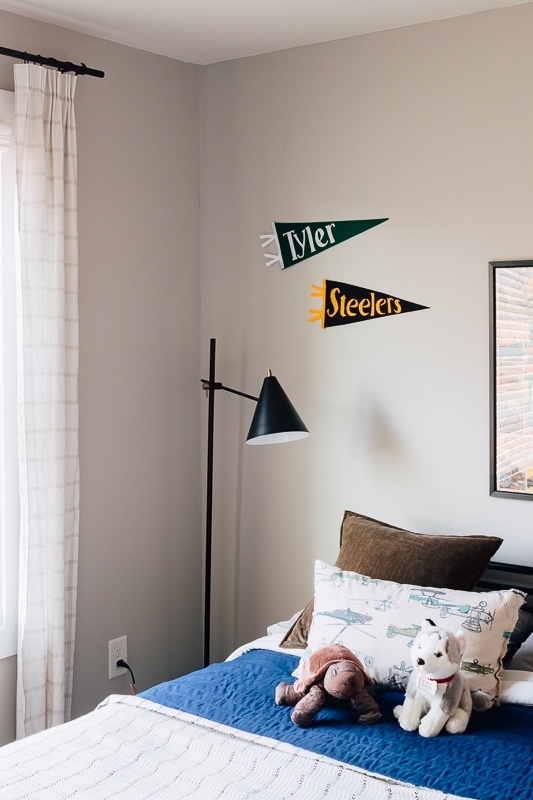 If you are looking for more of a punchy pattern, try this black and white one. It's a thin blanket, but I love the pattern on it. It instantly takes a room up a notch.

Finally, this faux sheepskin. I throw them on tables, chairs, stools, inside my kid's play tent – I mean the sky is the limit. I even use them as Christmas Tree Skirts. They add a good touch of texture and are so cozy.
The real sheepskin is a FORTUNE, (check this one out!) luckily these ones are very realistic (not cheesy looking) and much cheaper.
Sometimes, you just need easy. And that's what this gallery wall set is. It's easy.
The mats are bright white (not a dirty-looking yellow mat) and they each fit an 8×8 art print. I used them in our kitchen area and most recently, in our kid's new playroom to display their artwork. Throw a set of photos in there and call it done! The frames are pretty decent, I would say right there with Target/IKEA quality.

This stylish electric lighter is a gamer changer! And oddly addicting. And no I'm not a pyromaniac. No more fumbling through drawers to find a lighter that has juice in it. No more lighters that just click incessantly and don't work. This is THE ONE. It's cheap, it's easy to use and the battery is great. Use code REIDEA1060 at checkout to get 20% off!
You won't regret it.
This Round Leather Ottoman
This tufted ottoman is so cool!
We bought this for our living room – we have an open concept and needed something small and round for the center. I have now moved this into my guest room and it's a great spot to sit and take off shoes/hold bags etc. It's very good quality and the color is beautiful. I love the little nailhead details around the top.

I haven't posted about these faux cedar trees too much yet. I've been waiting for Spring so I can really jazz them up in our planters. All I have is my Christmas photo of them.
They are incredibly real-looking and the reviews are stellar – so I'm not the only one who thinks they look real. The size is good too.

Our front porch gets hammered with the hot Carolina sun in the afternoons and I was sick of frying all my other plants. I finally decided to go faux and I'm not looking back.
This Queen Bed
I think this might be one of the most popular beds for sale on Amazon.
And I'm one of their very happy customers. I put this together myself and it arrived in near perfect condition (with the exception of a small tear in the back of the headboard).
Since it was the back, I didn't bother returning. It's a very sturdy bed and it's a really good neutral color.

These Candlestick Holders
These black and gold candlestick holders are happily sitting on my dining room table and I love the look of them.
They are a lot heavier once you get them which lends to the quality. The black and gold are pretty – these are keepers!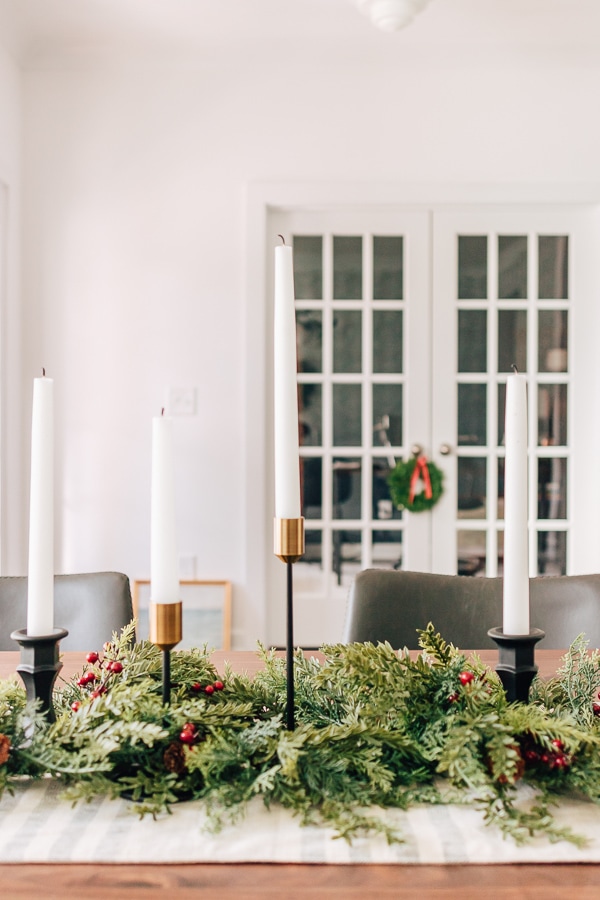 This Boot Tray
I don't know why I didn't purchase this boot tray sooner – it had been sitting "in my cart" for weeks on end.

I have mine filled with cheap river rocks and all that dirt and moisture drain off the shoes onto the river rocks and into this tray. My floors (and my back) are much happier now. But after reading the reviews – folks are using this for so many different things! It's really a handy item.
This Adorable Lamp
This lamp is little. But it is so cute and the shade is really stylish! You can put this down anywhere you need a touch of class. I'm going to buy another one for our hallway upstairs.
---
That about wraps it up, but before I go I also wanted to point out my favorite home brands on Amazon that you should check out. I make a point to give them a look every now and again.
Favorite Home Brands on Amazon
Be sure to check out my other fave roundups here on the blog, like the best modular sofas, best Paris bistro chairs, and faux olive trees.
And don't forget to check out my Amazon Storefront for more fun finds!
xo Karen