Looking for cute decor for your nursery or kids' rooms? Make this super cool DIY Bunting. Easy and inexpensive – click through to learn how!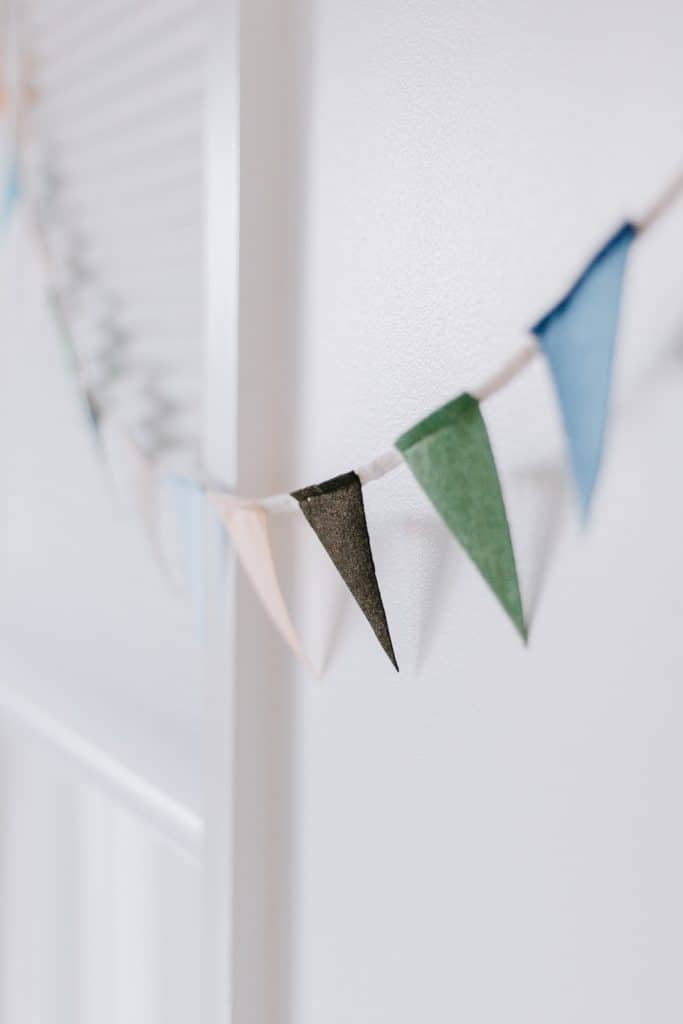 Hey yo!
I'm back today with seriously one of my favorite projects EVER – this felt bunting! Made from inexpensive felt squares that you can pick up at most craft stores and online.
Ok, let me give you a quick back story on this. So, I was at Pottery Barn Kids the other day looking around and I saw these really cute kid buntings everywhere. They had them strung up on the wall, over cute framed prints and draped over the beds. These banners looked amazing and added so much to the decor. It looked like this.
You can also see how Emily Henderson styled one for her sons room.
I immediately became obsessed with them!
But the $40 price tag? Not so much. Are you kidding me?
I've come up with an easy and inexpensive DIY project to make these felt buntings/garlands. I made one for my son Tyler's room but I kid you not – I want them everywhere!
I made this banner out of felt squares, but you could easily make a fabric pennant banner by cutting triangle shapes out of your favorite fabric. Make a Floral One or a Themed one. Star Wars, anyone? 🙂
Let's get our materials gathered up and we'll get started …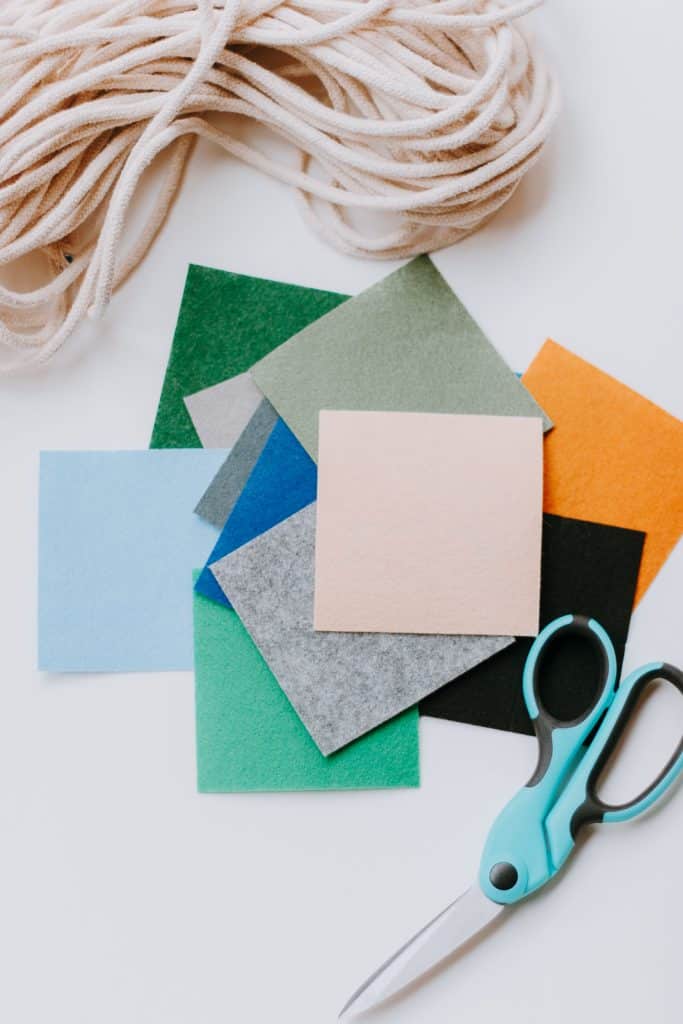 Materials Needed
Felt Squares or a Piece of Felt – I used this pack of felt squares. I love the colors and it made it really easy to cut out triangle shapes and keep them all pretty evenly sized.
Sewing Machine and thread of choice (I used white) or Hot Glue Gun and Glue Sticks
Sharp scissors – just bought these fabric scissors and I am in love. They cut through fabric like buttah
Pins
DIY Bunting Tutorial
As a side note before we begin – this cotton clothesline is quickly becoming a go to in my DIY projects. For less than two Starbucks coffees – I've made rope baskets, hand towels with hanging loops and now this pennant garland. I mean – talk about a crazy good craft material!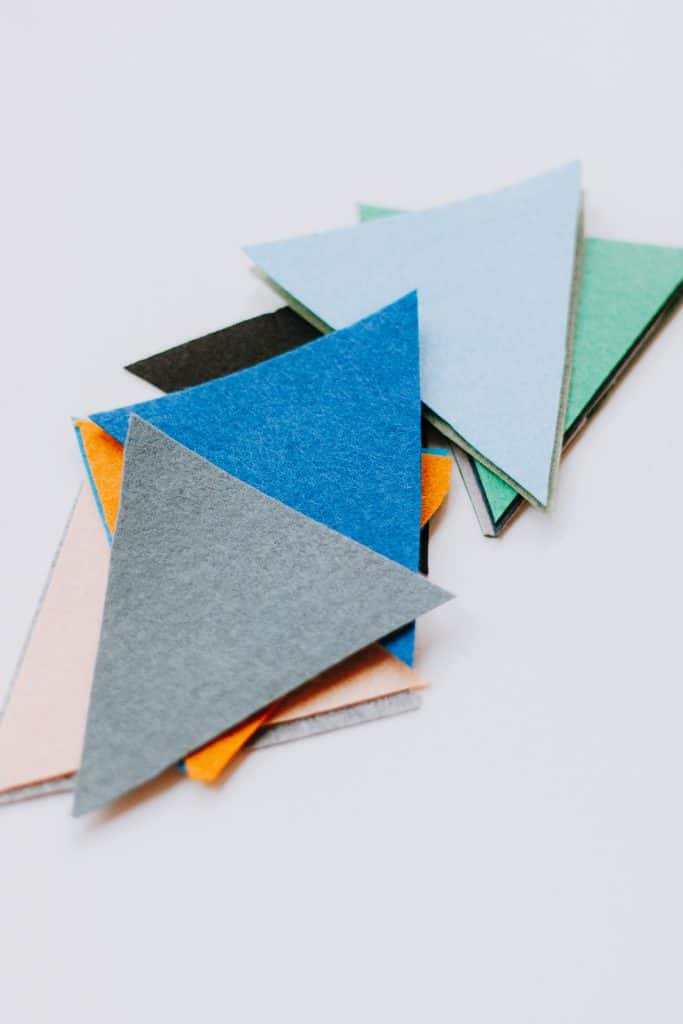 Step 1: Start off by choosing the colors you want from the felt squares. I like muted boy colors – so I chose with blues, greens, grays, oranges, and black. and that's the great thing about this project – you choose whatever colors you want. Go hog wild! Or keep it monochromatic with black and white. Or go all black for a Scandinavian look. All white is another pretty option for a nursery. Sky's the limit.
Step 2: Once you have your colors chosen, cut out your triangle shapes. My triangles ended up being 3.5 inches from the top to the bottom point. you can make them as big or small as you want.
Step 3: Use your pins to attach each pennant to the cotton rope. I left about an inch space between each pennant. I started the pennants about 3 inches in from the beginning of the rope. Why? Because you will want to leave a little bit of overhang there and give yourself room to hang it up.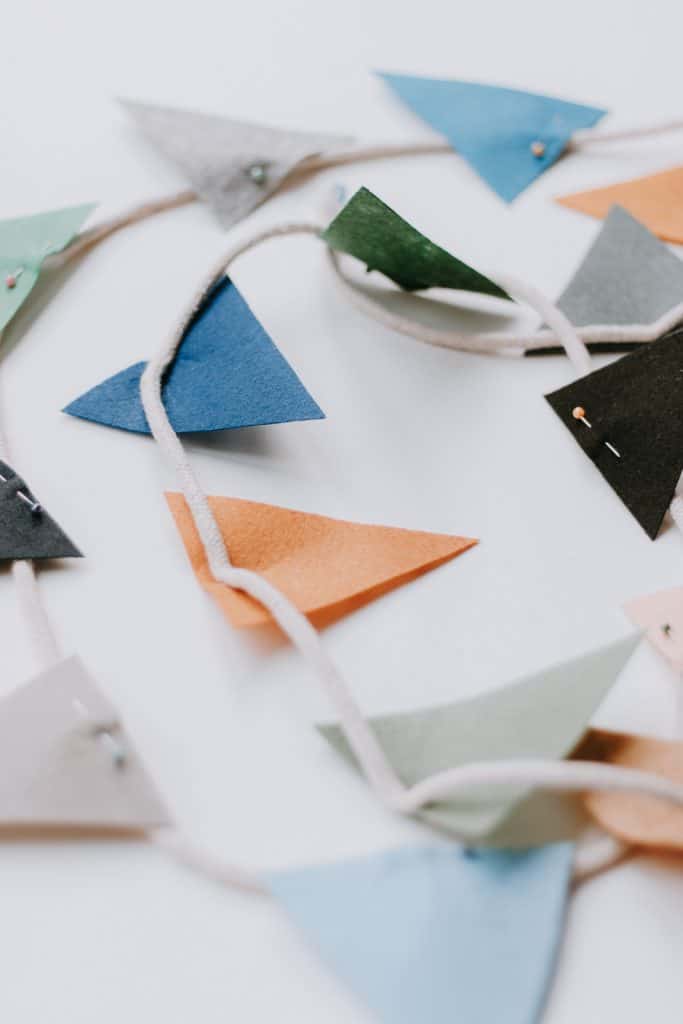 Step 4: Now you are going to carefully sew your felt triangles to the rope. You will need to guide your rope through the machine slowly by gently pulling it through. If not, it might get stuck in place.
If you are using hot glue – then just hot glue each one to the cotton rope – be careful not to burn yourself. (I've been there.)
Step 5: Hang up your new pennant garland!
How cute is this!?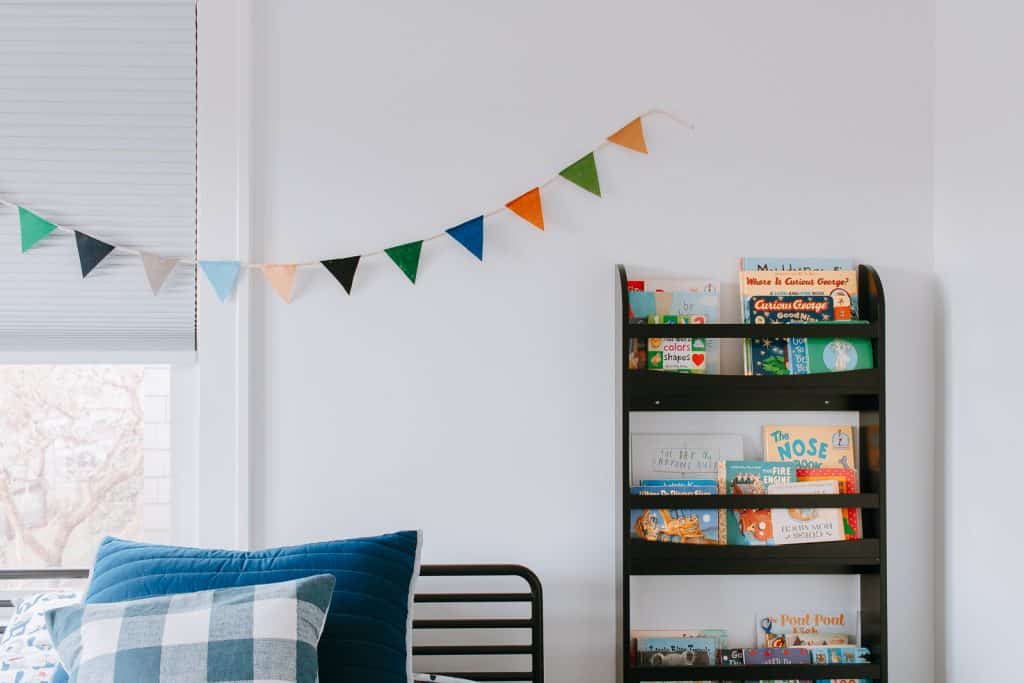 You could make several of these triangle banners out of the materials here. In fact, I made one for my daughter's room too! See below for a little peek.
You can check out more of her room in these posts:
So before you hand over that credit card at Pottery Barn – think about this DIY project. You can totally do this and your kids will love it!
Until next time!
xo Karen
More Great Posts for You