---
Our backyard is really starting to take shape.
If you guys missed our new patio furniture post, tune in here!
Our latest project is this modern wood garden trellis that we built in about 15 minutes. No kidding!
This garden trellis is a perfect way to add some privacy to our patio while we wait the years it will take for our landscaping to mature.
Of course, you can buy a trellis but it's so much cheaper to just make your own and really easy.
If you are looking for a quick and simple way to add some interest and privacy to your outdoor spaces, then this tutorial is for you!
Things You'll Need
How to Build a Trellis – Step by Step
A quick note. Our DIY trellis ended up being the exact dimensions of the lattice, so we didn't need to cut any wood! If you do need to cut wood, you can just use a table saw and cut it down or have the hardware store make the cuts for you.
We used pressure-treated pine lath to make the trellis as we couldn't find any cedar lattice.
Step 1: Measure and layout Wood Trellis Frame
You'll want to use a tape measure to measure how wide you want your garden trellis to be, then set up your cedar wood pieces to match this dimension. These cedar wood pieces serve as the "support" for our lattice to attach to.
We found the easiest way to do this was to equally line up our three pieces of cedar wood on the floor up against the wall.
The wall helped to stabilize and keep things nice and straight.
If your garden trellis is going to be on the skinny side, you most likely only need two cedar supports on either side. Our trellis is long so we used two supports on either side and one in the middle.
Step 2: Attach Lattice to Wood Frame
Take your first piece of lattice and line it up on top of your wood frame, up against the wall. It should be at the very top of your frame.
A combination square ensures your boards are level.
Use your pneumatic stapler to attach the lattice to each "supporting" wood frame piece.
We used two galvanized staples in each place where the lattice met the wood supports.
In order to get even spacing between each lattice, take another piece of lattice and use this as a guide for the existing pieces.
Continue all the way down until your lattice is complete.
Step 3: Attach Wood Lattice to Existing Planter box or Wall
We already have existing cedar boxes that we wanted to attach our DIY trellis to.
We used 2.5 inch galvanized exterior screws to attach our lattice to the cedar boxes. You can apply this same method and attach it to your home siding or even a wood fence.
In fact, we have two white trellises that we attached to our siding this way.
And that's it for this trellis project!
It literally took us 15 minutes from start to finish to build a trellis and it's made the biggest difference in our backyard.
We now have some privacy and will have even more as soon as these plants and vines mature.
Trellis Ideas
Now that we have our trellis up, I wanted to add some climbing plants to it. So I thought it might be helpful to share these trellis ideas with you that I discovered during my research.
Climbing Plants for Your Trellis
Of course, the plants you choose will depend on whether you have sun or shade and your individual garden zone.
Our cedar boxes are filled with boxwoods that will eventually form a hedge in a few years, so the climbing plants on our trellis are a bit of a moot point.
We ended up choosing ivy because it grows quickly and grows in sun or shade and provides a beautiful backdrop of greenery.
However, I will have to keep my eye on it and cut it back as needed since ivy can take over and start to weigh down your garden trellis.
We had this issue in Seattle and our fence was literally leaning over from the weight. (It took years to get to this point so keep that in mind.)
I know that ivy plants can be invasive in some areas so you may want to ask your local garden center for their advice.
Some other ideas I was thinking of were climbing hydrangea (great for shade areas) as well as star jasmine.
Star Jasmine is a beautiful evergreen and smells amazing! If you have the right soil and conditions for this plant, I highly recommend it.
You also might want to consider a clematis plant for your trellis, since these plants climb really well and come in a variety of sizes and colors.
And of course, it's a garden trellis, so let's not discount vegetables!
Some good vegetables for trellis include peas and pole beans, cucumbers, and even tomatoes! Tomatoes need to be trained up the trellis as it grows. This article is helpful!
Trellis Lights
The other part of this was "decorating" our garden trellis!
Since the ivy will provide the greenery eventually, I thought some lights would take it up a notch.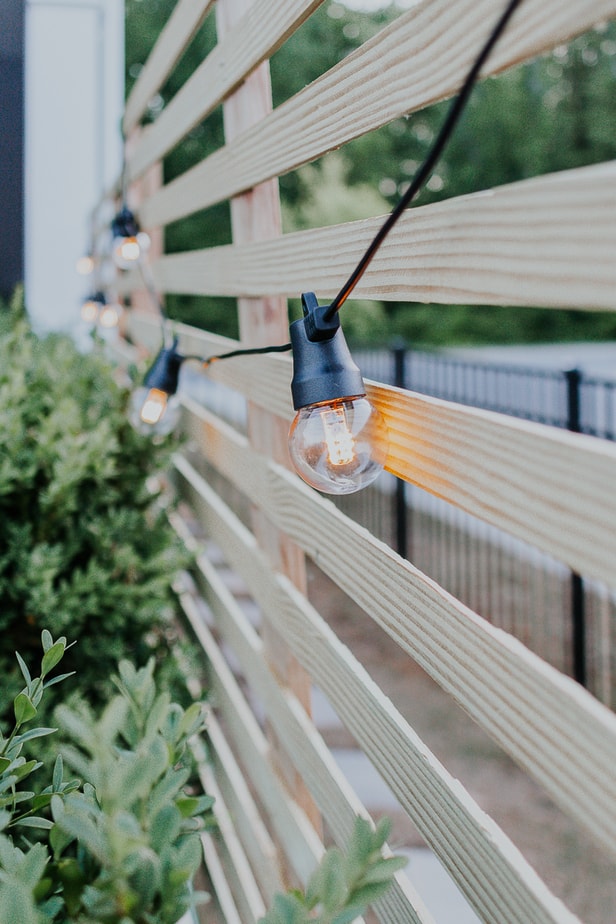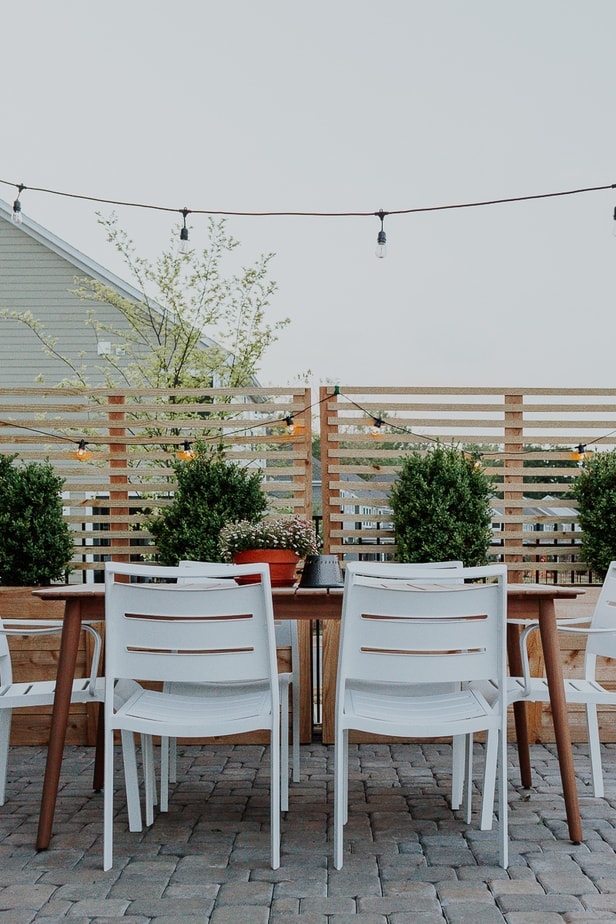 We don't have an outlet nearby and I wasn't about to start stringing all kinds of extension cords, so I chose these solar cafe lights to string on the top casually.
The lights are a warm white and about 17 inches long, so they perfectly fit our trellis! I highly recommend these if you need a bit of ambiance in your outdoor spaces.
I just love the look of a garden trellis and I can't wait for the cedar to age a bit and give us that rustic goodness that I love so much.
Related: Dreamy Patios for Inspiration
And that about wraps it up! I told you how easy this was!?
Have a great week, friend!
xo Karen
Karen Sloan is the founder, editor and syndicated content writer of www.decorhint.com. She offers hints of inspiration for everyday living, including home ideas, DIY projects and lifestyle content. Her work has appeared on Google News, MSN, Pioneer Woman, Apartment Therapy, and Bustle, among others.