Decor Hint is reader-supported. When you buy through links on our site, we may earn a small commission - at no extra cost to you. Learn more here.
The Easiest Envelope Pillow Cover Instructions you'll ever learn.
Maybe your living room needs a little makeover.
Or you want some new pillows to go with that new quilt you bought for your bedroom.
But you're sick of buying new pillow covers all the time. And your wallet is too.
Well, my friends, you're about to learn a very practical and economical skill for your home.
But here's one very important thing I want you to know.
This is not as complicated a project as you might think.
Here's why:
A lot of tutorials out there call for cutting three separate pieces of fabric, sewing all kinds of seams and ensuring everything is lined up just so.
I say the heck with all that.
I know you can do this. And learning this skill will …
Save you Money
Improve your Decor
Support your coffee habit (LOL – it's fun to drink coffee while doing anything, right?)
Ready? Let's get started.
Here's what you Need
It's best to start with fabric that's been washed and dried, that way it's not going to shrink on you later and ruin your project.
I also find it helpful to iron my fabric. The fabric will lay flatter after ironing and this will help you cut straight lines.
Hint: to cut straight lines, just line the straight edge of your fabric up with the edge of a square table or counter and cut!
Envelope Pillow Cover Instructions
I made a handy little diagram to help you visualize how to do this. I was making a 20×20 inch pillow. However, if you have a different size insert, the formula for the amount of fabric you need is included below.
Note: We will only be cutting ONE long piece of fabric.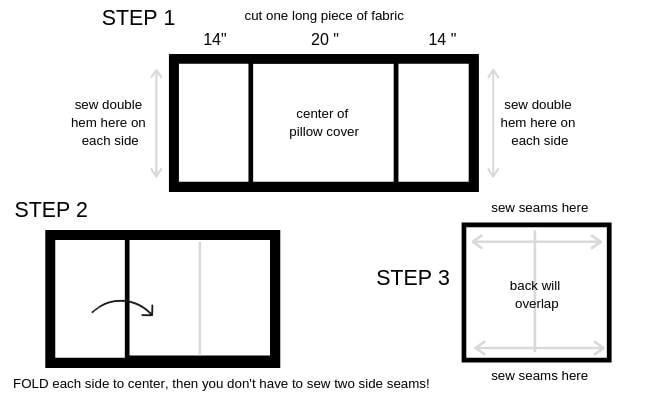 Cut your fabric. The width is always going to be equal to your pillow insert.

To determine the length you need, take your pillow size X 2 and add about 8 inches.

Example : 20 inch cover x 2 = 40 inches + 8 = 48 inches. That ensures a nice overlap in the back, especially if you are using a very full pillow insert. You are going to cut

ONE LONG PIECE

that's 20 inches wide by 48 inches long.

You could also just estimate the length by folding your fabric over your pillow and cutting at the point of overlap.
After you cut your fabric, you want to sew a hem along the two short sides of the fabric. You will fold or iron a little hem over twice and sew a seam here.
Flip your fabric over so the wrong side is facing you. Plop your pillow form down on the center of your fabric. FOLD the sides over your pillow and clip the overlapping fabric in place on both sides. (see photos above.) Carefully remove your pillow form!
Now just sew the two open sides shut and snip your threads and corners. (see tips to success below.)
And, you're finished! Flip the pillow right side out and insert your pillow form. That's it, guys!
You should have a beautiful envelope pillow cover there that fits nice and snug around your pillow insert. And now you can make more. This project is addicting. In fact, I've been known to overhaul a whole set of living room pillows in one afternoon.
My husband will come home from work and say – 'Did we get new pillows?' OR 'Did you make more pillows today?' OR 'We have too many pillows.'
Follow these Tips for Success
Now that you know how to make a cover quickly, easily and without ripping your hair out, I want to share a few tips with you to ensure you make the best pillow cover ever.
Use the best Pillow inserts
To get those lush, karate-chopping 'V' looks to your pillows, you absolutely must use the best inserts. I always go for down feather or down alternative and stay away from polyfill inserts. Buying good pillow inserts is a good investment – you can wash them and they will last a long time.
These are my absolute favorite pillow inserts and you can get them on Amazon.
Cut off Loose Threads
This is a weird tip but it really makes a difference. When you are done sewing, you will have loose threads everywhere. Take the time to snip off the loose threads. It really gives the pillow a more polished look.
Snip your Corners
After sewing but BEFORE flipping your pillow cover right side out, snip the excess from each corner. Be careful not to snip through the seam. Then, use a wooden spoon handle or the eraser side of a pencil to really poke out those corners.
Decor Hint: You can stuff each corner with a little bit of polyfill for a nice full look!
Choose Nice Fabric
I prefer using a medium weight cotton or linen or linen/cotton blend for my pillows. The linen adds some texture and more of a high-end look. A heftier fabric will help hide the pillow form and help prevent some feathers from poking out. Some fabrics are so thin, you can actually see through to the pillow insert underneath. I try to avoid that unless I just really love the fabric.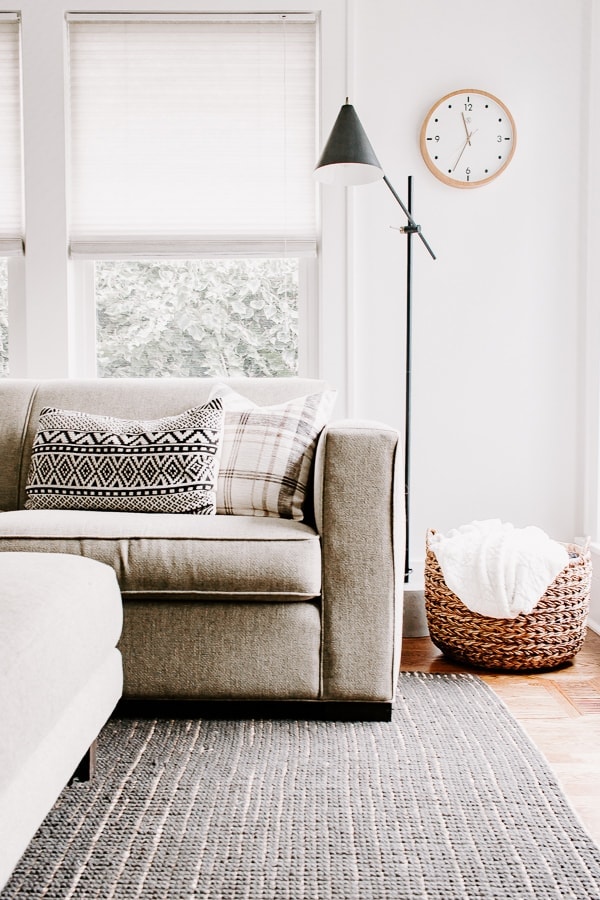 Where do you find good fabric? I wrote a post on this! Check out the best places to buy fabric.
With this simple tutorial and these extra tips, you'll have those professional looking pillows you've always wanted.
Here's to prettier pillows and more comfortable sofas!
Xo Karen